The Society of Really Big, Really Friendly Dining Rooms

468,000 families are in need across Arizona.
When you visit us to serve or be served, it's rarely just about eating. Volunteers create an experience many of us take for granted, an opportunity not only to eat but to meet and greet as well. It's also a chance to discover other ways to help our guests. Stomachs and hearts are filled in five dining rooms, where 3,500 nourishing, hot meals accompany our hospitality every day. Thanks to recent donor generosity, our Family Dining Room now offers many of the amenities of a supportive home or school atmosphere, including communal reading and group art projects for our younger guests, plus one-on-one tutoring programs and fun educational activities.
Can you cook? Maybe wait a table?


Volunteer here.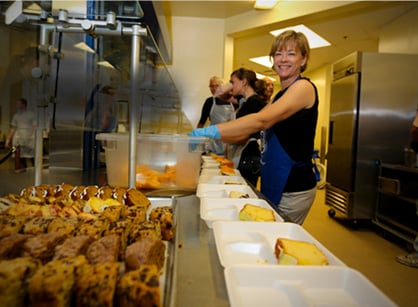 Our dining rooms have limited staff. We rely on hundreds of volunteers to prepare, cook and serve meals to hungry guests. You can help too.
We operate five dining rooms across the Valley. Duties include set up, serving, bussing tables, and clean-up.
$5,500 sponsors the kitchen & five of our dining rooms for a day.
3,500 hungry mouths satisfied in a single day represents quite an achievement. Your contribution also operates as a kind of power source, because so many other activities come to light during this special time of day. Like our resource centers, that connect guests to other valuable services at St. Vincent de Paul.