06/28/13—Changing Lives, One Bike at a Time
Ernie Renaud, a volunteer at St. Vincent de Paul, had been fascinated with planes since he was a kid.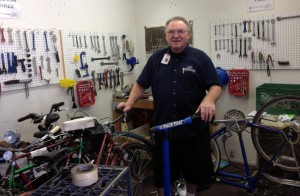 "I grew up in a small suburb of Detroit and I knew about the naval air stations in Michigan and every time I would visit my Canadian relatives in Windsor, I would see those airplanes that took off and I wanted to get involved with that," Ernie said.

So, when Ernie turned 17, he joined the Naval Reserve Program where being an aircraft mechanic was one of his duties. He learned many skills that have stuck with him for a lifetime. When Ernie left the Navy, he still kept up the practice of fixing aircrafts.

And even when he retired, those mechanic skills didn't go to waste. Ernie was able to put them to good use in SVdP's Shifting Gears program.

"I just wanted something to do for St. Vincent de Paul that was meaningful for both of us," Ernie said.

Shifting Gears provides the homeless and poor–who either have a job or about to get a job—bikes so they can get to and from work.

"It provides a needed form of transportation," Ernie said.

Working in the Shifting Gears program has been a very unique experience for Ernie, one he wishes to share with more people.

"Seeing the expression on people's faces when they're presented with a new bike—it can be just an ordinary one speed coast gear bike or it can be one of the top of the line multi gear 12 speed bike– they're so happy to have some sort of transportation. I've even seen some people cry about it," Ernie said.

In addition to providing bikes to people in need, Ernie also refurbishes bikes to be sold at SVdP's thrift stores. The funding generated through the sales of bikes go directly to support SVdP's programs and service, so either way, Ernie's mechanical work translates to help for people in the community experiencing homelessness and poverty.

Ernie puts other skills that he learned from the Navy to good use at SVdP, too.

"Organizational skills, setting up shop to where it's more functional for me and my trainees and the volunteers, and working hand in hand with the people I work with here," Ernie said.

Ernie says, though, that he would still love to have a few more volunteers to help out in the Shifting Gears program during the summer months.

Call our volunteer office at (602) 261-6886 to learn more about volunteering in Shifting Gears or any other area of SVdP.

Do you have a bike to donate? You can drop off at any of our thrift store location (include link) or call us at (602) 254-3338for a donation pick up!