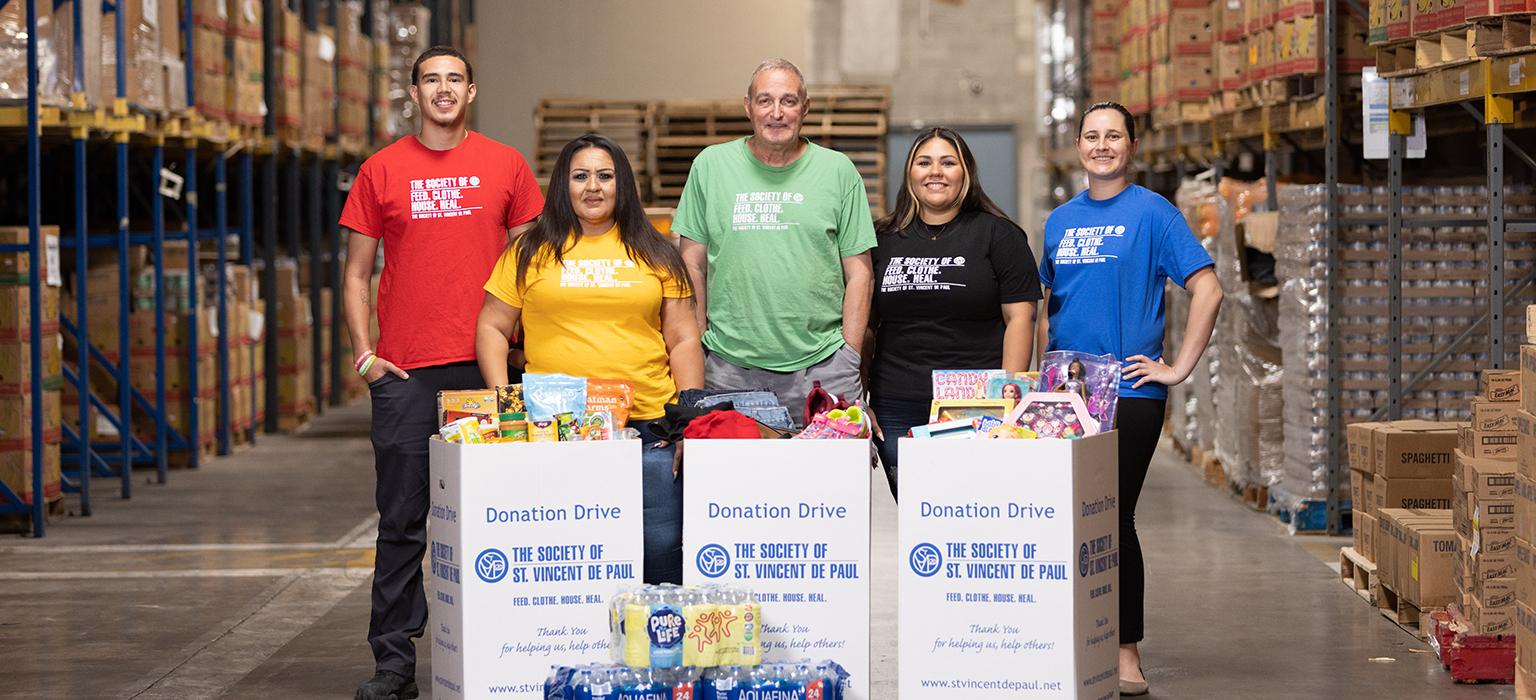 Give back to SVdP with every Amazon Smile purchase
A step-by-step guide on how to select SVdP as your charity to receive donations from Amazon Smile with each of your purchases.
Did you know there's a way you can generate donations to St. Vincent de Paul without spending any extra money? Amazon offers an awesome program called "Amazon Smile." All you have to do is sign up with a new or existing Amazon account and start your Amazon shopping at smile.amazon.com.
With every Amazon purchase you make through smile.amazon.com, Amazon will donate the equivalent of 0.5% of your total to SVdP! And they don't charge you anything extra — your purchase is exactly the same as it would have been, only this time SVdP gets a little help too.
Follow this step-by-step guide to get started in selecting "St. Vincent de Paul Phoenix" as your charity. Hopefully this helps make it an easy process and option to give back!
1. While logged into your Amazon account, go to smile.amazon.com.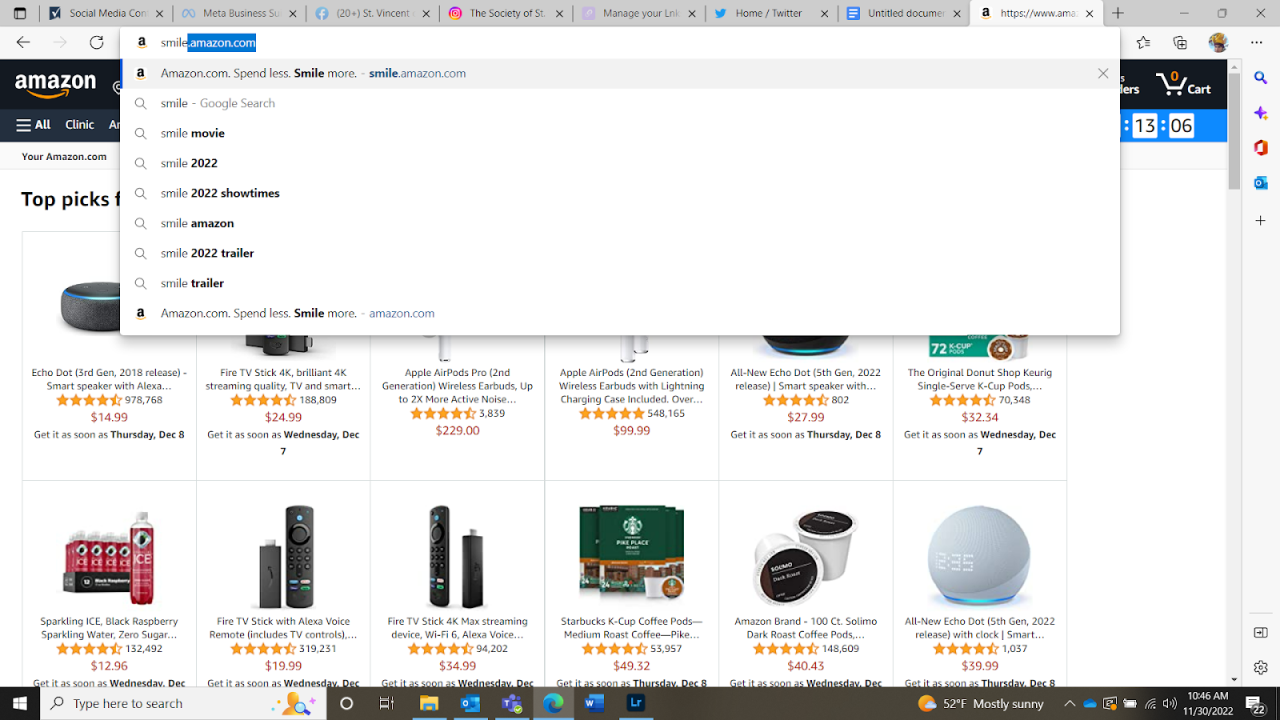 2. Click on the "Get Started" button on the Amazon Smile page.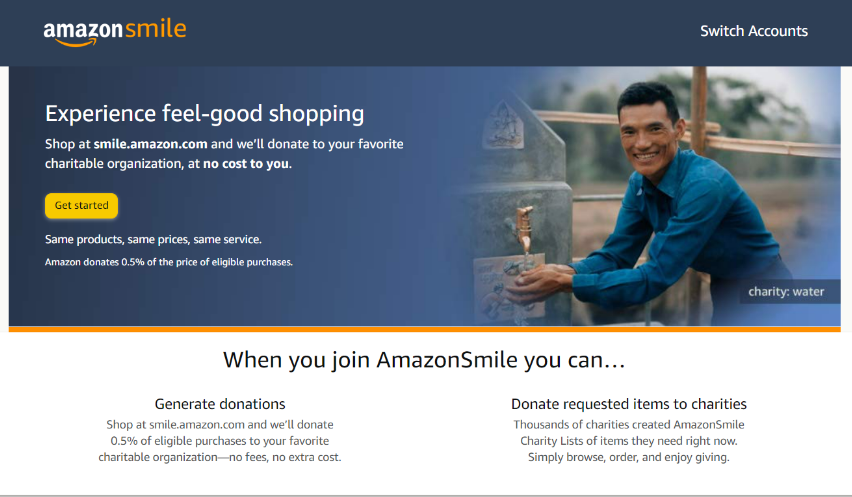 3. In the charity search bar, type in "St. Vincent de Paul Phoenix" and click search.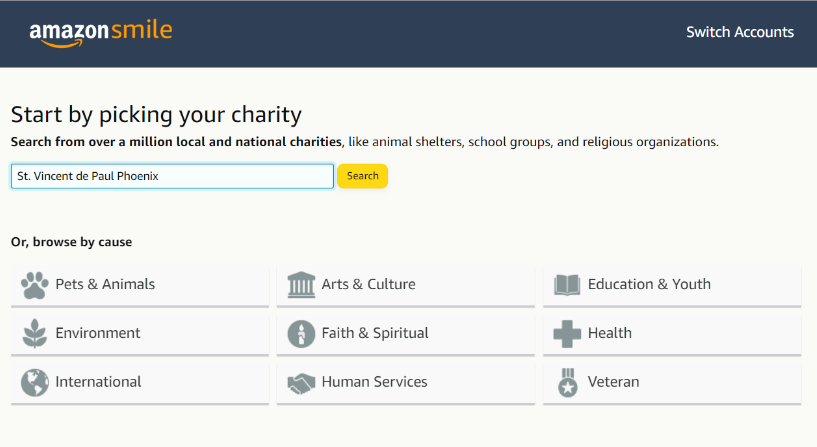 4. Click the "Select" button for The Society of St. Vincent de Paul Phoenix.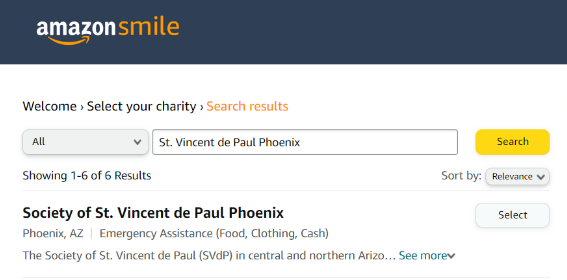 5. Click the box that says, "Yes, I understand that I must always start at smile.amazon.com to support Society of St. Vincent de Paul Phoenix. Then click the "Start Shopping" button.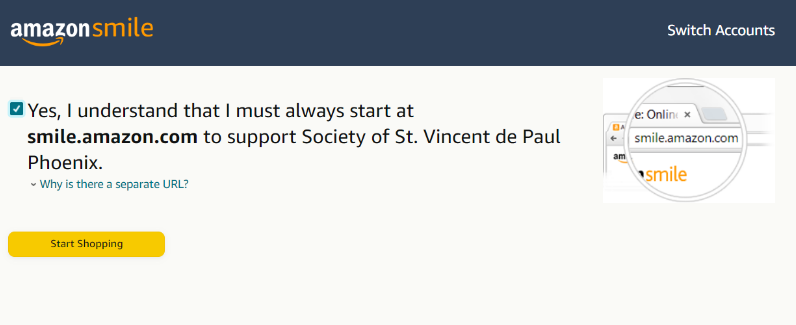 6. You're ready to start shopping! From now on, Amazon will donate 0.5% of the value of your purchases to SVdP as long as you start your purchase from smile.amazon.com. So make sure you start on Amazon Smile and not the regular amazon.com, or else Amazon won't donate to SVdP!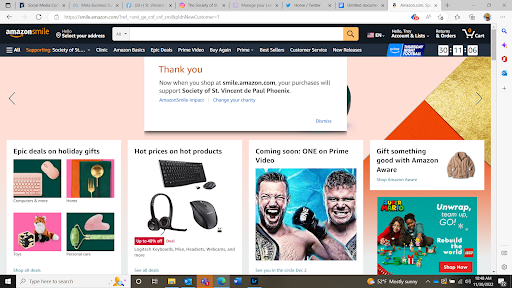 And if you already have an Amazon Smile charity selected but would like to change it to SVdP, it's super easy too! Here's how to do that:
1. Go to smile.amazon.com and hover over the "Supporting" icon. A dropdown menu will open. Click "Your Amazon Smile Impact."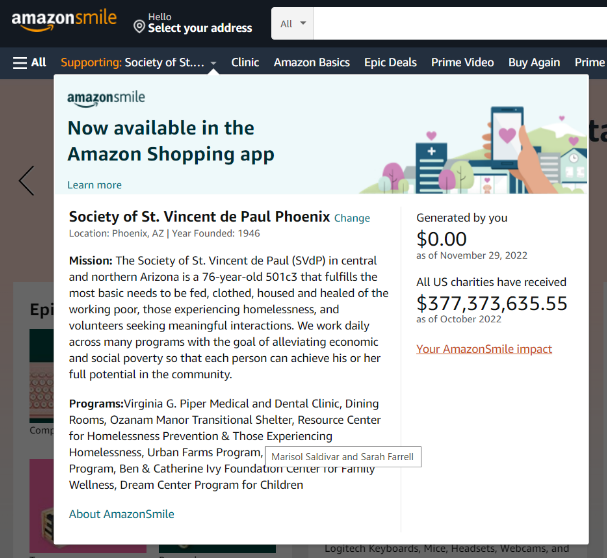 2. It'll take you to your Impact page where you can click the "Change charity" button.

3. Type "St. Vincent de Paul Phoenix" into the search bar and search it.

4. SVdP Phoenix should be the first option, simply click the "Select" button.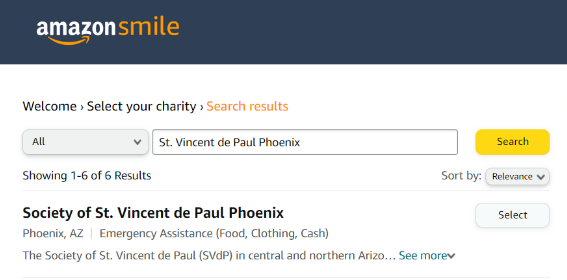 It will take you back to your Impact page and you'll be ready to start shopping!