05/28/2013—Make a Difference This Summer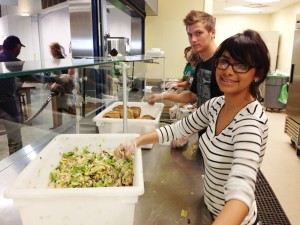 Looking for something to do this summer? Volunteer with us at St. Vincent de Paul!

We have many volunteer opportunities, depending on your availability and interests, but here are our top three areas of need:

1. Serve breakfast and lunch at our downtown Phoenix dining room (1075 W. Jackson Street).
Duties include set up, serving, bussing tables, and clean-up.

Breakfast service is 6:15 a.m. -8:30 a.m. Monday-Friday Lunch service is 9:30 a.m.- 1:00 p.m. Monday-Friday 2. Serve brunch at our Sunnyslope dining room (9227 N. 10th Avenue).
When you help in our dining room, duties include set up, food service and clean-up.

Brunch service is 10:30 a.m. - 12:30 p.m. Monday-Friday 3. Sort donations in our processing center (420 W. Watkins Rd).
The processing center receives donated goods and distributes items to our thrift stores. All items in our thrift stores are given directly to those in need free of charge, or sold to help fund our programs and services. Duties include sorting, quality checking, pricing, and hanging clothing. Volunteers must be 14 or older. We can accommodate group volunteers of up to 20 on a case-by-case basis.

Morning shifts are 8:00 a.m. – Noon, Monday-Thursday
Afternoon shifts are Noon – 3:30 p.m., Monday-Thursday
Someone from our volunteer office will contact with you within 24 hours of signing up. We hope to see you soon!