07/12/2013—Are you on Team PB or Team Jelly?
Last year, we delivered nearly 400,000 emergency food boxes to hungry families in central and northern Arizona. Each box contains staples like milk, eggs, rice, beans and canned goods, but peanut butter and jelly is always a favorite among kids. It's also a quick snack that kids can make when parents are at work.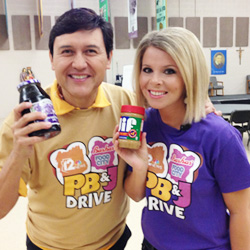 Donating a jar of peanut butter or jelly may not seem significant, but to a hungry family, it can make all the difference in their lives. Read about how a humble peanut butter and jelly sandwich saved the day for a family right here in the Valley.

Join 12 News' Emma Jade and Jimmy Q in the PB&J Drive to help us fill food boxes this summer!

Now through July 31, donate jars of peanut butter or jelly at any Bashas' or Food City. You can also donate online at stvincentdepaul.net. Tune in to 12 News this month to track the progress of our month-long drive. Whether you are on Team PB or Team Jelly, your donation helps feed hungry families in our community!