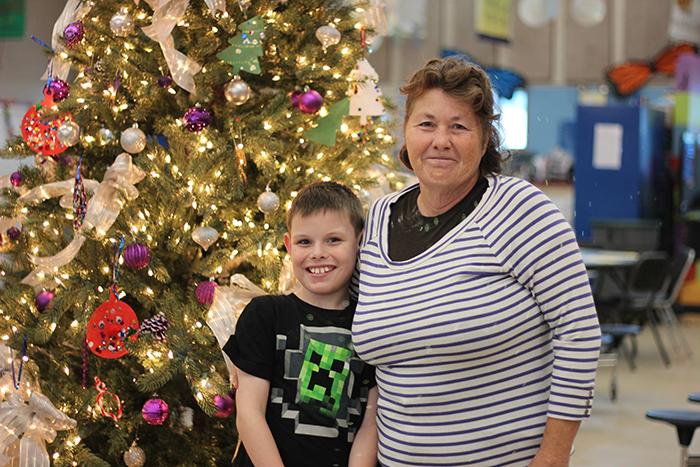 12 Days of Giving Challenge
Help us spread joy this season!
We know this season is one of the busiest of the year, between shopping for gifts, meal prep and family time. But making a little space in your calendar to give back to others will make your holidays brighter.
For those of you who could use some holiday fun, join us in our 12 Days of Giving Challenge! This challenge is just a way for all of us to spread joy and love in Phoenix. Are you ready?
Download the calendar here!
Don't forget to share your pictures on social media using #12DaysofGivingChallenge
1. Friday, December 14: Invite a friend to join the 12 Days of Giving Challenge.
Let the holiday season be full of love and generosity.
2. Saturday, December 15: Smile and say "hi" to everybody.
A smile can make a big impact on someone's day. Don't be shy!
3. Sunday, December 16: Shop for Christmas gifts at our thrift stores.
St. Vincent de Paul thrift stores serve as a distribution point for those most in need and generate funding for our services, including our valley-wide food pantries, dining rooms, services for the homeless and our medical and dental clinics. Our stores carry one-of-a-kind furniture, clothing, artwork, appliances and other household items. The perfect place for Christmas shopping!
4. Monday, December 17: Make cookies and share them with somebody.
Who doesn't like cookies? Here is our favorite Christmas Cookies recipe from our very own kitchen.
https://www.stvincentdepaul.net/svdp-blog/our-favorite-christmas-cookie-recipe-0
5. Tuesday, December 18: Sign up for any of our volunteer opportunities or be a SVdP Ambassador.
Donating money to St. Vincent de Paul is not the only way you can help others. Your time is priceless, and, more than ever, we need volunteers like you. Check out our volunteer opportunities here: https://www.stvincentdepaul.net/svdp-blog/looking-for-new-volunteer-opportunities
You can also be a SVdP Ambassador! Tell others how to get involved. Call 602.266.HOPE (4673) to purchase an SVDP hat for $10 or a t-shirt for $20. Or follow us on Facebook, Twitter and Instagram to stay up-to-date on current campaigns and events.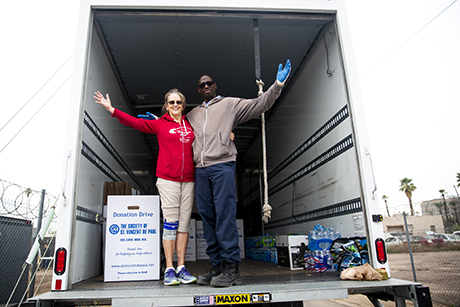 6. Wednesday, December 19: Organize a canned food drive at your workplace.
Make it easy and fun for your coworkers! Come up with a simple incentive like allowing donors to wear jeans to the office, or earn a raffle ticket for an office raffle. To get started on your drive, go to https://www.stvincentdepaul.net/give/organize-drive. If you would like more information, please call our drive hotline at 602.850.6748.
7. Thursday, December 20: Write a letter or email to a loved one you haven't talked to in a while.
Sometimes we are so focused on our day-to-day routines that we forget to keep in touch with those who bring joy to our lives. Don't wait any longer, and get in touch with them!
8. Friday, December 21: Give yourself tons of love!
It's Friday! Enjoy your favorite ice cream, watch a movie or maybe take a long hot bath. Remember, in order to help others, you need to take care of yourself.
9. Saturday, December 22: Write down a list of what you are thankful for.
Let's count our blessings beyond Thanksgiving Day. Mindful gratitude is a great way to relieve stress and bring joy to your life!
10. Sunday, December 23: Clean out your house and donate items to our thrift stores.
As you're tidying up the house to prepare for guests, set aside items to donate to SVdP! We will even pick them up! Request your pick up online here: https://www.stvincentdepaul.net/give/schedule-pickup
11. Monday, December 24: Hug your loved ones for at least five seconds.
A hug is a great way to brighten a friend's day. Don't be shy, give free hugs today!
12. Tuesday, December 25: Share your list of things you're thankful for, and ask your family to do the same!
Congratulations! You have completed the 12 Days of Giving Challenge. Thank you for giving love to your neighbors and spreading so much love in your community!
Remember that every day is a good day to give. Keep challenging yourself to be a more generous person all year long!
Happy Holidays and Happy New Year!