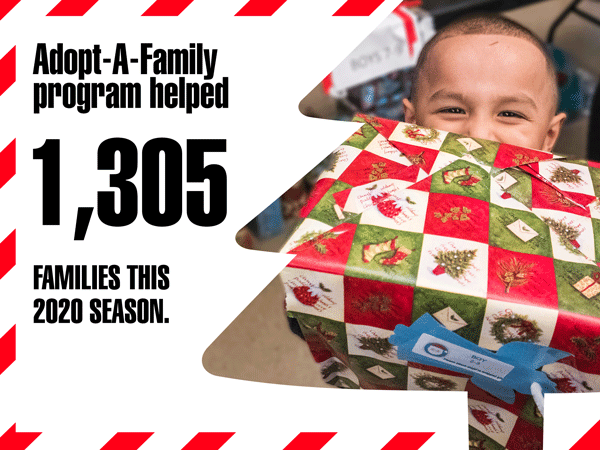 Adopt-A-Family helps record number of families 2020 holiday season
With community help, the annual SVdP program made the holidays for 1,305 families in need
By Christmas evening, 1,305 families had opened presents and shared in a holiday meal they almost went without after a tough year of job loss and economic hardship. That extension of joy is thanks to St. Vincent de Paul's Adopt-A-Family program, which connected a record number of families this year to sponsors who helped provide a little holiday cheer.
Adopt-A-Family annually offers families, individuals, and community/office groups a chance to sponsor local families in need by providing gifts and a holiday meal. This 2020 season, the program saw increased need, but it also saw an abundance of community support. That's what made the difference in sponsoring an additional 400 families beyond the 900 helped during the 2019 season.
"I have had the pleasure of working on this 25-year-old program for the past 13 years. I've heard stories from sponsors about the huge grins on children's faces as they rip open their gifts, and the tears from parents who know that the spirit of the season has moved community heroes to help their families," said Dottie Sullivan, a volunteer coordinator of the Adopt-A-Family program. "Because of the pandemic, the holidays looked very different for the families who were simply trying to stay afloat. But with the help of our community, so many of them were able to still celebrate and not miss out on all the traditions and magic we all love."
Sponsors bought and wrapped two new presents (toy and clothing) for each child under 16, and one present each for older siblings, parents and grandparents living in the same household. Pandemic procedures had them provided a gift card to an accessible grocer so each family could purchase their own ingredients for their own special holiday meal in lieu of supplying the ingredients. All presents and gift cards were delivered to doorsteps to practice health safety.
"Thank you to everyone who helped salvage Christmas for so many families this year," Dottie said. "We hope the community generosity lives on and that we all celebrate under better circumstances next year."
Missed out? There are still plenty of vulnerable families that need your help during 2021. Consider sponsoring one family's rent and utilities for a month. Donate today to support families in need.