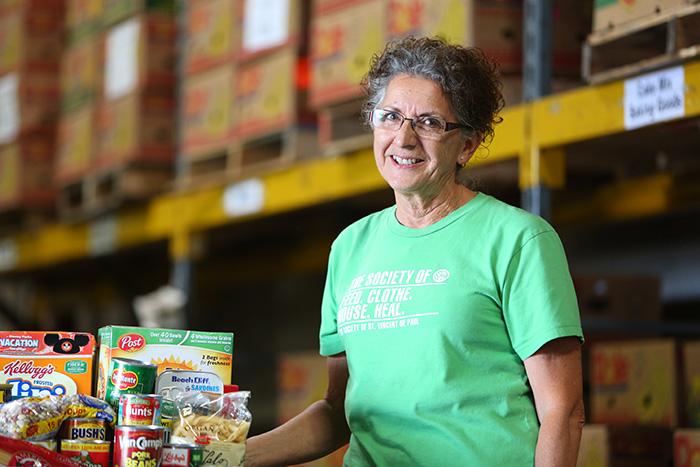 Advice For A Younger Me: If Only I Had Known…
Food warehouse manager shares what she has learned over 16 years
Sixteen years ago I left my job at the Census Bureau and my daughter suggested I apply for a job at St. Vincent de Paul. There was an opening in the food bank and even though I didn't know what the job entailed, I applied. I immediately started working on the floor, sorting food, boxing food and basically getting it ready to be distributed. It was physical work that I wasn't used to. During my first week, I thought, 'Do I and can I really do this?' But I stuck with it. Every day I punched in and punched out. I did a good job and I got a paycheck.

Little did I know how much I would change over the course of the next 16 years. After learning the full scope of SVdP's programs, services and volunteer base, everything changed for me. I wanted to learn more, I wanted to do more. I started to get incredible job satisfaction and I LOVED my job. I started to understand what my role was in the grand scheme of helping others in our community. And slowly over the years I was trained and mentored in the different aspects of handling the food warehouse processes. In 2010, when the warehouse manager decided to retire, I was asked to take his place. Looking back, there are many lessons I've learned and wish I could have told my younger self…

1. Don't be so self-centered.

During the first few years, I was all about learning the job and doing a good job, but I didn't open my mind to all that was around me or what SVdP was all about. I would have told my younger self, and others today, open your eyes and see all the good things SVdP is doing for those in need. Really learn about all the different programs and see the difference they are making in the community.

2. Show more appreciation for volunteers and Vincentians.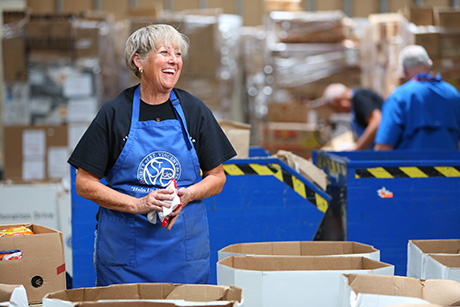 I've gotten to know many volunteers over the years and I've realized what an incredible part they play in SVdP's work. We couldn't do what we do here without our volunteers. They have amazing hearts. In the beginning, I didn't notice these great hearts, and I wish I could have told them all how much I appreciated each and every one of them. Recently, a volunteer passed away who had been coming in for over 20 years – she was unbelievable. She (and all the others) always remind me of this quote from Mother Teresa, "The miracle is not that we do this work, but that we are happy to do it."

3. People are willing to help…they just need to be asked.

I've noticed that a lot of times we don't ask people to help because we're afraid we're bothering them. There have been times when I didn't have any food for the volunteers to sort, but I felt bad asking them to do menial work like mopping the floors and cleaning walls. I was WRONG. Every time I've asked a group to do something different, they were so happy to jump in and do the work. Not once has a group of volunteers ever complained or hesitated to help wherever they can. Just ask. People are willing to help.

4. There's more than one way of doing things.


When I started this job, I ran things the exact same way my former boss did. But I've learned that you can step out of the box every once in awhile and try new things. Even if everything is going just fine, it's okay to take a chance and try to make it better. Staff in the food warehouse used to only be trained to do their specific job, but I thought, 'why not train multiple staff members on the forklift, scanning, QC, shipping and sorting?' Making this change was great. Now it's much easier to have someone fill in when others are out sick or need to take time off.

5. Learn the full scope of what St. Vincent de Paul does and share about it with others.

As I mentioned in my first lesson, I wish had known all about SVdP's programs when I first started. But not only do I recommend that others do the same, but I would also encourage people -- whether staff, volunteers or donors – to share about SVdP's work with others. Encourage family and friends to get involved. Encourage them to volunteer. By sharing with others, you will ultimately learn the full mission of St. Vincent de Paul.