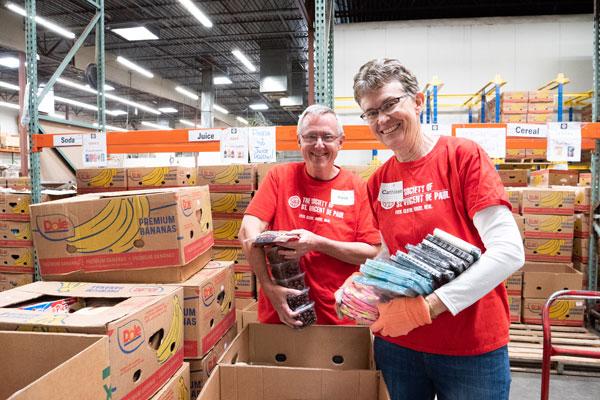 Better together: The case to volunteer & donate
The Bergmanns find personal connection and deep fulfillment in giving back both time and treasure
Never have Pete and Cathy Bergmann forgotten the stark contrast in scenery and the feelings they grappled with as they dined at a restaurant after their first-ever volunteer shift together at St. Vincent de Paul's downtown Phoenix Dining Room. Cathy had attended to tables in the family section, and Pete had dished up plates.
"The awareness that here we have the ability to sit comfortably and have a great lunch coming out of two hours of serving people who would have been sitting on the ground…it was humbling," Pete said.
In that moment, the Bergmanns decided they could do more. The Chandler couple started by making a modest annual donation to SVdP. But they wanted to know where their money went and felt something missing until they took a tour.
"For us to see the need, the immense generosity of people, and the enormity of the mission," Cathy said. "It wowed me."
Ever since then, they've stepped up their giving and regularly volunteered to sort donations inside the Food Reclamation Warehouse.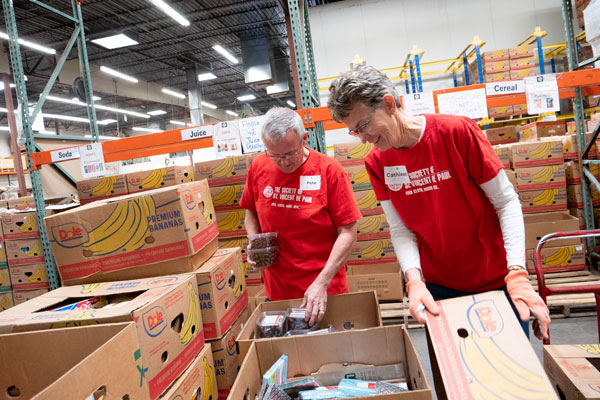 "It's become a fun activity for us," Pete said. "You know we've been very blessed in our lives and to be able to put a little bit back is nice, you know, financially, but then also with our brains and our hands."
Committing time on top of financial gifts comes from a deeper philosophy and drive the Bergmanns have — to leave the world a better place and show compassion to those who might not otherwise receive it.
Before retiring, Pete co-owned and ran a local manufacturing business with his brother for almost 30 years. It was a machine shop they bought in the 80s and labored intensely through to turn into a success.
"My brother always knew that we were just lucky to be at the right place at the right time to get this business," Pete said. "He would feel a real need to donate and help."
Pete remembers his brother cutting generous checks to give back to missions in which he believed. But he always wondered how fulfilling writing a check left his brother — how fleeting the sense of doing good was for those few minutes it took to put pen to paper. What Pete learned is there is enjoyment in seeing the work in action.
"I love seeing it go to good works and making its way to the people who need it," Pete said.
"You have to see the faces," Cathy added. "It's somebody's sister, somebody's father…somebody's mother you're helping."
Cathy worked 17 years for a CPA firm before working 10 years in outreach ministries for their local parish, St. Andrew the Apostle Catholic Church. During those ministry years, Cathy developed an appreciation for the importance of personal connection to real people and real stories of impact.
She experienced that joy while working at St. Andrews, which houses one of 80 neighborhood food pantries and assistance centers SVdP has in the Valley. Cathy distinctly remembers a follow up phone call to a mother who had received a food box during a home visit that week.
"The mother said to me, 'For an hour in the last week, because of what was in my food box, which had a little special bubble bath sample, I could slip into the bathtub and feel like a woman again,'" Cathy recounted. "It had me in tears. It's those moments and stories that give so much meaning."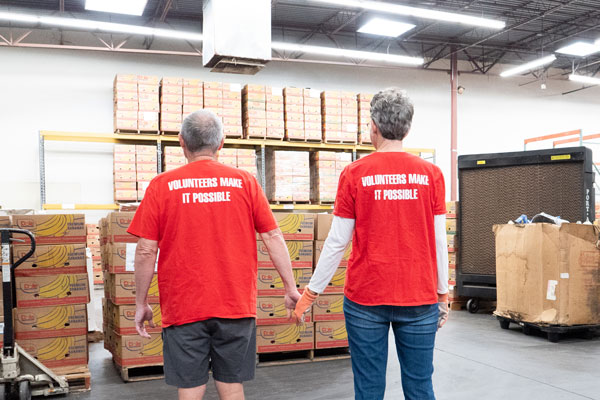 When they sort donations, the Bergmanns often think about the people on the other end of their work. They imagine the family who will receive the canned goods they hold in their hands.
"Maybe they'll think of where it came from or maybe not, but I hope they feel that somebody out there cares about me," Pete said.
"You have to believe that somebody's life can be changed by what you do," Cathy added. "We choose to give and volunteer. Together, our giving has grown by being involved and our being involved has grown by our giving. In the end, we hope it makes the world a better place."

Pete and Cathy Bergmann are part of a special group of St. Vincent de Paul members who both volunteer and donate. They've shared their giving story in the hopes that it will inspire others to stand alongside them in their support of SVdP's mission to feed, clothe, house and heal. Thank you, Pete and Cathy, for your touching words, dedication and generosity.
Donate: stvincentdepaul.net/give
Volunteer (remote/in-person): stvincentdepaul.net/get-involved