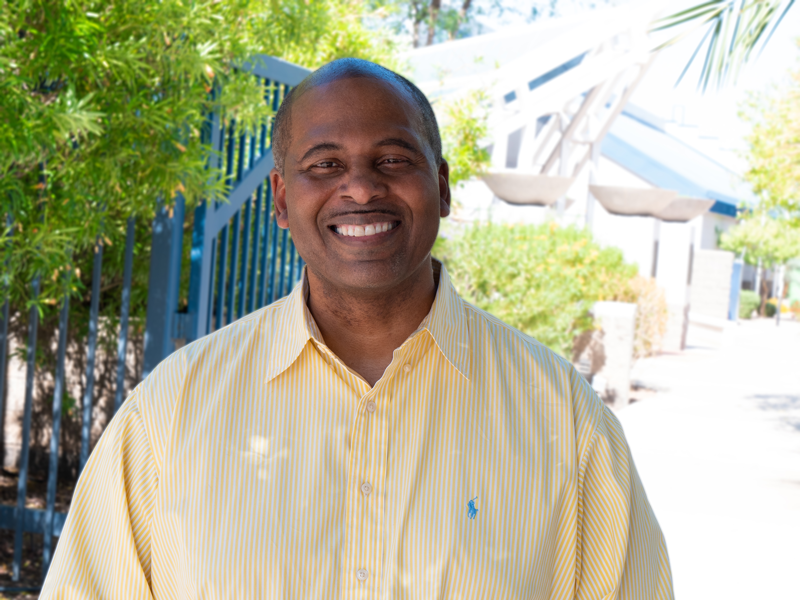 Bruce Cooper joins the SVdP Family
Meet the local celebrity on staff and hear from Bruce on his new role, sports hobbies and which SVdP color is his favorite
September saw a much-beloved addition to the St. Vincent de Paul family with the hiring of Bruce Cooper. The former 12 News sports anchor retired from the station in August after 34 years there. But it didn't take "Coop" — as he's lovingly called — long before he found a new and different way to continue his presence in the community.
Bruce started a part-time role working community outreach for SVdP on Sept. 14.
"I'm just so thrilled Bruce Cooper has joined our team," Executive Director Steve Zabilski said. "Bruce is a legend not only for his work in the sports world, but also for his heart and the joy he brings out in us all. I have known and worked with Bruce for more than 20 years and I couldn't think of a better person to represent us publicly and to help connect more people to our mission."
You may have already seen Bruce on campus. But in case you haven't, here's your chance to get to know him better.
What have you been up to since retiring from 12 News?
Since stepping away from 12 News, I've been taking it slow, relaxing and getting adjusted to this new chapter. My original getaway and travel plans with my wife were curtailed by COVID-19. But staying safe and healthy took priority. I'll admit that it is nice not having to beat the daily deadlines that comes with working in the media, however, I do greatly miss my colleagues. But I got to have dinner recently with Mark Curtis, Caribe Devine and Lindsay Riley. I'll likewise be meeting up for dinner with my sports people.
It wasn't that long before you jumped into work at SVdP. How have your first weeks been?
I've spent a good amount of time meeting people and learning more about the different departments and how they operate. It's very apparent that everyone here has a heart as big as the Grand Canyon! The goal and mission are the same regardless of the department — serving the needs of the less fortunate. I haven't met one person here who hasn't bought into the culture of humility and assistance. In fact, I love the friendly nature present here at SVdP.
What does your community engagement role have you doing for SVdP?
I expect you'll still see a lot of me on local TV but now I'll be representing SVdP and talking about the news, drives, community and services that we all make happen. I've always been a storyteller and will still do a lot of that for SVdP, but specifically out in the community. It's vital for me to get out, talk to people, share about our work and invite people to join us in creating a stronger community. So whether it's a formal event or a casual visit to volunteers or donors, I'll be there to share, welcome and connect people. And when I'm not doing that, you can find me at my desk in the Vincentian Support Services building. We all have a good time there.
In some ways, it's not your first time working with us. While you were at 12 News, you were a huge part of our annual Turkey Tuesday event together. What are some of the things you love about that drive and team effort between 12 News, Bashas' and SVdP?
Turkey Tuesday was always special and important to me to beat the previous year's totals. I did that for 25 years from the 12 News side of the partnership, but now I'm super excited to part of it with my new work family at SVdP.
It was also neat to see our local athletes, pro teams, businesses and the public get involved in raising donations and turkeys to benefit the needy via SVdP. Vendors, high school marching bands, cheerleaders and young dance performance groups would all show up to help create a special festive atmosphere. It will be different this year because of COVID-19, but I know we'll all make it just as special. Then, hopefully, we can get back to normal by next year's Turkey Tuesday.
Outside of SVdP, how else are you spending your retirement?
I'm a sports junkie so naturally my hobbies include sports. I am off to a rough start in my fantasy football league, a measly one win through the first three weeks of the season. Ouch! I also enjoy working with young people in sports. I believe that sports help develop strong character values as well as teaching one the value of teamwork. In the afternoons, I volunteer coaching youth basketball specifically for kids who may not have made their school teams because I want them to know that just because you're cut one year doesn't mean you can't work hard and make the team the next year. Sometimes they just need someone to believe in them, to help them work in the right ways to achieve their goals and just have some more confidence in themselves.
Last but not least, everyone knows the four colors of SVdP's brand: Red, Orange, Green and Blue. Now that you're part of the family which is your favorite brand color to sport?!
When It comes to our brand colors, I like blue the best. Not only is blue prominently displayed on our buildings and logo, but I look better in blue than I do in red, green or orange. LOL!