Charity Over Toasters: A Couple's Creative Wedding Registry
SVdP volunteers donate wedding gifts to Dream Center
We are always inspired and amazed by the unique and generous ways we see volunteers and donors help struggling families in Phoenix. From donating medical equipment to building an aquaponics tilapia farm, we are blessed to have so many creative supporters! But this donation takes the cake…wedding cake that is.

Julia King, 23, and Joseph Kohn, 27, engaged to be married this April, have been volunteering in our Dream Center since last summer. Shortly after getting engaged, they decided instead of having a traditional wedding registry, they wanted to create a registry list for a charity in Phoenix. Julia did a quick search of local charities and chose to visit St. Vincent de Paul first.

After her first volunteer experience in the Dream Center, her mind was made up. She wanted to donate her wedding gifts to SVdP. After his first visit, Joseph quickly agreed with this idea.

"When I came here, I cried a little, because there are so many resources here. That's such a cool thing for kids who come from low-funded school districts to be able to come here and have so much at their fingertips that they can work with. I thought, 'I want to contribute to this even more,'" Julia said.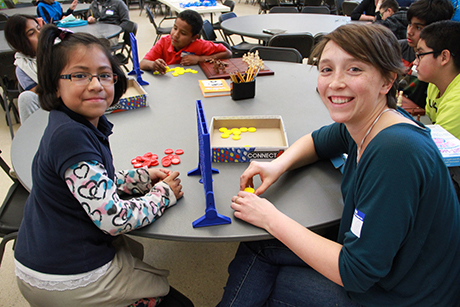 So early on, the couple sat down with Cynthia Bach, SVdP Dream Center supervisor, to find out what resources were most needed. Cynthia helped the couple create an Amazon Wish List.

It's not surprising that this unique idea to help others came from Julia and Joseph. You'll find that nearly every aspect of their lives is non-traditional. Julia is a cook at a vegan restaurant and a woodworker. She even has her own online Etsy shop called KingKohnCrafts. She mainly makes educational resources, such as wood puzzles and homeschooling manipulatives (objects that help children learn concepts in a hands-on and experiencing way). Joseph works as a bellman at Arizona Grand Resort & Spa, but is also in the process of creating a mobile app for the resort, which he plans to pitch to the resort executives before the wedding. The two met on CatholicMatch.com and only dated a few months before getting engaged.

"When you know, you know," they both said, laughing with their hands firmly clasped.

After their wedding in April, the couple plans to pack up and hit the road in an RV trailer they just purchased.

"We decided seasonal work is what we'd like to do. So we just interviewed for jobs at Alaska Excursion Cruises, to be high-adventure tour guides," Joseph said.

With this plan in mind, they knew a traditional wedding registry wouldn't be needed. After working with Cynthia to come up with the Dream Center wish list, Julia wrote a short newsletter to her wedding guests describing the idea behind the registry, shared about their volunteer experience, and shared about SVdP's work in helping those in need.

The Dream Center wish list includes items such as board games, learning games, STEM science products, house and car building lessons, and educational manipulatives.

"That's one of the most beautiful things about this place – children can come here and discover things that they may not have otherwise. So, it's not just the St. Vincent de Paul 'after-school tutoring center.' It's a place that teaches kids that education is not just a day-to-day activity they have to do. Here, they learn that their education can lead them to so much more, like if they dream of becoming a doctor or lawyer," Julia said.

When asked what the response has been so far to their registry, Julia and Joseph both laugh and say that many of their friends think it's crazy, but crazy in a good way.

We wish Julia and Joseph the very best as they start their new life together and thank them from the bottom of our heart for their generous and creative support!
Are you interest in helping others in a unique way? Feel free to contact us anytime -- we'd love to hear your ideas!