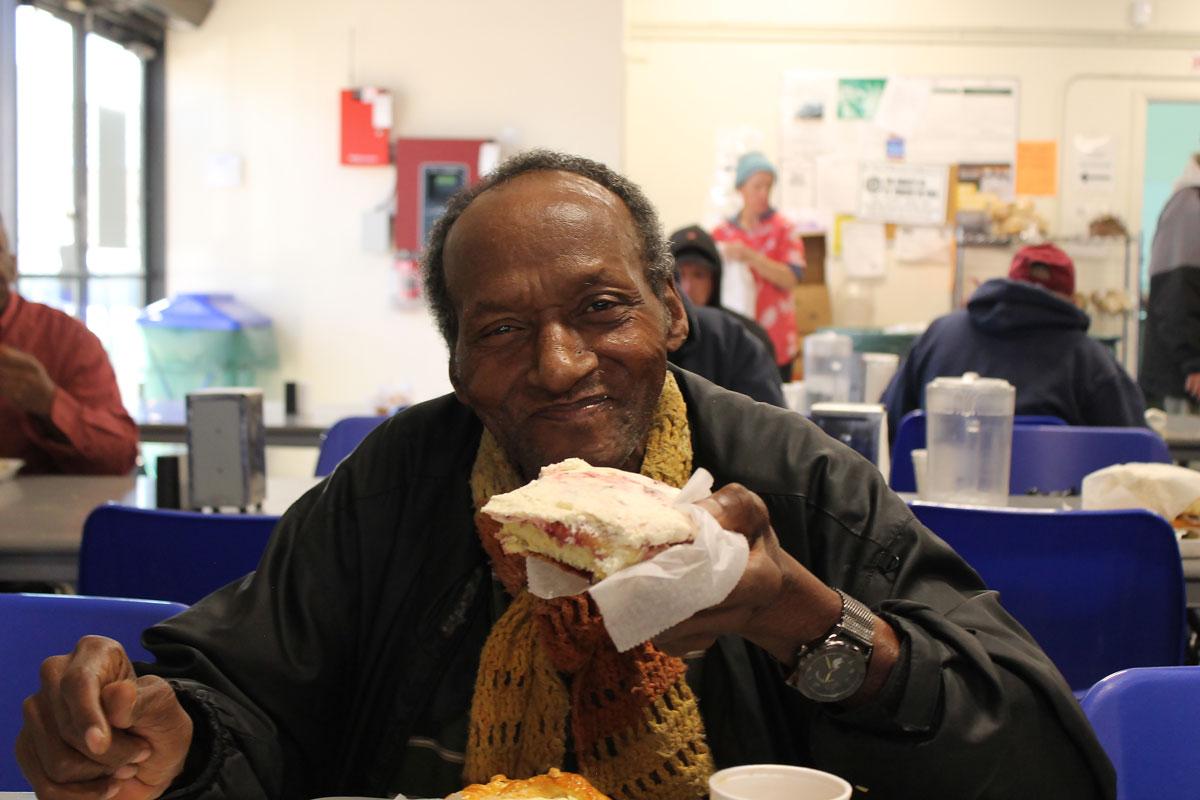 Community solutions one cinnamon roll and doughnut at a time
Local sweet treats donated to Mesa Dining Room help divert food waste, build relationships
As Duane Carter, 65, took a big bite out of his cinnamon roll, he got a little frosting on his chin and smiled.
"This is the biggest cinnamon roll I've ever seen," he said. "Delicious."
The sweet treat came after a hot lunch of shredded chicken, mashed potatoes and green beans that Duane enjoyed with a side of peaches. He's come to St. Vincent de Paul's Mesa Dining Room on 67 W. Broadway Road regularly for years, and one of the things he's grown to count on are the specialty pastries donated to the dining room.
Every Monday, Wednesday and Saturday, guests of Mesa get to enjoy delicious treats donated by Rise Up Bakery in Gilbert, Arizona. Jay Lunt, owner and operator of Rise Up, first started donating his baked goods to SVdP's Mesa Dining Room about three years ago. It's a relationship that started out of convenience, but blossomed into so much more.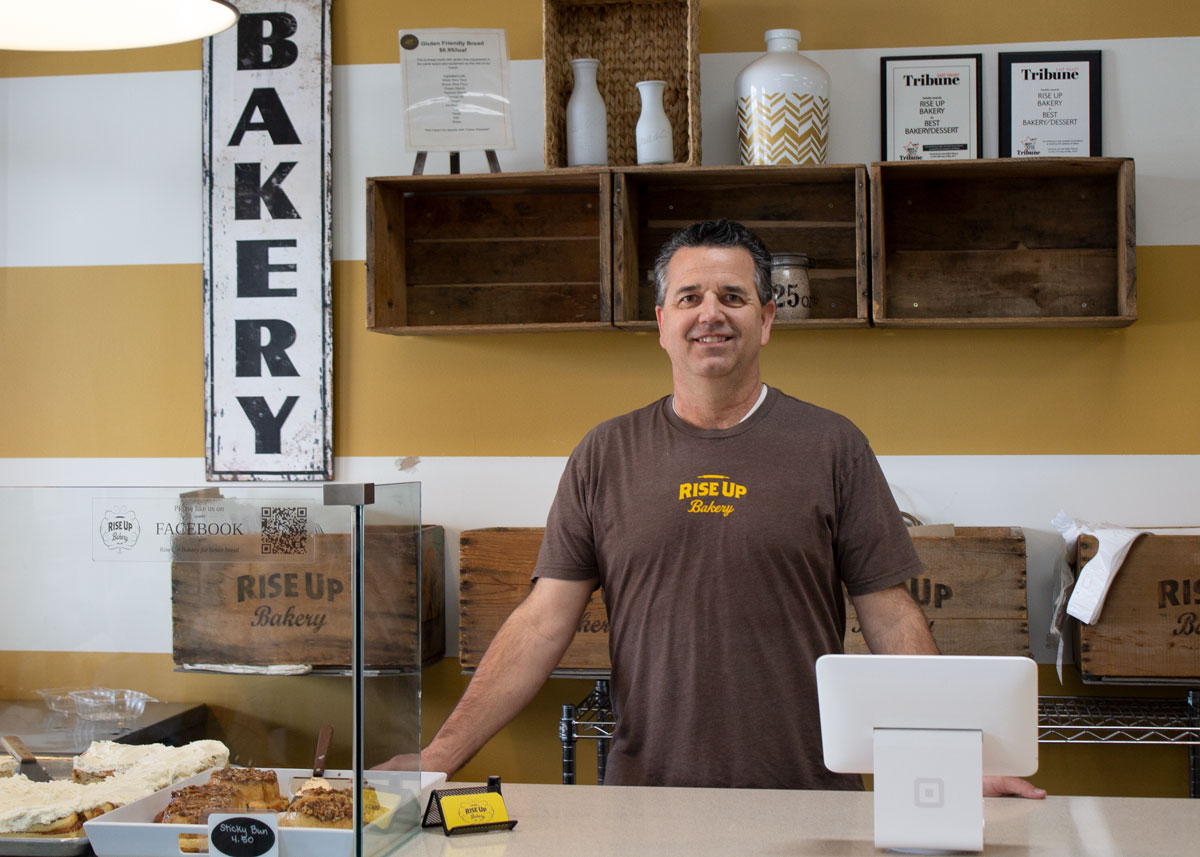 When Rise Up first opened in 2014, Jay had to over bake. The shop hadn't established a customer base yet, but still had to sell itself as a full-service bake shop. That meant Jay had lots of excess sweets on hand at the end of the day.
"Throwing it away just kind of made me feel sick," he said. "I'd rather give it away to someone who really needs it. And when I wasn't making any money for the first year and a half, I at least felt like I was doing something good for the community."
Prior to opening Rise Up, Jay had co-owned and run a bakery in Las Vegas for 10 years that donated its old loaves of bread growing stale on the shelf to help feed pigs. In turn, the pig farm provided meat to a local homeless shelter.
Continuing in that tradition of giving, Jay searched for a similar mutually beneficial system when opening Rise Up Bakery after returning to Arizona. (Jay's originally from Casa Grande.) He found a partner in SVdP, which he said has reliable volunteers who pick up the goods and people who do great work in the community.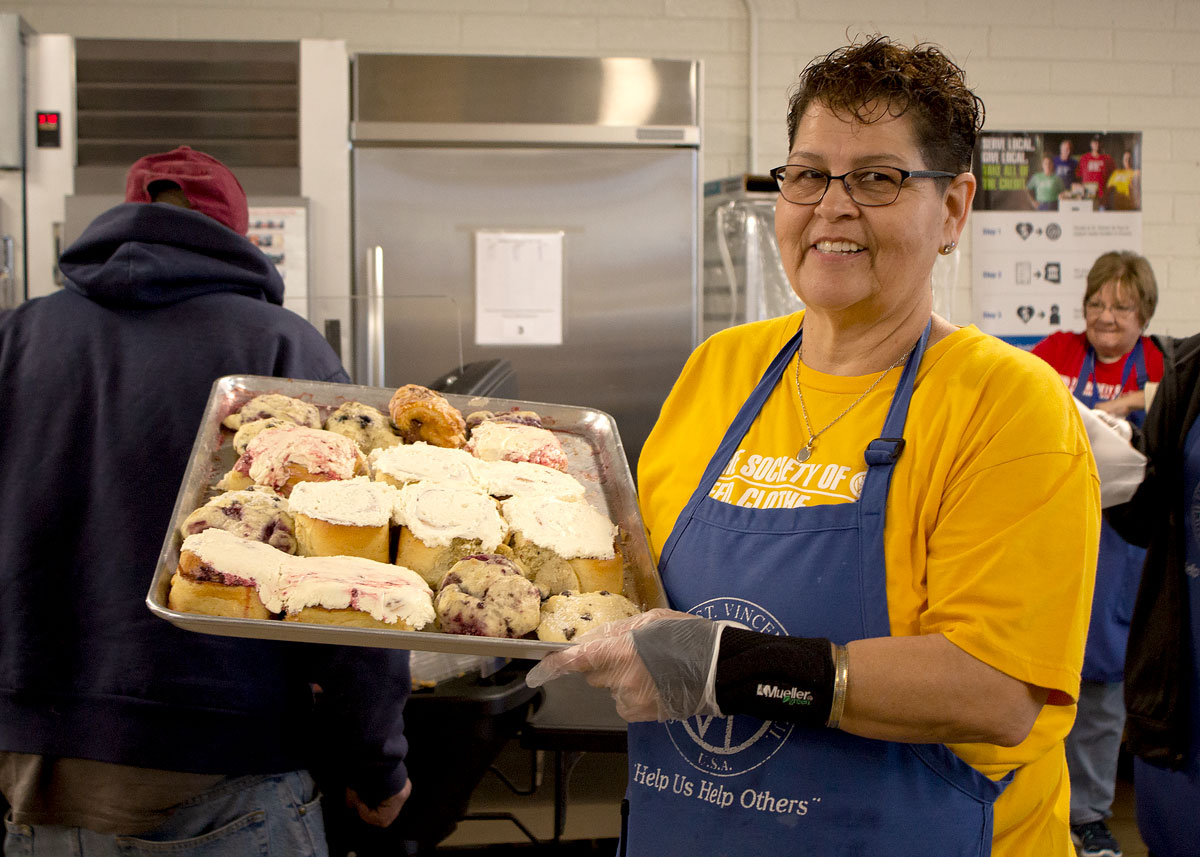 Each year Rise Up Bakery donates 20,000 baked goods to the community. About 15,000 of those go to SVdP and the other 5,000 or so Jay gives to a local women's shelter.
Those donated goods are often a fair sampling from his shop, ranging from cookies, scones and croissants to lemon, zucchini and banana breads. But nothing tops his cinnamon rolls, which have become his biggest seller. And the best part is they are fresh and usually not even a day old.
"I could still sell them," Jay said, "But I like serving up the freshest product I can in my shop. Knowing that the rest goes to charity, helps me make that business decision."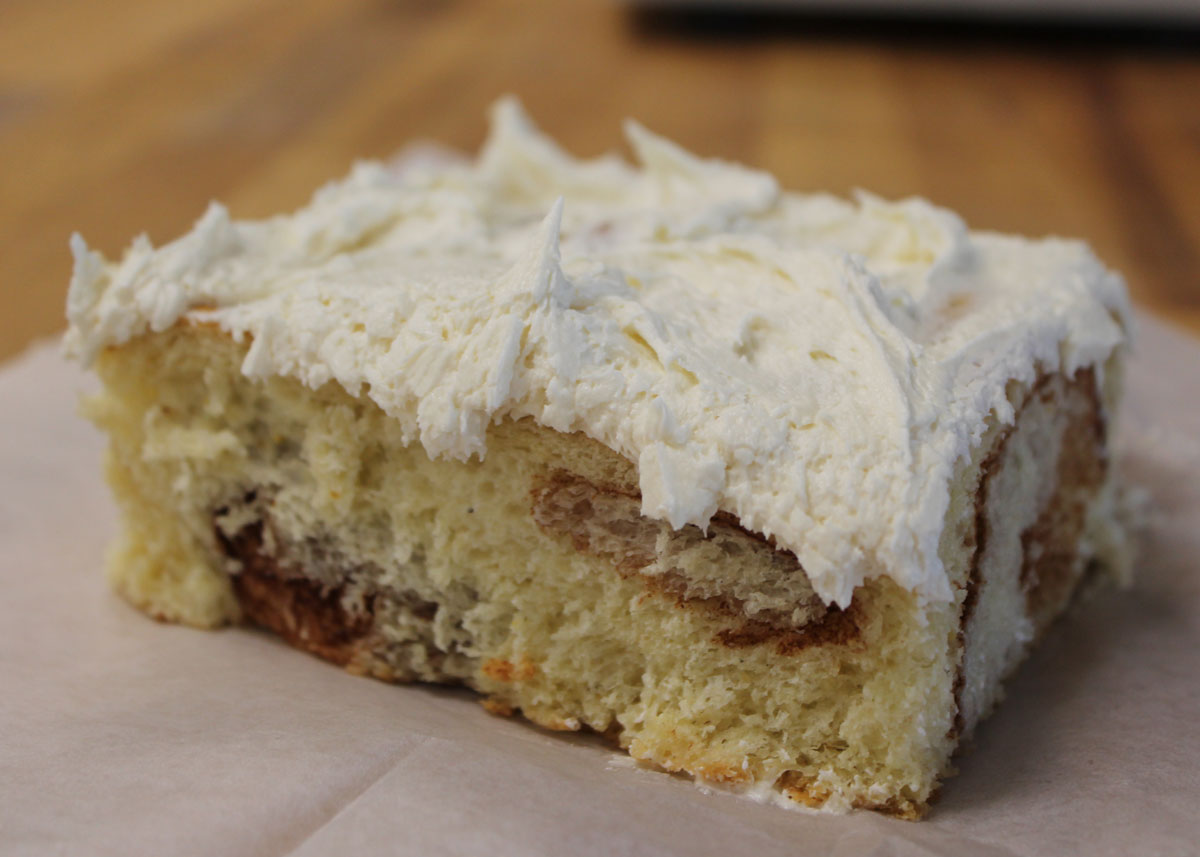 Beyond donating tasty baked goods, Jay and his family also donate their time as volunteers on Thanksgiving and Christmas. Along with them they bring hundreds of fresh dinner rolls. Last Thanksgiving, their generosity received a standing ovation from fellow volunteers and guests.
"I was crying when I left," Jay said, "because they're the ones more often giving their time, but it's good to know that I'm helping make a difference."
Mesa Dining Room's treats don't end there. The dining room also has a longstanding relationship with Doughnut Peddler in Chandler, Arizona, thanks to Vincentian volunteer Joe Rinker. He helped arrange the original deal with the family that started the wholesale doughnut factory and did pickups himself for almost a decade.
Four days a week SVdP's Mesa Dining Room receives at least 10 boxes of doughnuts and has had as many as 26 boxes donated at once.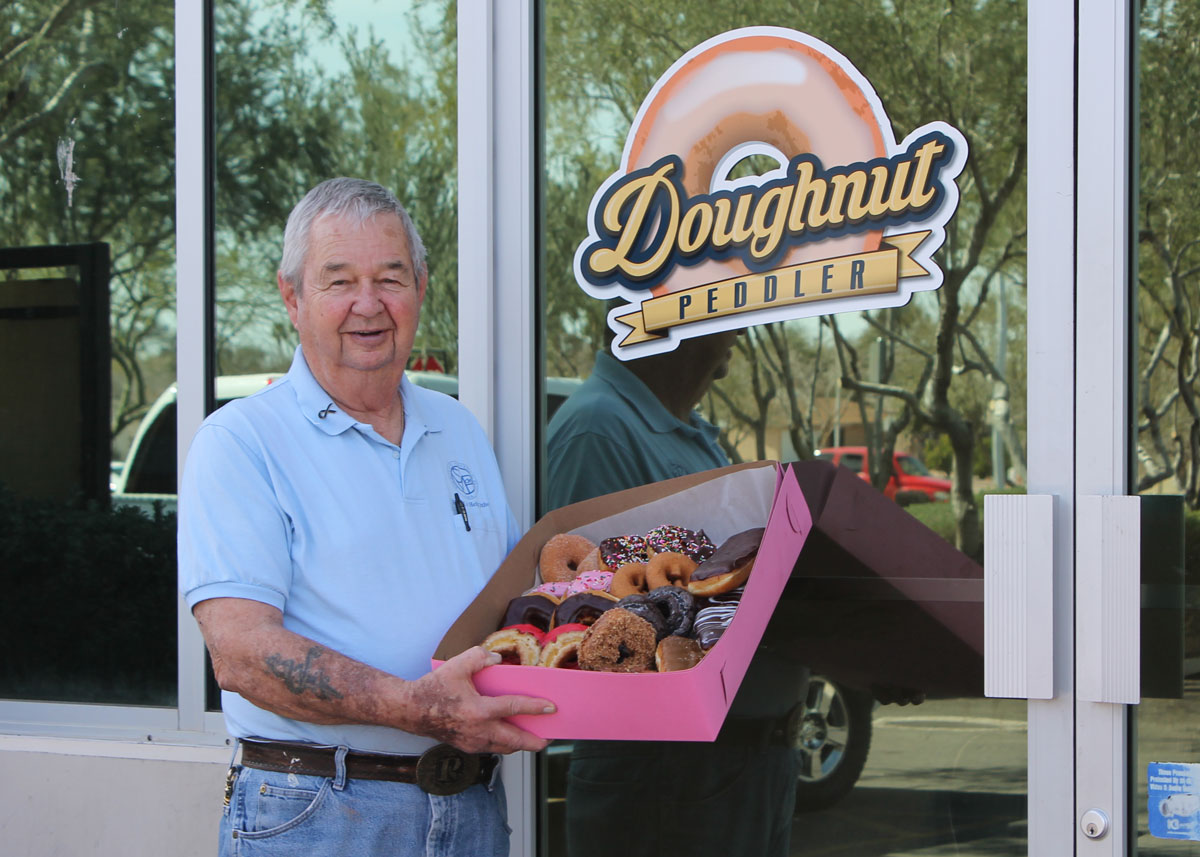 Originally Joe got into the spirit of it just because he likes doughnuts — the cake doughnut being his favorite — and helping people.
"One day I looked down and couldn't see my toes anymore," he teased.
Now 88 years old, Joe has since handed off the weekly pickup to the next generation of Vincentian volunteers, but loves that the relationship still continues.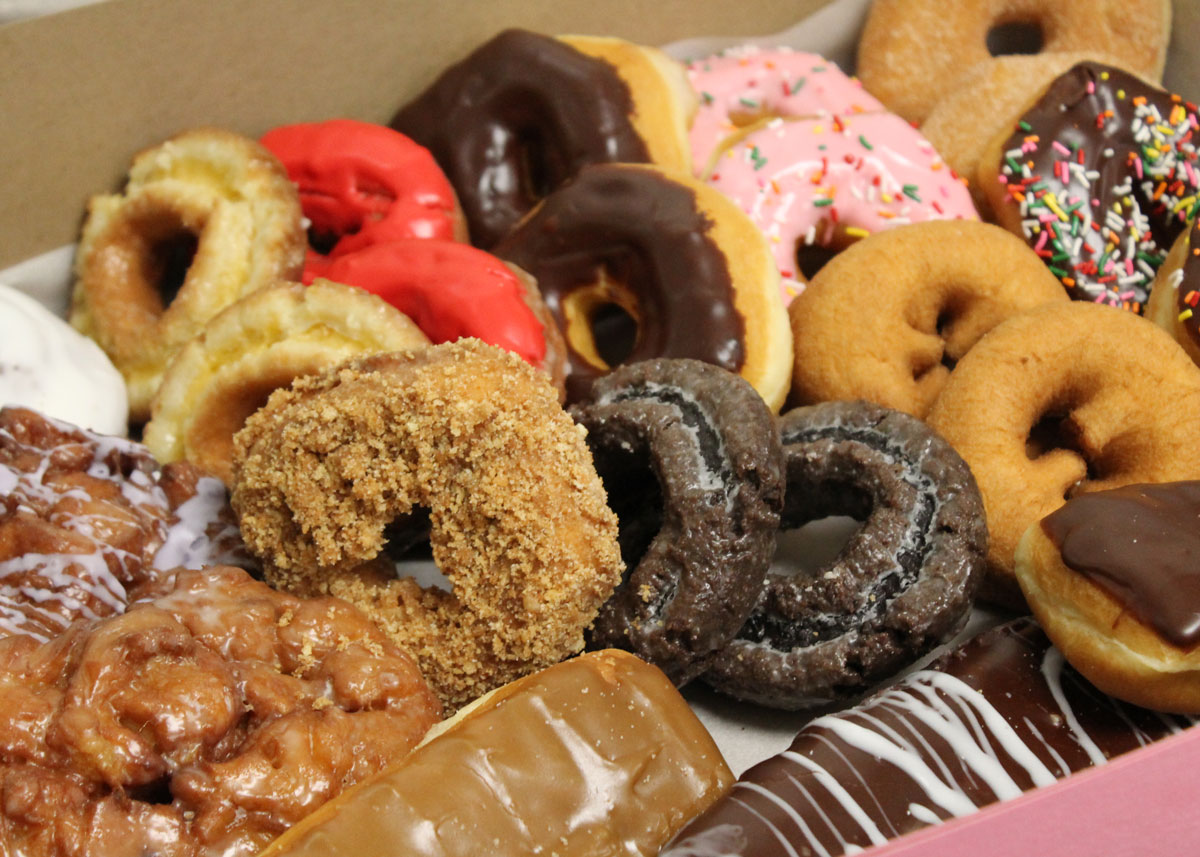 "I walked on air when I delivered them," Joe said. "I think I got more out of it than the people did."
And to Joe's point, there's so much more than added sweets floating around for all the people involved in this dessert supply system, including the guests.
"It means a lot to our community that people like them share time with us," said Duane as he polished off his cinnamon roll. "And it's not just time, it's their kindness and their wisdom too."