Remote video URL
Cooking with Coop: Fiesta Chicken Casserole
What can you make from a SVdP food box?
Video story by Alejandra Bucon featuring Bruce Cooper
Written story by Sarah Farrell
St. Vincent de Paul often gets the question, "Can you make a healthy meal out of the packaged and canned nonperishable items commonly found in SVdP food boxes?"
So, we turned to the experts at SVdP's Ben & Catherine Ivy Center for Family Wellness to see if they had any go-to recipes for our families and guests.
The dietitians who work in the Center for Family Wellness focus on how food, nutrition and exercise can help prevent and manage chronic diseases like diabetes.
Dietitian-in-training Victoria invited Bruce Cooper and our team to try out a hearty, healthy recipe that was full of flavor while using mostly canned ingredients. She calls it a Fiesta Chicken Casserole – a name that's really fitting with the bright colors packed into the dish.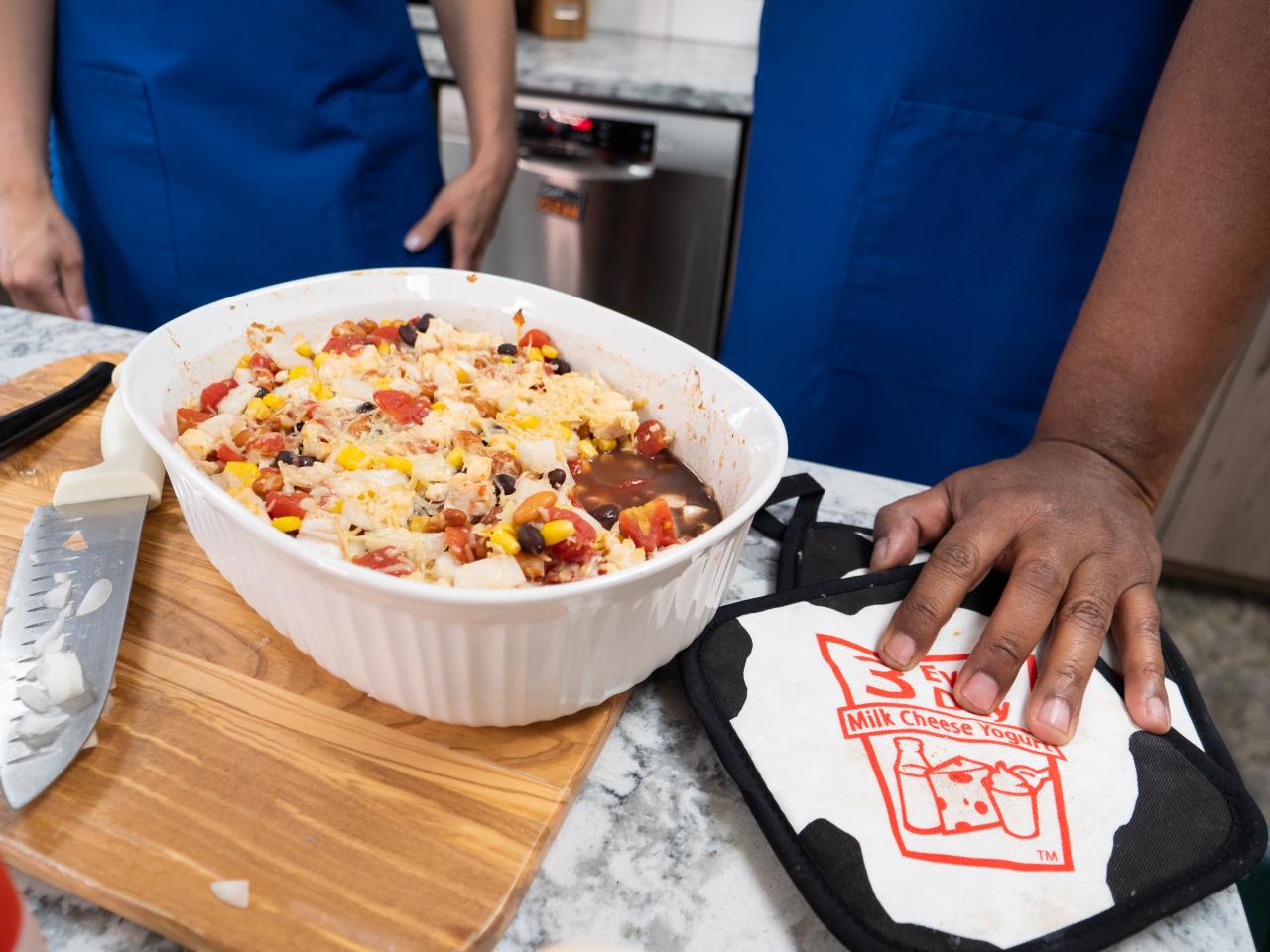 Not only is it easy to make, but it also full of nutrients.
"The food boxes are going to provide food from many different food groups," Victoria said. "The recipe that we made today it has protein – so that's our chicken and our beans also have protein – the beans provide carbohydrates, and then our vegetables are the corn and tomato. So, this recipe provides a lot of protein, fiber, vitamins, and minerals. It's an easy, healthy meal that people can make with the ingredients in the box."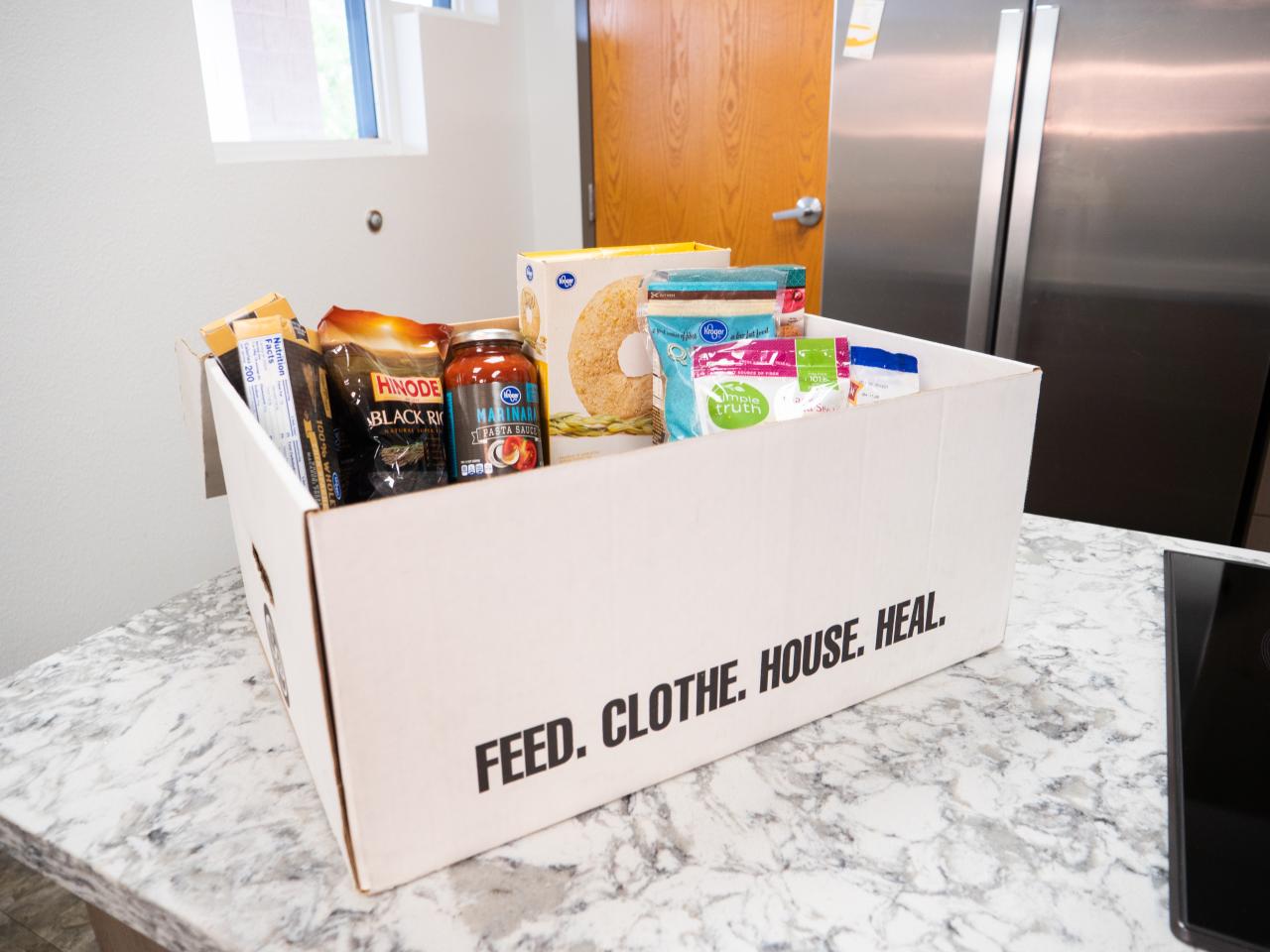 To make the Fiesta Chicken Casserole you'll need:
1 can of corn
1 can of pinto beans
1 can of black beans
1 can of diced tomatoes
2 cans of chicken breast
½ of a white onion diced
Shredded cheddar or parmesan or mozzarella cheese (optional)
1 tbsp Black Pepper
1 tbsp Garlic Salt
½ tbsp Cumin
1 tsp Cayenne Pepper
The best thing about this recipe is that it is quick and easy to make. The hardest part Victoria said, is chopping the onion! So, you can involve the entire family – kids included – to help with the process.
First, you'll need to get a casserole dish and preheat your oven to 375 degrees.
Then you open and drain the canned beans and empty them in the casserole dish. Take a large spoon and stir them together in the dish. Follow that up by opening and draining your cans of corn and tomatoes and emptying them into the casserole dish as well.
Next, dice half of your onion, and add it into the dish. Stir the dish again.
Finally, open and drain you two cans of chicken and add to the dish as well.
Add in the spices (garlic salt, pepper, cumin, and cayenne pepper) to taste. Mix again to make sure everything is incorporated. The final step before putting the dish in the oven is to put some shredded cheese on top. You'll want to put enough to make a thin layer over the dish.
Once the oven is preheated, pop in your dish on the top rack and cook for 20-30 minutes. Once it's done cooking and all the cheese on top is melted, it's ready to take out, let cool, and serve!
"It's the first [meal] I've ever [cooked] in my life," Bruce said. "And you made it so easy for me!"
Cooking healthy, delicious, nutritious meals on a budget can be a real challenge, but the Center for Family Wellness is here to help.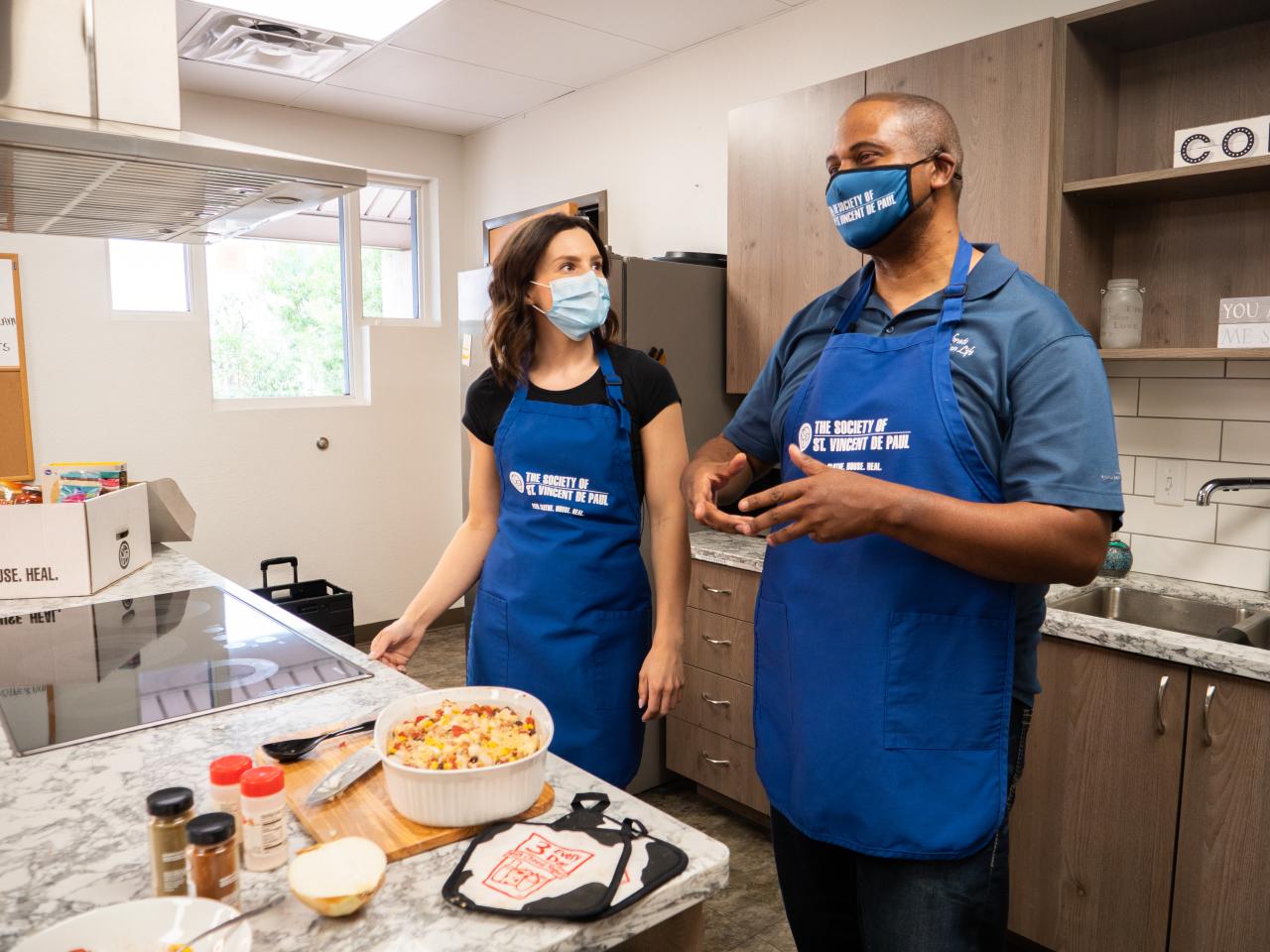 According to the CDC, nearly 1 in 5 adolescents aged 12-18 have prediabetes, so cooking balanced, healthy meals – like the one shown today – is vitally important for the whole family.
To find more affordable, healthy recipes from our Center for Family Wellness, check out the rest of our summer social media series – Cooking with Coop. The video series is in support of SVdP's 100 Days of Summer campaign, which has a July focus on summer food needs. The series is available weekly to watch on any of our social media platforms.
If you're looking for more detailed wellness instruction, the Center for Family Wellness offers a variety of classes for individuals and families. Sign up for classes online to learn more about how a healthy diet can help prevent chronic diseases like heart disease and diabetes. The classes are open to families and individuals with the goal of prevention and management of chronic diseases through nutrition, physical activity and overall wellness.
Want to make an impact this summer?
A $30 donation can fill a food box for a family with some of the ingredients you saw in Coop's video today and much more.