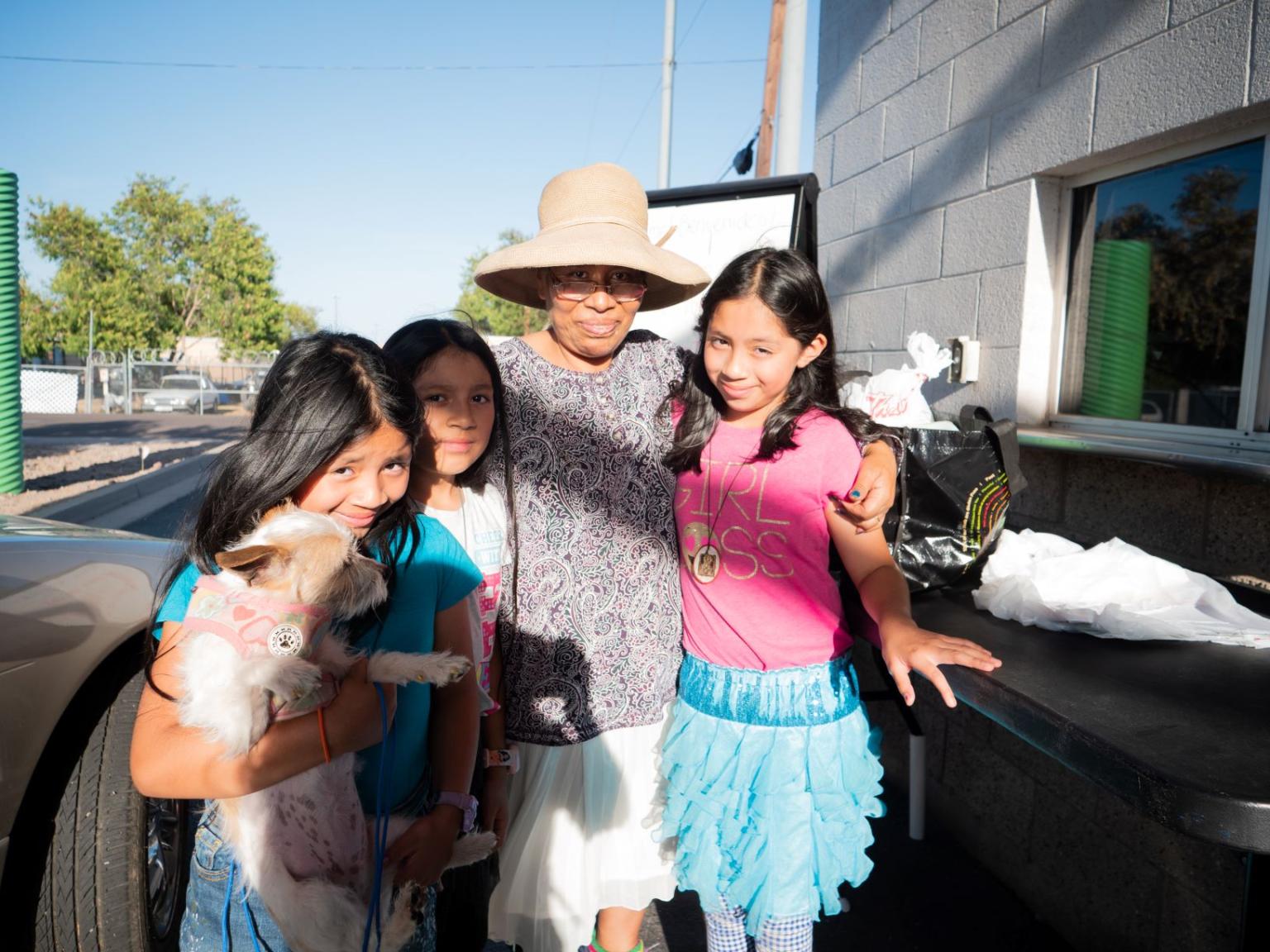 Dream Center helps give the Vargas daughters the educational chance their mother never had
Lucia Vargas brings her three girls to SVdP to help them academically pursue a brighter future
Usually when Akemi, 11, visits the Dream Center at St. Vincent de Paul, she seeks out a university student she's befriended and who volunteers regularly at the supplemental education center inside SVdP's Family Dining Room.
"Akemi is very curious about college, so she asks him about his classes, homework and his overall college life," says her mother, Lucia Vargas, whose parents didn't allow her to go to school.
Lucia was 17 when she learned to read and write after living on her own and enrolling in a class.
"Now I can read the bible, slowly, but I can read it," she says.
"I always tell [Akemi] that she needs to study a lot and get good grades, so she can go to college and have a good life, not worry about paying for food or rent," Lucia says.
A single mother, Lucia has brought her three girls — Akemi, Regina (10) and Trinidad (8) — to the dining room since 2019, when she learned from one of her friends about the adjoining Dream Center and all the educational support it offers children.
The girls love the center because of the help they get with homework.
"Akemi loves school and doing homework," Lucia says. "She is especially good at math. Her teachers love her, and they always remind Akemi that she needs to practice more reading."
Regina is also a strong performer at school since coming to the center. And Trinidad, the youngest, thrives in the lively community environment of the Dream Center.
The incentives the center provides are a big draw as well. Students get points for completing homework assignments. At the end of the month, they're given the chance to spend those points in a gift store created by the Dream Center staff. The store offers them toys, accessories, gadgets and practice in managing their points the way they might manage money.
That Lucia and her daughters are also able to enjoy a free hot meal at the Family Dining Room only further alleviates pressure from the single mom.
"The dinner served is delicious," Lucia says. And the nonperishable food that SVdP offers to families to take home (rice, beans, peanut butter), as well as toilet paper, shampoo and soap help her save money for other expenses.
Of course, Dream Center and dining room operations look different since the pandemic. With everything having shifted to a grab-and-go model, Lucia and the girls now visit the drive-thru that the Family Dining Room and Dream Center currently operate out of on the side of the SVdP's kitchen.
It's not the same, but the girls are still able to receive Dream Center packets to have fun working through together at home. Those have been especially helpful for Trinidad.
"Trinidad, my youngest daughter has problems concentrating during her virtual classes," Lucia says.
She does better with in-person interaction, which Trinidad gets with her sisters when they work together on the take-home activities, puzzles and word games prepared by Dream Center staff.
Beyond the educational packets, Lucia and the girls receive to-go meals and food boxes as well. For the time being, it's a different method but still the same helping hand the family needs.
A few years ago, Lucia was diagnosed with Dermatomyositis, an illness that affects her skin, joints and muscles. She spent more than three months in the hospital after her diagnosis.
"I used to work as a babysitter and cleaning houses, but after having symptoms and being diagnosed with Dermatomyositis, I had to stop working," Lucia says. "I can't do anything; my muscles are too weak."
Consequently, Lucia relies on family to help with food and expenses beyond what she receives from SVdP.
Today she's able to walk and drive. But for a short time, she relied on wheelchairs, one of which SVdP gave her along with the necessary equipment to help her shower safely. While she can't walk for long distances or use stairs, she's happy to be feeling stronger from treatment and is no longer reliant on the wheelchair.
Lucia can't wait to get back inside the Family Dining Room and see her daughters playing and having fun at the Dream Center again.
"My girls were able to run around, do their homework and meet other kids and volunteers," she says. "I miss spending time with other moms too. We all listen to each other and talk about life. I especially miss the salad bar. Oh! The salad bar was so good."
She hopes to return to that again soon. In the meantime, she continues to encourage her girls to study, go to school, and hopefully one day receive the education she dreamed about but never got the chance to pursue.
Support the Dream Big Campaign
SVdP's Dream Center gives children more than a meal, but also the guidance and steady support they need to learn, grow and do well in school.