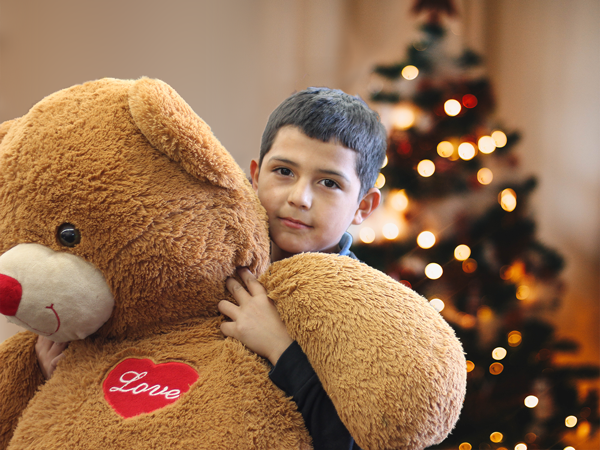 #HealthyGiving: Better than toy giveaways is SVdP's Adopt-a-Family program
The holiday program connects sponsors with families struggling to afford Christmas meals and presents
The holiday season is often a time associated with joy and excitement, but it can be overwhelming and sometimes disappointing for families who aren't sure how they will afford Christmas.
In another installment of our #HealthyGiving series, learn how you can bring Christmas magic into the home of a family in need this season through St. Vincent de Paul's Adopt-A-Family program, which connects a struggling family with a sponsor. The sponsor provides gifts and a full Christmas meal for the family they adopt.
Adopting a family has become a Christmas tradition for those looking to spread cheer. For Deborah Ayer's family, this year marks the seventh year that she will take her daughters shopping for another family.
Deborah found out about the Adopt-A-Family program from her local church seven years ago and decided it would be a great way for her family to give back during the holidays.
"I have two daughters, age 13 and 16, and they always come with me to deliver Christmas," Deborah said. "That's very powerful for them to see and understand more what the gifts and fixings are for and how much they are helping others who are struggling."
The Adopt-A-Family program invites individuals, families, businesses groups, clubs and schools to adopt a family in need during Christmas. For some, adopting a family is an opportunity to impart the joy and value of giving onto children. Others do it as a corporate or group service effort. While others sign up to create a two-way Christmas memory for themselves and the family they serve, just like the Ayer family.
"It's an important family tradition," Deborah said. "When my daughters were around six, they didn't understand that many people don't have a gift on Christmas. But as they got older, they have appreciated the experience and learned the importance of reaching out and helping others in need."
Last year, SVdP made Christmas for 900 families, who were adopted through the annual program managed by Dottie Sullivan with the help of five dedicated women who volunteer their time matching sponsors with families.
"Imagine being a child and you're hearing about Christmas all around and then on Christmas morning, nothing's there," said Dottie, who stresses the importance of how the Adopt-A-Family program builds happy memories and offers a traditional experience for the families. "The difference with street-giving [versus Adopt-A-Family] is that the family wakes up to a meal or a fancy treat or a gift they don't have the rest of the year."
The program also assures that the families are connected to additional assistance services SVdP offers. Most of participating families in need already have connected with a SVdP neighborhood satellite location and its volunteers. All applicants are checked to ensure that they do not receive duplicate help from another agency. Dottie said that most cases involve unemployed parents or single parents struggling to keep the family together. They often can't make ends meet because of severe under-employment or because they have serious, financially draining medical problems.
"Many times, the parents will not be able to provide and have to make the decision to either pay the rent or get a gift for their child to make sure they have a Christmas," Dottie said.
Dottie and her volunteer team work to connect sponsors to families as soon as possible so that they my visit early in the season. This lets the family know they are adopted and relieves anxiety. It also gives sponsors an opportunity to see what the family might need. Dottie says the sponsors encouraged to spend no more than $35-$45 per person.
At a surface level, the matchmaking process is fairly simple, but Sullivan's team make sure the adoptable families are vetted by making home visits to asses the needs and make all recommendations for the adoption program. But at the end of the day, this process makes a big difference in a family's life and the life of the sponsor.
"For me, the most memorable experience was when my family adopted a family with two little girls," Deborah said. "It was heartwarming to see them get excited when we show up, almost like Christmas has arrived right there and now. It was also heartwarming because the two little girls just wanted to connect and have us stay with them for Christmas. "
Interested in adopting a family this season? Visit the Adopt-a-Family sponsor page for more information.
Find out other ways to practice #HealthyGiving this season. Read the SVdP #HealthyGiving blog series, which covers which leftovers to donate (hint hint: canned goods) and the better alternative to street feeding.