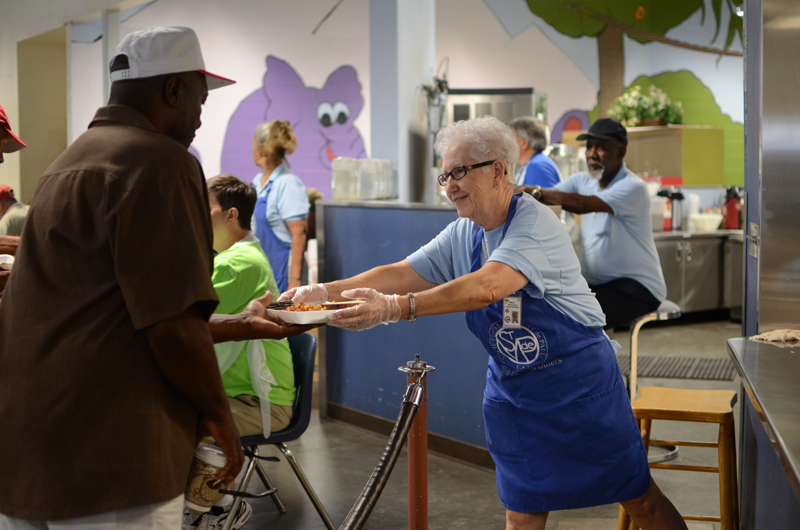 #HealthyGiving: Don't street feed, VOLUNTEER
And not just now, but all year long. Also, day after holidays is helpful
For many, giving money or handling out resources on the street to the homeless can feel like an emotional tug-of-war between the instinct to alleviate suffering and the knowledge that street giving might encourage, rather than relieve the cycle of homelessness.
Should someone give money? Food? Call a service provider? And is it ok to walk away and hope someone steers the homeless toward housing and services? What is the right thing to do in the moment?
In the previous post of our #HealthyGiving blog series, we touched briefly on how food donations and helping serve meals at SVdP can have better lasting impact than street giving. In this post, we dig into the topic further, hearing from a St. Vincent de Paul volunteer who made the switch from giving on the street to partnering with SVdP and why that forever changed the way she gives.
Grace Torres, founder of the Arizona-based nonprofit Give with Grace, began giving on the street because of her passion for helping the homeless men, women, and veterans within the Phoenix community.
"Sometimes people think it's better when you are out on the street because you're making that connection," Grace said. "But transitioning from a street giver, not only does it get a little dangerous when you're out on the street, but I also realized it does affect our streets in a sanitary way."
Street giving creates a problem because while the intentions are good, it fails to address the complex nature of homelessness.
According to Robert "Bobby" Plattner, the Program Supervisor at SVdP's Phoenix Dining Room on the Human Services Campus downtown, not everyone who comes to the campus will understand the needs of people there. Plattner said he understands people thinking immediately of addressing hunger, but guests of the dining rooms of SVdP and Andre House receive three meals a day, meaning that food isn't a need there.
What many don't know is that street feeding is duplicative, as there are a number of service providers throughout the community that already offer meals at their facilities. It can also serve as a crutch for individuals who might otherwise receive homelessness prevention assistance if they connected to a community agency that offers those services in addition to meals.
"Food is the gateway that's how the conversation is started," Bobby said.
Street feedings also don't offer homeless individuals the opportunity to wash up or have access to a restroom, which is not only an issue of health but of dignity, something that SVdP always aims to provide.
"A lot of the time you can feed people out of the trunk of your car, but it's not the same as like trying to feed Thanksgiving at home," Bobby said.
Grace realized that Give with Grace was not going to have access to the number of resources that SVdP had because she was a small organization that was building her way but first starting out can be difficult. She decided to see how big organizations do things and to understand the resources that it takes to get things done.
Grace said she has helped about 200-500 people at the events Give with Grace holds at SVdP through out the years.
"It's been an amazing impact versus when being out on the street and running across just the few people that may be in every corner," she said. "When we are with St. Vincent de Paul on their campus, with the Human Services campus, it's definitely a bigger impact and we see that by the amount of people that come out and line up to get what they need."
Plus, it's so easy to get connected to SVdP to start volunteering. Visit stvincentdepaul.net/volunteer.
"Unity is a powerful thing and there's no way that I can turn back from doing events or even volunteering because I've seen the impact it has made throughout the years," Grace said. "I do encourage everyone and anybody to really get involved in volunteer in any possible way that they can."
Bobby agreed and said that volunteering can be one of the best ways to help during the holiday season, but added that volunteers are even more critical after the holidays.
"The homeless aren't only hungry during the holidays," said Bobby, who sees about 220 volunteers on Thanksgiving in SVdP's Phoenix Dining Room, but then struggles to find even 15 to help during a shift the day after.
"Volunteers are just as important every day of the year as they are on Easter, Thanksgiving and Christmas," he said.
Find out other ways to practice #HealthyGiving this season. Read the SVdP #HealthyGiving blog series, which covers how to deliver Christmas to a family in need and which leftovers to donate (hint hint-canned goods).