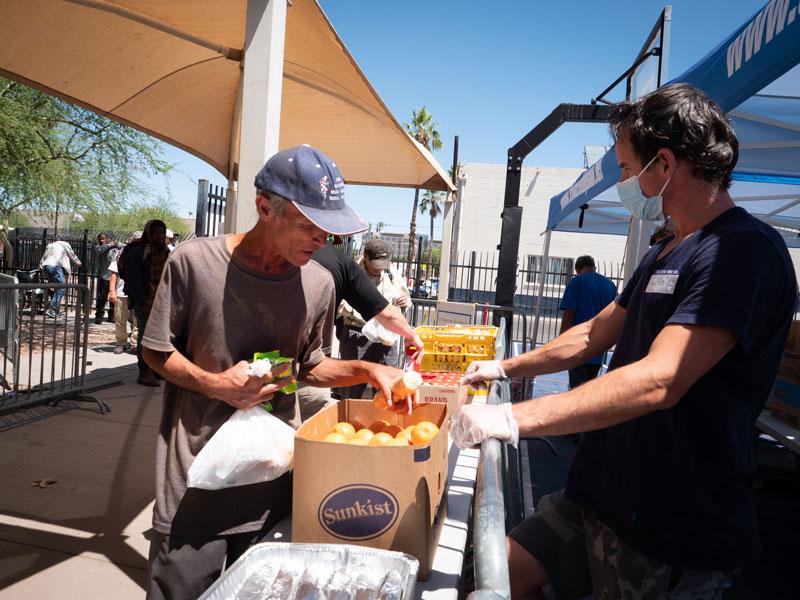 Heat relief services ramp up amid COVID-19
St. Vincent de Paul provides life-saving shelter and water this summer while social distancing
With heat advisories and triple-digit temperatures already here in the Valley of the Sun, National Heat Awareness Day (which falls on the last Friday of May) isn't so much a warning of what's to come, but a reminder that lives of the most vulnerable are already at stake. The annual threat of heat further strains an already precarious situation with the COVID-19 pandemic.
That's why St. Vincent de Paul is ramping up its heat relief services, which will be in full operation June 1 and run until Aug. 31. As the community's response to the COVID-19 outbreak and the scorching heat intersect over the next few months, nonprofits like SVdP are faced with a new set of challenges.
"The Arizona heat exacerbates the need the COVID-19 pandemic has already caused in our community for low-income Arizona families and our homeless population," SVdP Associate Executive Director Shannon Clancy said. "While we can't predict with certainty how COVID-19 will affect those we serve, we know for sure that the heat will have deadly consequences, so we must stay proactive."
In 2019, Maricopa County experienced another record number of 197 heat-associated deaths, of which individuals experiencing homelessness accounted for 37 percent. Equally concerning is the result of COVID-19 clashing with reoccurring summer challenges for low-income families already struggling with income loss from the pandemic and now faced with higher utility bills, increased child care costs and limited access to school food programs.
These colliding pressures are what make SVdP's heat relief services so critical to the community. Those services include:
Outdoor cooling stations and ice water at dining room locations across Valley
Water Relief Truck that makes routes and hands out ice water on the street
Overnight shelter for 40 guests in SVdP's Phoenix Dining Room (normally 275, but social distancing limits this to 40)
Rent and utility assistance to prevent homelessness
Emergency food box deliveries to doorsteps
"The community's support is more crucial than ever," Clancy added. "Whether you'd like to donate food, water, or make a financial gift, SVdP will make sure it gets right to the people who need it most."
For more information on Valley heat relief locations, see Maricopa Association of Government's Heat Relief Regional Network site or scroll down for SVdP's heat relief locations and hours during COVID-19.


SVdP's Heat Relief locations:
Mesa Dining Room
67 W. Broadway Rd., Mesa, Arizona 85210
Hours: Tuesday – Saturday 7:30am to 3:00pm, Sunday & Monday 8am to noon
Phoenix Dining Room
Human Services Campus, 1075 W. Jackson St., Phoenix, AZ 85007
Hours: 7am to 5pm, 7 days-a-week
Resource Center
Main Campus, 320 W. Watkins Rd., Phoenix, AZ 85007
Hours: 8am to 6pm, 7 days-a-week
Sunnyslope Dining Room
9227 N. 10th Ave., Phoenix, AZ 85021
Hours: Monday – Friday 8:30am to 5:30pm, Saturday & Sunday 12:30pm to 5:30pm
Help SVdP provide summer relief during these unusual times. Visit www.SummerRelief.org.