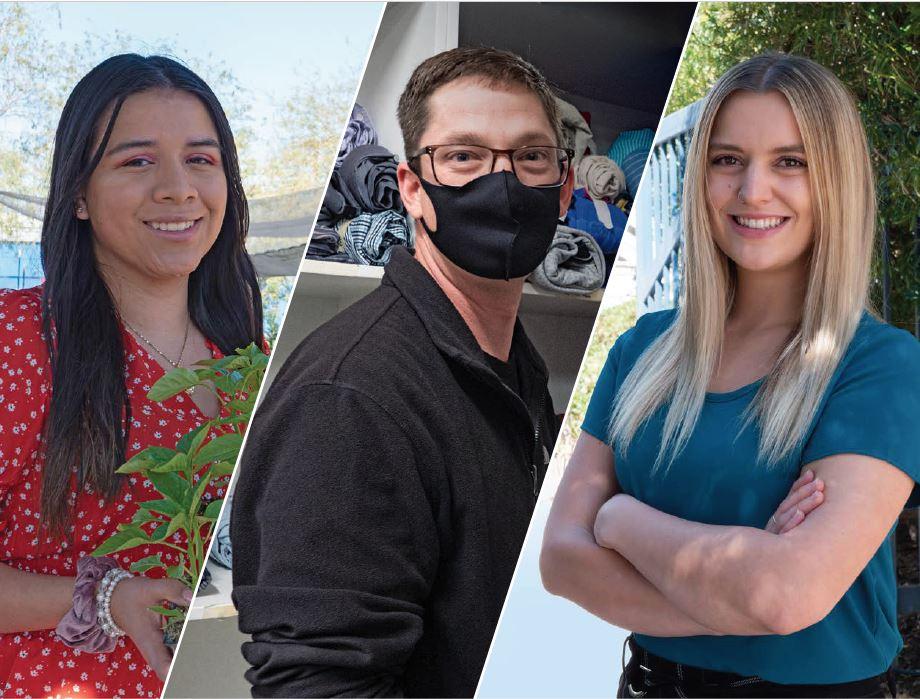 Inside our new Leadership in Action Fellowship
The SVdP program that launched mid-pandemic develops future servant leaders with inspired solutions
By Kim Cecere
As businesses closed their doors last spring, St. Vincent de Paul was there not only to care for those suddenly jobless and in need of food and financial assistance, but also for college students left with dwindling professional growth opportunities and a loss of internships.
That's when a SVdP supporter with a corporate background — and a heart for young leaders —approached St. Vincent de Paul leaders, SVdP Chief Program Officer Jessica Berg and Community Engagement Officer Shawn Donnelly. Together, they created the Leadership in Action (LIA) Fellowship as more than just a "virtual internship" solution, but rather to evolve the way SVdP had previously engaged interns and volunteers.
Shawn is at the helm of the program that launched in May 2020. She explains that instead of a task-centric internship, the heart of the LIA Fellowship is an emphasis on fellows' personal growth as they're provided opportunities to develop leadership skills and gain an understanding of nonprofit operations.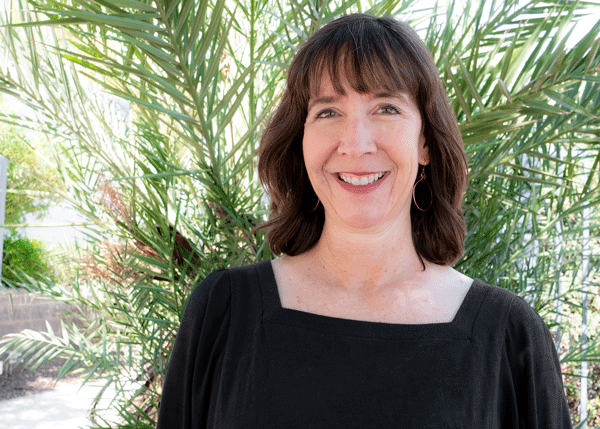 "What makes the LIA Fellowship unique is we put a lot of energy into helping college students discover their passions. We help them to learn about all facets of a nonprofit, giving them a chance to lead and problem solve."

Shawn Donnelly, SVdP Community Engagement Officer
Fellows also learn the importance of partnerships — a critical aspect of nonprofit success. Whether partnering with others to get a job done or at the community level, the fellowship is designed to engage members of the community.
"For example, a retired CEO will discuss conflict resolution and emotional intelligence, what it really means to walk the talk when we say, 'We're all in this together,'" Shawn said.
A collaborative framework
The semester-long program, which provides compensation up to $2,500 through funding support from local donors, engages fellows in a collaborative framework that includes one-on-one mentoring, biweekly educational panels with staff from SVdP departments, and biweekly "Fellow Forum" gatherings, providing fellows an opportunity to run their own meetings, set agenda topics and share their experiences.
For Michael Harris, whose fellowship runs January through May 2021, the fellows-led meetings "build collaboration and are highly relevant" as they discuss their collective experiences across all areas of SVdP. "The program does a great job of allowing fellows to see and experience the collaboration between departments," Michael said.
As an adult student who returned to college after 20 years of working for large corporations, Michael was seeking another path, "something to add more good in the world…to be a contributor, not a taker."
Michael assists guests in the Resource Center who are experiencing or at risk of homelessness, directing them toward essential services from showers and clothing to counseling and job referrals. He also assists Jennifer Morgan, manager of Ministries to the Homeless, with operations of the center, including front desk staffing.
"The fellowship opened up my eyes to where I want to go now, leaving corporate and moving into the nonprofit sector," Michael said.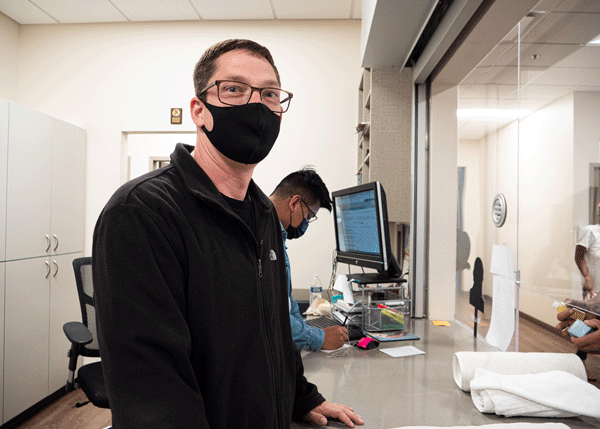 "It prioritized my path and gave me confirmation of what I've always wanted to do, something more impactful. To build community solutions, we need to create more relationships, get others engaged."

Michael Harris, Resource Center LIA Fellow, ASU senior, father of two
Also important to Michael: To set an example for his two young daughters, showing them the value and meaning in serving others. He looks forward to graduating from Arizona State University in May with an Interdisciplinary Studies degree.
A culture like no other
According to Shawn, the LIA Fellowship is also designed to introduce participants to the unique SVdP culture: "How we take care of our family, the level of care that goes into our staff. It shows fellows what a work environment can be like, so they know what to expect and the questions to ask when they apply for a job in the future."
In her third semester as a LIA Fellow, Morgan Dircks has experienced the SVdP culture firsthand. An ASU senior set to graduate with a Marketing degree in May, Morgan began her fellowship last summer, assisting with the launch of SVdP's Virtual Volunteer program. "I've helped figure out how to get it to scale and keep it successful," Morgan explained.
Morgan has worked closely with Shawn and others across SVdP, tasked with improving upon the virtual volunteer program's "Help from Home Guides." She created multiple instruction pages and came up with creative, volunteer-from-home ideas that tap into people's passions and fulfill their sense of community.
"It's been awesome," said Morgan of her fellowship experience, which has "solidified for me 100 percent a career in the nonprofit sector, specifically human services."
She's also coordinated virtual volunteers from Pathway to Work, planning fun engagement events via Zoom for the group that missed coming to SVdP's main campus. "Coming here to volunteer was a big part of what they did together," she said.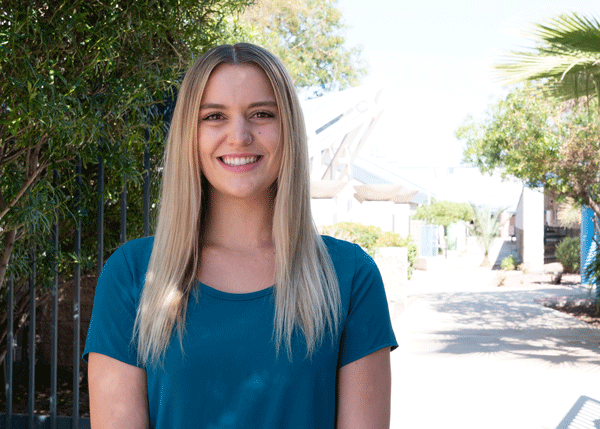 "I've seen the power of community. When people come together, there's nothing we can't do. I've realized through the fellowship how big that is and how it's a passion of mine."

Morgan Dircks, Virtual Volunteer program LIA Fellow, ASU senior
"I've also learned about empathy — it's evolutionary," Morgan added. "I've learned that it's continuously growing in all of us."
'Unlike anything else out there'
Morgan refers to the LIA Fellowship as, "unlike anything else out there," sharing her hands-on experience: "I've had the chance to see virtual volunteerism grow into a sustainable program. Involvement has increased significantly since last summer with individual volunteers and groups across Arizona and other states."
According to Shawn, as of February 2021, there are more than a thousand virtual volunteers and about 20 percent of them are from out of state. SVdP has received completed projects from 34 states so far. On top of that, 90 percent of all virtual volunteers are new volunteers with SVdP.
It seems virtual volunteerism may have fueled interest among college students in the LIA Fellowship. Or vice versa, perhaps? While the fellowship is open to all Arizona universities, Shawn posts the opportunity nationally, noting that SVdP has engaged two students from the University of Notre Dame.
"We have been grateful for the support of donors in our community, including leaders from Sonic and the Garcia Family Foundation who have provided the opportunity for us to offer this program for three semesters so far," Shawn said. "These donors believe in the power of harnessing the ideas and energy of young adults to help transform our community while also transforming their own minds and hearts in the process."
This summer with additional private funding support, plans call for the selection of 20 fellows, and 10 fellows each in fall '21 and spring '22.
Opening hearts, minds and eyes
Like Morgan, Alicia Hernandez has also completed three semesters in the fellowship program. Alicia, a sophomore at ASU majoring in Global Health with a minor in Family and Human Development, applied for the fellowship last summer when traditional internships were scarce.
"When I saw the fellow opportunity at St. Vincent de Paul, I quickly applied, having been volunteering in the Dream Center since middle school with my mom and my brother," Alicia said.
Because of her love of nature, her fellowship has centered on the Urban Farm, weeding and harvesting as well as leading volunteer groups and handling social media efforts.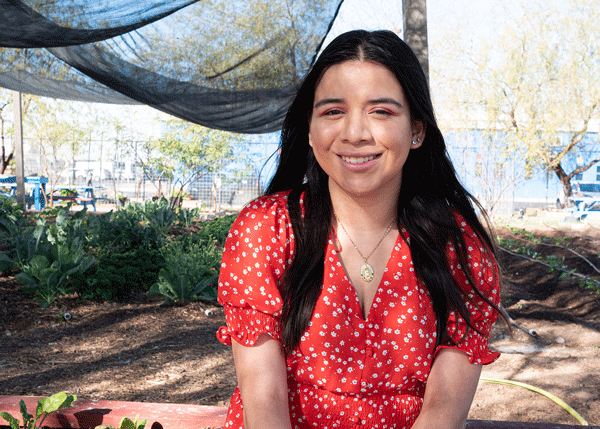 "This fellowship has really opened my eyes and helped me to realize a lot of things. To become kinder and to understand other people's situations."

Alicia Hernandez, Urban Farm LIA Fellow, ASU sophomore
"I see others in the community, and it hurts my heart as a first-generation college student. I've always loved St. Vincent de Paul because community solutions mean a lot to me," said Alicia, who shared that her family "used services like St. Vincent de Paul when we were younger."
She continued, "The fellowship has brought me to my ultimate goal to go to medical school and to open a nonprofit medical clinic for the underserved community with my sister, who is in nursing school."
For Alicia and the other first participants in the fellowship, it's about having a meaningful career and making a difference.
But it's so much more than individual gain and insight. Investment in the fellows now will hopefully one day translate into a new generation of servant leaders ready and able to discover new and better community solutions.
Interested in the Leadership in Action Fellowship program?
Send you resume to apply to an open position