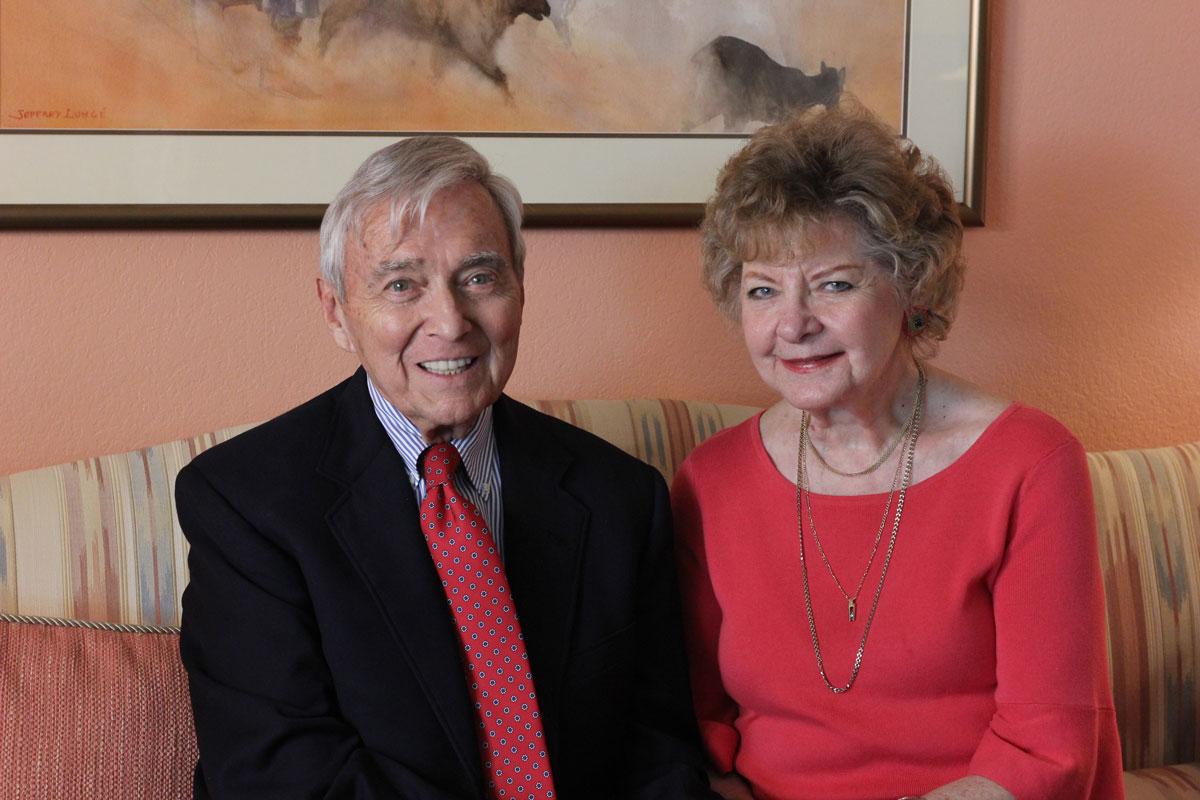 Keeping the balance
Having received help in childhood, now Kenneth and Denise give back
Kenneth "Ken" Schaffer's relationship with St. Vincent de Paul began at nine years old, when the Cleveland branch of the nonprofit helped place him and his younger brother in a small Catholic military school in a small town 200 miles southeast of the city.
A few years earlier in 1943, the Schaffer boys lost their father to leukemia—only four days after Ken's sixth birthday. Their mother worked and cared for her boys, continuing to live in a rented home until World War II came to a close, and the owners decided to sell it.
"I'm not sure we could have bought it even if we had money because returning service men were given first choice," Ken said. "There had been no construction during the war and sufficient housing was not available."
The mother and boys moved into the finished attic of family friends. But after six months, the crowded lifestyle couldn't be sustained. That's when Ken's mother sought help from SVdP for her family. To this day, Ken isn't sure how it all came to be arranged, but SVdP made it possible for him and his brother to attend the Catholic military school in New Lexington, Ohio.
"It wasn't like they were sending us to the fanciest school," he said. "But they sent us to the best school they could, in my opinion."
Run by Franciscan nuns, the school kept a demanding schedule—each hour dedicated to either learning, worship or meal time.
"It was actually an incredibly wonderful experience," Ken said. "Difficult in some ways, but the nuns were marvelous people, and they were smart."
Back home, Ken's mom worked in downtown Cleveland during the day. In the evening, she cared for a family's children in exchange for room and board.
"You do what you have to, and she never complained," said Ken, whose mother worked her way to earning a home of their own on the fourth floor of a four-story walk-up apartment.
Ken would go on to meet his wife, Denise, during his college years at John Carroll University. Denise attended Ursuline College for women.
She was one of six children. Her father worked as a machinist making airplane parts in a local factory, and her mother was as a nurse. Denise worked her way through school, serving as an elevator operator in a department store. She also worked in Stouffers' home office and held a waitressing job in one of their restaurants.
"Neither one of us grew up with rich surroundings by any means," Denise said.
The Schaffers married in 1961 and adopted three children—two girls and a boy. From their early years, they began supporting their local SVdP, setting aside what they could to help.
As a couple, Ken and Denise haven't lost sight of their beginnings. That's one of the reasons the Schaffers choose to give financially to SVdP. Their giving also comes from practicing their Catholic faith and emulating the compassion of religious role models from their childhoods.
But the Schaffers also share an informed understanding of socioeconomics. Ken studied social work in graduate school, and Denise studied sociology in her years at Ursuline.
"I got to go to agencies as part of my classes," Denise said, "so I also saw the need people have from time to time."
Ken went on to have a highly successful career in various areas of real estate, working in markets across the country and globe and eventually ending up in Phoenix. Not only did he provide the Schaffers a comfortable lifestyle, ultimately settling in Scottsdale, Arizona, but also the option to be a little more generous these days.
"You don't have to have everything," Ken said. "We've provided for our children. We have a comfortable home. Beyond medical care and a reasonable lifestyle, what do you do with the balance?
"It should go back to the people in need," he answered.
Living out this belief, the Schaffers have included SVdP in their will and continue to give with deep generosity.
"There are other charities that are like SVdP, but I think that when it comes to SVdP, others may do it well, but nobody does it better," said Ken, who appreciates how well-run the organization is and the way in which SVdP serves its guests.
"They meet people as equals at the level they're at, treating them with respect," he continued. "It's not they're the poor people, and we're the people helping you. We're all people—a neighbor, a friend and a fellow human being."
Kenneth and Denise Schaffer are part of St. Vincent de Paul's Servant Leaders Society. They've shared their giving story in the hopes that it will inspire others to stand alongside them in their support of SVdP's mission to feed, clothe, house and heal. Thank you, Ken and Denise, for your lasting words and gift.