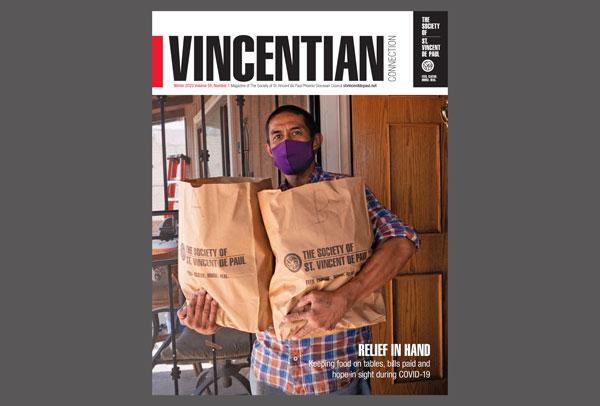 Latest Vincentian Connection is here!
The winter 2020 issue focuses on how SVdP continued hope while delivering pandemic relief
The winter 2020 issue of Vincentian Connection — the only issue this year — is dedicated to sharing the story of St. Vincent de Paul's response to the COVID-19 pandemic.
The winter issue, which came out Dec. 9, is more than a summary of pivoted services. It tells the insping and creative ways the nonprofit not only continued delivering critical care to the community, but also how it furthered human connection and hope during a tough year. Of course, neither the response nor the services would have been possible without the generosity of the community, which the publication is sure to thank.
Additionlly, the issue takes readers in-depth into a family story of mortgage assistance as SVdP reflects on the thousands of families it helped avoid eviction while looking ahead to the thousands of families still living in fear of losing their homes as soon as eviction moratoriums lift.
"I hope readers come away inspired by the overwhelming innovation we saw this year in carrying out our mission to feed, clothe, house and heal," said Marisol Saldivar, who serves as the magazine's editor and is the public relations manager for SVdP.
"I also hope that people recognize how each of these stories (but especially the story of bill assistance) calls our community to action. Because the pandemic response is not over or on autopilot. Some of our hardest and most important work is yet to come, as we save families from homelessness in 2021."
The full winter 2020 issue of Vincentian Connection is available in print on campus and online.

Inside the issue:
Same mission. Done Differently. SVdP's COVID-19 response from day one to now.
Amid loss and economic strife, SVdP kept the Vera family in their home
A recap of Reflecting Hope, our virtual community gathering
Volunteering started right at Matthew Rouhani's kitchen table
A first-ever driveway drive thanks to National Charity League mothers, daughters
Briefs on ABC15 Bike Drive, Bruce Cooper, a new thrift store, and Dia de los Muertos
A Thousand Thanks to individuals and organizations that helped this year
Need to update your magazine subscription? Contact us at 602-261-6879 or subcribe@svdpaz.org.