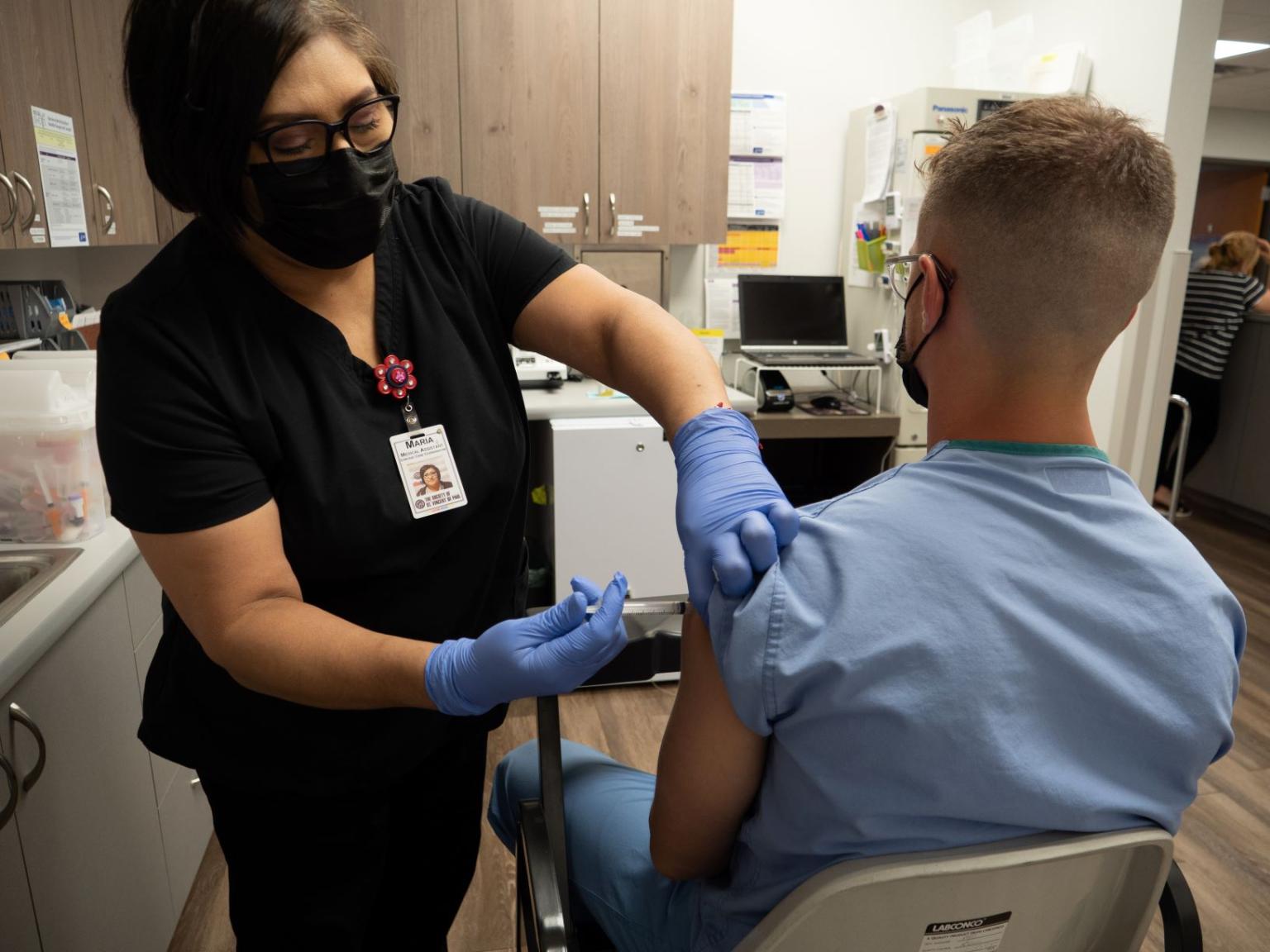 Moderna vaccine now at SVdP clinic
SVdP's Virginia G. Piper Medical Clinic is an official vaccination site helping expand opportunities for uninsured patients to get vaccinated while opening "On Call No Waste" list to public
The COVID-19 vaccine is now available at St. Vincent de Paul, whose Virginia G. Piper Medical Clinic focuses on providing charity health care for uninsured patients. The SVdP clinic is officially an approved Maricopa County vaccination site, and this month has begun administering the Moderna vaccine to its patients while creating an "On Call No Waste" list open to the public.
"We are grateful to provide the COVID vaccine to the underinsured patients we serve with the County's help," SVdP Clinical Administrative Director Elva Hooker said. "During this time of public health response, it's vitally important that we fulfill our responsibility to provide more vaccine opportunities particularly to our underinsured patients who often face obstacles to health care and have been disproportionately affected by the health and economic tolls of the pandemic."
"We also understand how important it is that no vaccine go to waste," Hooker added, "which is why we've started our on-call list for the public."
The "On Call No Waste" list is open to anyone 18 years or older in need of a first dose COVID vaccine or a second dose Moderna COVID vaccine.
There are no walk-in vaccinations. All those interested must fill out the interest form in advance to be placed on the "On Call No Waste" list. Filling out the form does not guarantee a vaccine at a specific time, but rather puts people on an on-call list for when there are extra vaccines available. Any person on the "On Call No Waste" list may receive a last-minute call for a same-day vaccine at SVdP's Virginia G. Piper Medical Clinic (420 W. Watkins Rd., Phoenix, AZ 85003) during clinic hours Mon-Fri 8 a.m. to 4 p.m.
INTEREST FORM: https://forms.gle/fdKEPDxcmC8Jcwis8
"Strong partnerships, like the one with SVdP Virginia G. Piper Medical Clinic, demonstrate that it takes collaboration to reach all different communities and people with this vaccine," Maricopa County Department of Public Health Unstable Housing Liaison Bobbie Kithcart, BSN, MS, RN, said. "It's this type of teamwork between the County and St. Vincent de Paul that helps reassure people that COVID-19 vaccinations are safe and offer the best way to prevent variants, which is a key to stopping the spread of the virus so we can begin to recover and regain our sense of normalcy."
Currently, the clinic administers a little under 100 doses every two weeks. Vaccine supply is determined by demand. Each vaccination takes approximately 30 minutes. For more information contact the SVdP Virginia G. Piper Medical Clinic at 602-261-6825.