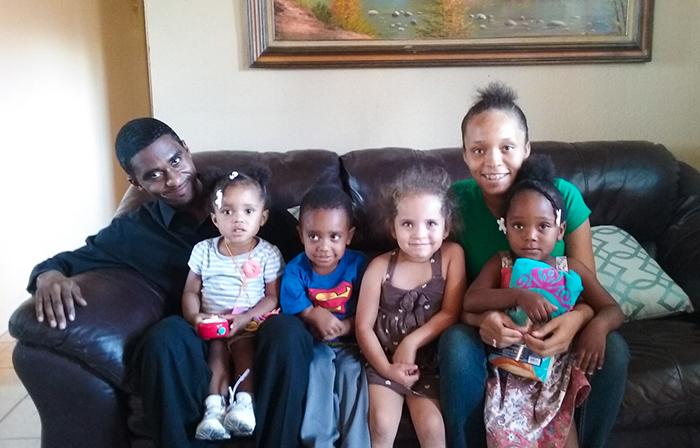 Mother's Day: Celebrating Moms Who Are Beating the Odds
Young mother of four continues education despite challenges
"If I have done anything in life worth attention, I feel sure that I inherited the disposition from my mother." —Booker T. Washington

In celebration of Mother's Day, we hope you'll join us in honoring and recognizing all mothers out there who are working hard to support their families or continuing their education despite challenges and obstacles.

Mothers like Monique, a 22-year-old who is currently pursuing her GED, then will continue with college courses. Monique has three daughters, one stepson and a baby boy on the way. She and her fiancée first reached out to St. Vincent de Paul to request a food box and later received a home makeover through our Fresh Perspectives program.

During this first visit, Monique was kind, soft-spoken and so grateful for the help. She shared about her dream of continuing her education so that she could be an inspiration and role model for her children.

Since she was young, she had always been interested in working with special needs children. She was attending a charter high school in Tucson, Arizona, when her mother got into some trouble and went to prison. At the time, her mother had been caring for Monique's sick grandfather. Being close to her grandfather, Monique decided to take on the responsibility of caring for him full-time and she wasn't able finish high school.

Soon after, she became pregnant with her first child and moved to Phoenix with her fiancée.
She is a stay-at-home mom and her fiancée works full-time to support the family. Earlier this year, during a trip to the Phoenix Public Library with her children, Monique learned about College Depot, a free, full-service college access center that aims to provide higher education opportunities for undeserved populations in the Phoenix. To apply for the program, she wrote an essay explaining why she wants to continue her education and what is inspiring her to do so.

"That's easy," she says, "My children are the reason I want to continue my education. I want them to do well in school and to know that it's important to finish."

Given her past experience with caregiving and love for kids, Monique is interested in pursuing a healthcare-related degree.

She knows there will be challenges ahead as she prepares to have her fourth child, a baby boy due in June. She shared that she has struggled with health issues with this pregnancy and worries they may continue, but she is determined to finish school no matter what. Her fiancée supports her journey one hundred percent and so do we!


Do you want to help support other mothers like Monique, who are helping to build a bright future for their children, through St. Vincent de Paul programs? There are many ways to give, whether it's a financial gift or volunteering your time. Learn more today!