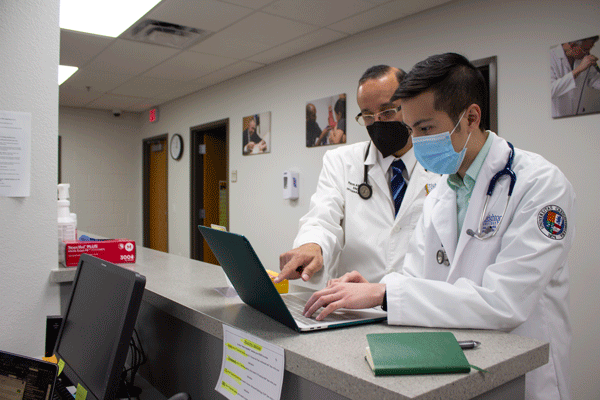 New clinic partnership will improve healthcare system, uninsured care, field education
Virginia G. Piper Charitable Trust brings together SVdP's Medical Clinic and Creighton University to better the system of healthcare for uninsured patients while growing medical professionals
Today marks a significant step forward in improving Arizona's healthcare system as St. Vincent de Paul (SVdP) in Phoenix and Creighton University join forces to coordinate and increase access to quality health care for the uninsured while growing skilled medical professionals for Arizona. It's a partnership of which the two institutions could only dream but has today become a reality thanks to a $10 million investment in the collaboration by Virginia G. Piper Charitable Trust.
The three organizations have come together to respond to a great need to reduce health disparities that disproportionately affect low-income populations and people of color.*
"The COVID-19 pandemic has highlighted the impact of failing to prepare for and respond to broad, unaddressed health inequities in our community," said Mary Jane Rynd, President & CEO of Virginia G. Piper Charitable Trust. "The need is urgent, and our response cannot wait. Now is the time for higher education, social services and philanthropy to join and use our collective capacity to create a healthier, more resilient future."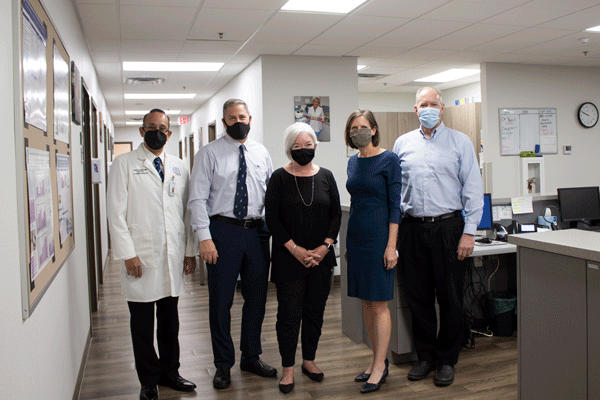 More medical professionals for our clinic and Arizona
The partnership will more deeply integrate the roles of SVdP's Virginia G. Piper Medical Clinic and Creighton Health Sciences – Phoenix Campus. Creighton faculty and third- and fourth-year medical students have volunteered monthly at the clinic for over a decade, and the clinic will now serve as the primary teaching facility for first- and second-year medical students as well.
Medical, nursing, physician assistant, pharmacy, occupational therapy, and physical therapy faculty and students will work together to serve patients at a weekly interprofessional clinic, using a team-based approach shown to improve patient outcomes and reduce healthcare costs.
"As Creighton health sciences students consistently rotate through the clinic, it is not only clinical education that is taking place, but an experience at the core of Jesuit education — cura personalis, or care for the whole person, physically, emotionally and spiritually," said Dr. Randy Richardson, regional dean, Creighton University School of Medicine, Phoenix Campus.
It will also allow students to spend more time with physicians while learning to care for underserved patient populations, said Dr. John Anwar, Medical Director, SVdP Virginia G. Piper Medical Clinic and Assistant Professor, Creighton University School of Medicine.
"Our students will receive an education that is centered at the new frontier of care in medicine — at the place with the greatest need and the greatest opportunity for transformational change," Anwar said. "They will understand, from the very beginning of their education experience, the inequities in the health care system and their role as professionals to serve and care for the most vulnerable."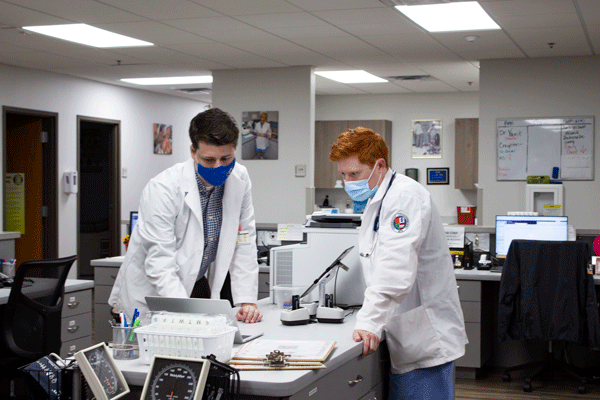 Increased care for the uninsured
The clinic's infusion of physician faculty and health sciences students will expand access to preventative, acute and specialty care. Through this collaboration SVdP's Virginia G. Piper Medical Clinic aims to cover as much care as possible free of cost to patients so that they can receive most of their treatment, medication, standard vaccinations and minor procedures under one roof.
"Our patients cannot afford specialty care, so having all of the specialties in one place really helps us coordinate their care," Anwar said. "Not only are we helping our patients, but we're also helping other patients from other free clinics, because unfortunately not every clinic has access like we have here."
Uninsured patients, rather than receiving specialty and preventative care, often turn to emergency rooms for complications arising from unmanaged chronic disease. This not only results in poorer outcomes for patients long-term, it increases the cost of care that hospitals must absorb in treating conditions that might have been prevented. That's where this partnership seeks to change the system.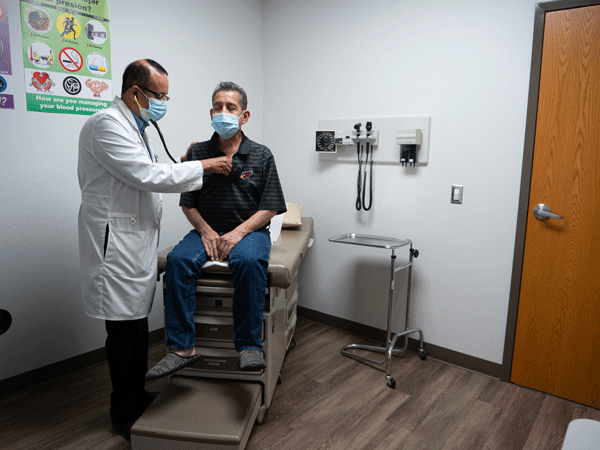 Building healthcare bridges for systemic change
With greater resources in place, Creighton and SVdP leaders will work with health systems in the Greater Phoenix area to improve the efficiency and effectiveness of uninsured patient referrals between hospitals and the Arizona Safety Net System — a collaboration of more than 40 clinics providing services to those most in need.
SVdP and Creighton's strengths are well-suited to strengthen the referral system and effect sustainable change. SVdP's Virginia G. Piper Medical Clinic is a leading provider in the Arizona Safety Net System. Creighton, meanwhile, has established strong clinical partnerships with Dignity Health St. Joseph's Hospital and Medical Center and Valleywise Health, among others.
To lead this effort, the Creighton School of Medicine will hire and employ the Virginia G. Piper Chair in Medicine and Chief Medical Officer embedded at SVdP's Virginia G. Piper Medical Clinic. In addition to overseeing the clinic, the CMO will facilitate communication and collaboration between Arizona Safety Net clinics and hospital systems.
"The St. Vincent de Paul and Creighton partnership amplifies our ability to both provide critical health care to people who do not have access and to find solutions to greater health equity in our community," SVdP Associate CEO Shannon Clancy said. "People currently not receiving the services they desperately need will get the high-quality care they deserve, raising the bar for greater access to health care in Maricopa County."
As the organizations navigate a new care model, they will continue to evaluate their strategies, developing new practices focused on reducing inequities in the health care system. A new Creighton School of Medicine role, the Virginia G. Piper Fellowship in Health Disparities, will conduct research and inform the partnership's efforts to drive systemic change and patient-focused improvements in care.
"This forward-thinking approach to caring for the underserved and formation of compassionate health professionals is a perfect illustration of Creighton's mission," said University President the Rev. Daniel S. Hendrickson, SJ, PhD.
"The stability, dignity and hope we can offer patients at SVdP's Virginia G. Piper Medical Clinic will touch countless lives, including physicians and health professions faculty and their students. The experience will affirm firsthand that medicine is a sacred calling, and they have been selected to help God's people in their moments of greatest need."
SVdP's Virginia G. Piper Medical Clinic has provided acute, specialty and preventative healthcare services to meet the needs of the underserved and uninsured for over 25 years. In 2018, Virginia G. Piper Charitable Trust gave SVdP a lead grant to help expand the clinic, more than doubling capacity with additional patient exam rooms, an intake area, laboratory, ophthalmology room, pharmacy, and procedure room.
Virginia G. Piper Charitable Trust Health Sciences Building houses Creighton University's health sciences program in Phoenix, made possible by a 2018 lead grant from Virginia G. Piper Charitable Trust to build the $100 million health sciences campus downtown. The building will open September 2021, making Creighton the largest Catholic health professions educator in the nation.

*Coordinated Community Health Needs Assessment for Maricopa County 2017–2020