Remote video URL
Relief arrives at a single mother's doorstep
Vincentians Mary Ann and Pete Kneip make sure it gets there
Mary Ann and Pete Kneip knock on Shashoni's apartment door. The Kneips, who are St. Vincent de Paul parish-based volunteers (known as Vincentians) have arrived to deliver relief from the SVdP neighborhood pantry at St. Gregory's Catholic Church, where they've volunteered for more than 10 years.
Shashoni is a 24-year-old single mother of two little girls. She shares an apartment with her younger sister in Central Phoenix and called the nearby pantry for help earlier in the week. Mary Ann is excited; it's the first time they meet face-to-face.
Shashoni opens the door, holding her youngest daughter on her hip. The only furniture visible from outside is a small dining room table and a little pink bed at the end of the living room. The rest of the space is empty.
"I called because I was so anxious. I didn't know if I would be able to pay my bills," Shashoni says. "I needed help. I'm just trying to make sure my babies are good."
Shashoni does nails, hair and babysitting — service jobs which allow her to work from home so that she can provide special care for her youngest daughter born with a disability. But the pandemic has taken its toll on her customer base.
"I'm not making the income I need to support my family, put food on the table, put diapers in my baby's bag."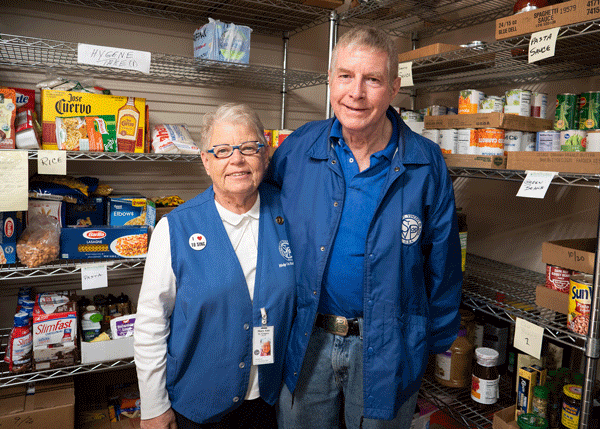 Before the pandemic, Vincentians would visit families inside their homes, listen to their needs and worries, and at the end of their visit they would often pray together. Now this all takes place outside on stoops or porches while everyone wears masks and skips holding hands.
"It's not the same to see families outside their homes," Mary Ann says.
In Pete's hands are bags full of essentials from the pantry, including cans of soup, vegetables, beans, rice, eggs, milk, toilet paper and more.
"We love to see if there are any special needs, like if they need diapers or something special that we don't give to everybody," Pete says. "We had a couple of packages of diapers, which are expensive, so that saves her a little money there."
In Mary Ann's hand is a check to help with rent, which covers the portion — not quite half — that Shashoni couldn't cover.
"At least we can take care of that," Mary Ann says. "That takes her through the end of the month or close. And luckily, we had plenty of food."
The Kneips also provide Shashoni with a few gift cards to a local SVdP thrift store to help with apartment furnishings. Shashoni plans to buy a couch. She can't believe all the help that's arrived at her door.
"It gives me enough time to save and make sure my daughter gets what she needs because she's disabled. So, they've helped me a lot. I appreciate it, I really do," Shashoni says as she fights back tears.
"I'm grateful and blessed. I'm grateful that Mary Ann was able to come and see us. I have tears in my eyes because I'm happy."

So many families are still far behind and continue to struggle even as we begin to recover from the pandemic. Support is needed to see them back to stability and avoid homelessness, especially during life-threatening summer temperatures. Donate to support rent and utility assistance to help a family before the July 31 eviction moratorium ends.