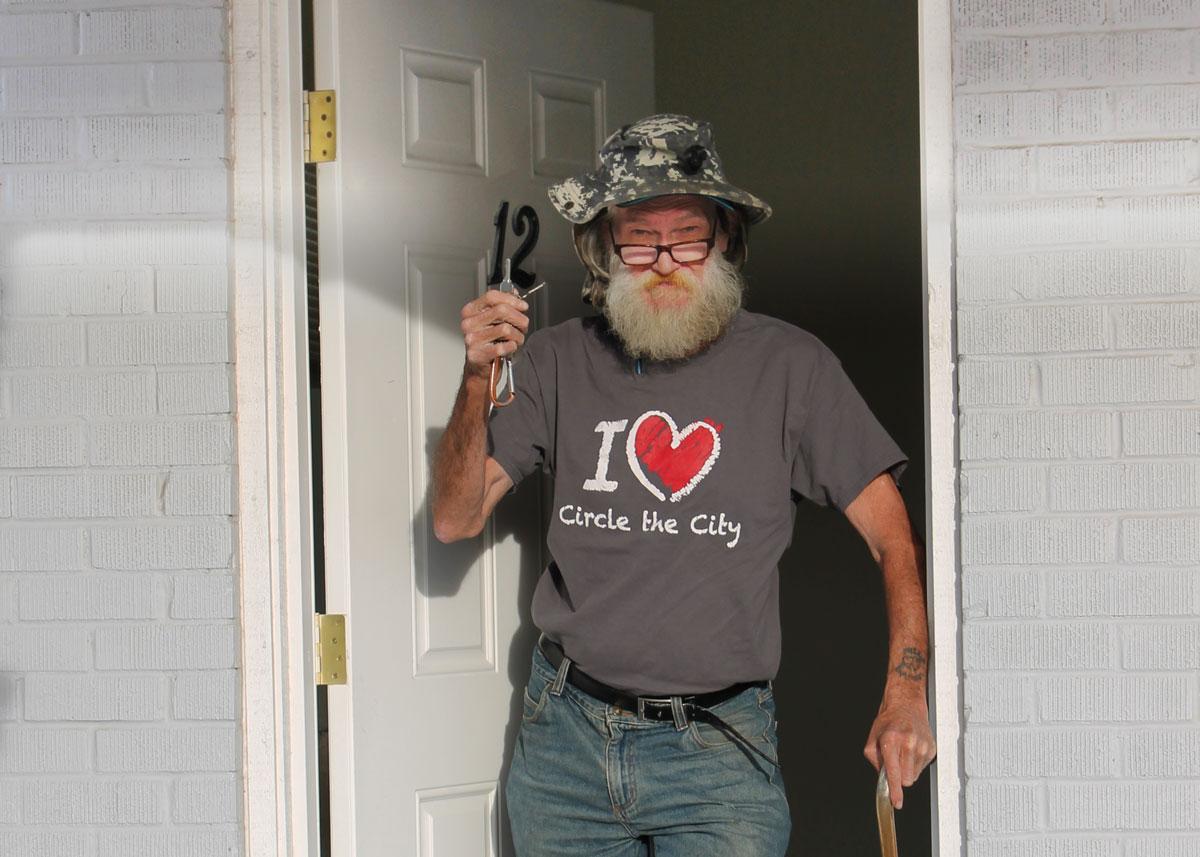 The road home for Scott Morris
One former Ozanam resident's journey from the streets of Indianapolis to a Phoenix apartment
As we pull away from Ozanam Manor, the transitional housing program and shelter at St. Vincent de Paul, Scott Morris yells out the car passenger window to the campus security guard, "Hey Ramsey! I'm outta here! Hasta la vista baby!"
Today is the day Scott moves into an apartment of his own.
This big, joyful moment comes a little more than two months after Scott, 61, first arrived at Ozanam Manor on SVdP's main campus in south Phoenix.
A former Marine, Scott first sought help at U.S. Vets prior to trying SVdP's transitional housing program, which pairs residents with a case manager and offers a community of support. Ozanam Manor has 60 beds, 23 of which are set aside for veterans.
As we make the turn onto Watkins Road to head toward I-17, Scott looks back over his shoulder, whispering thank yous past the window toward the SVdP shelter that served as his temporary home.
"Kinda gonna miss this place," he says. "I liked the people. Very friendly, very courteous. And they help people."

Tragedy after tragedy
Scott fell into homelessness after he couldn't afford property taxes on the house he inherited from his mother in Indiana, his home state.
"My so-called 'friends' suddenly didn't have any money," he says, "but when they needed help, and I was there, I would help them."
Scott had lived with his mom, and she had been his main support until she passed away in a train accident in 2013.
Her death wasn't the first tragedy in his life. At 32, Scott lost his father to gun violence. And at 49, his fiancé and son were struck and killed by a drunk driver.
"Most people could not have made it through what I've gone through," Scott says. "When my fiancé and son were killed, I lost it. I quit. I just quit."
Scott worked 18 years as a cross-country truck driver for Mayflower when he left the Marines. After the death of his fiancé and son, he went through a suicidal period and suffered additional health issues that kept him from working. The house he inherited went to land auction, and he was forced out along with his five cats of 15 years, which he gave up to an animal control shelter.
Sick and on the move
For almost five years, Scott lived on the streets of Indianapolis. Exposure to the extreme winters and a smoking habit resulted in his declining respiratory health.
"I've had a cough for a long time," he says.
It's raspy and lingering despite chewing Nicorette gum and cutting back on smoking. Scott used to chain smoke two packs a day in the service.
His father had also been a former Marine and had been stationed in Arizona. He spoke highly of the weather and better climate for health out west.
So in 2018, Scott panhandled and scraped together enough money to purchase a Greyhound bus ticket to Phoenix. At that point he could barely breathe and suffered four long days on the bus trip across country.
When he arrived, he immediately went to the Phoenix VA Hospital, collapsing in the nurses' arms as he entered the emergency room. Doctors diagnosed him with double pneumonia and an almost fully collapsed lung.
When released, he went to Circle the City, which continued his care while he became connected with services at U.S. Vets and eventually SVdP.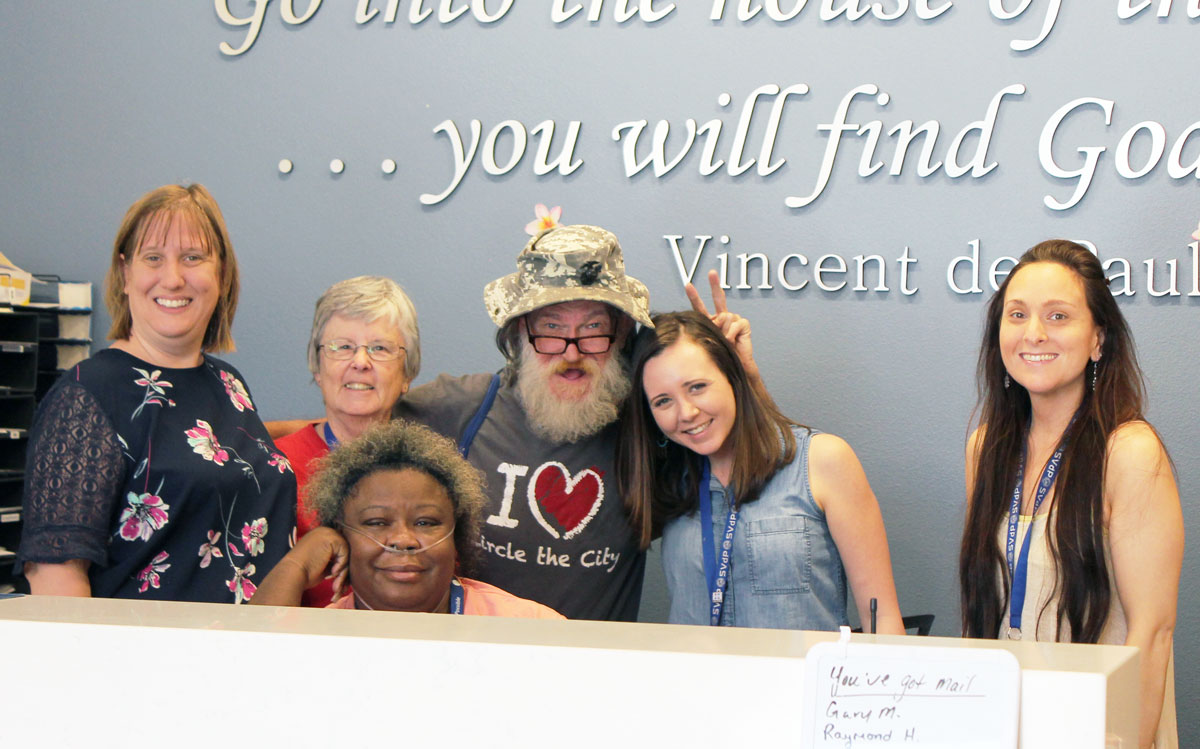 Catching a break
Scott moved into Ozanam Manor in late December 2018 and had one thing in mind—finding and qualifying for an apartment.
"I felt I was meant to come to Oz," he says. "I told them I wasn't going to be there very long. I was determined, very determined."
Scott took some time to regain his strength and then quickly got to work on applying for a housing voucher through the U.S. Department of Housing and Urban Development-VA Supportive Housing (HUD-VASH) Program.
Within a month he completed his interview, passed the screening, scheduled his briefing and got his housing voucher. Then came the apartment hunt. A vacant apartment in the Sunnyslope area popped up through HUD-VASH one day, and Scott went to go see it.
"The landlord is a former Israeli," Scott says. "He had served in the U.S. military for four years when he moved here, and that's why he wants to help homeless vets get off the street."
Two weeks later, brings us to March 4—Scott's moving day.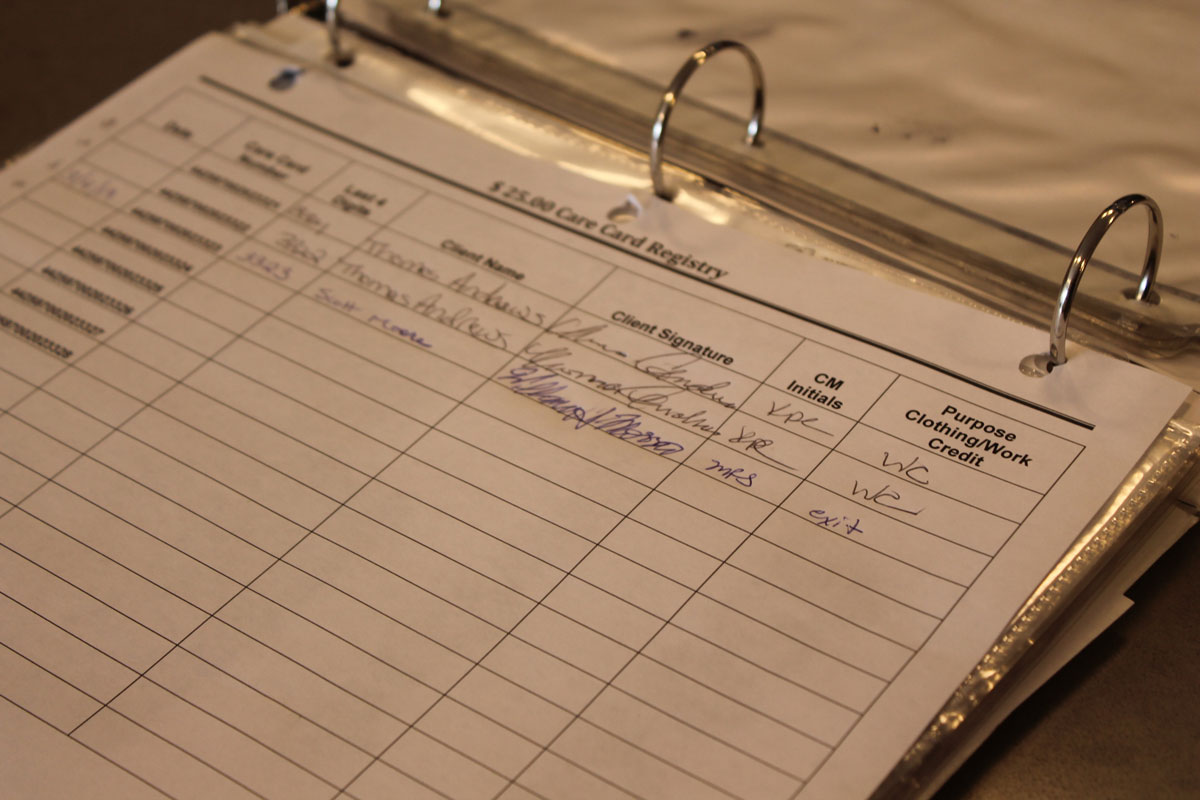 Apartment No. 12
In the trunk are a pair of boots, two bags of clothing, Scott's tobacco pouch and a SVdP food box with soup, crackers, rice, canned veggies and more.
"I've been fightin' for this [housing] for almost 12 months now," Scott says.
An Emergency Solutions Grant helped him pay his deposit and first month's rent. He has a year's lease, and with his voucher, he pays $50 for his rent.
"I got my disability check and paid back old debts," he says, "So I have $32 left and $192 on my food stamp card to get to April 1 before I get paid again."
Scott's apartment is about a 30-minute drive during rush hour from SVdP's main campus. He confides that before this apartment, he had never gone north of Glendale Avenue.
As we pull into the gravel parking area out front, he points to the corner apartment, No. 12.
He unlocks the door, and we unload his belongings. He puts his boots by the door.
"I'm home," Scott says. "I'm finally home."
Scott offers me a cup of coffee and a seat at the kitchen table that SVdP gifted him from one of its thrift stores. We rest a moment in quiet until Scott cuts in.
"I'm sitting in my own one bedroom apartment and loving it," he says. "I'm loving every minute of it."
I finish my coffee, and Scott sees me to my car. As I drive away, I look back to see Scott leaning in his doorway and waving goodbye.
Six months later, Scott is still happily living in his apartment. In May he celebrated his 62 birthday. Scott shared how grateful he is to have a place to hibernate during the hot Arizona summer months. Recently, he adopted three cats left on his doorstep.