Remote video URL
Serrano's Restaurants Serves Food With Side of Compassion
East valley restaurant chain serves homeless free meals in Mesa Dining Room
The family members behind east valley restaurant-chain, Serrano's Mexican Food, have always rolled up their sleeves to work hard, get their hands dirty and jump in when needed. Originally from Sonora, Mexico, the grandfather of the current owners, Albert, and his brother Luis, owned a dry goods store, a mine, and a ranch in the early 1900s. During the Mexican Revolution, they faced persecution and moved to Tucson, Arizona. It was in Tucson that they found jobs at a clothing retailer and learned the ins and outs of the business.

In 1919, Albert heard about a new town north of Tucson that was beginning to prosper.

This up-and-coming town was Chandler.

They quickly moved north and opened their first clothing store in Chandler's main square, called Serrano's Popular Store. They eventually opened more locations in the east valley and this business lasted for 60 years.

Due to a change in the clothing business in the late 1970s and with the rise of shopping malls, husband and wife, Ernie (Albert's son) and Eva Serrano, made the decision to change their concept to a restaurant in order to survive the changing business climate.

"Mom was a great cook," says Eva's daughter Theresa, one of eight siblings who now run the five restaurants. "She always cooked huge meals for the entire family and we had wonderful recipes on both sides of the family."

In 1979, the Serrano family opened their first restaurant in Chandler on Arizona Avenue. Because they were so well known in the community already, the restaurant was busy right away. In the beginning, Ernie and Eva's eight children pursued other careers, but always helped out in the restaurants when needed, whether it was being a bartender, hostess, dishwasher, server or manager.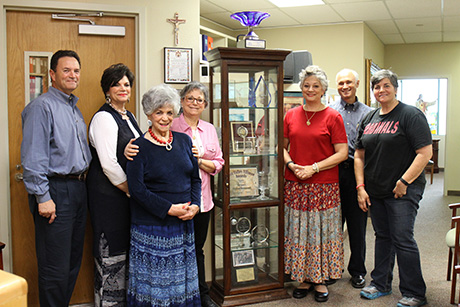 "Mom and Dad worked so hard in the beginning," says Lisa, "they opened and closed the restaurant seven days a week."

Over the years, the family began opening more locations in the east valley, to include Tempe, Mesa and Gilbert. And one by one, each sibling started coming back.

"That was one thing about our dad, he always wanted to keep all of his chicks in one place. He was happiest when we were all around him," says Theresa.

Although each sibling has his or her own niche in running the current business, from back of house management to accounting, they all readily agree that they frequently trade hats in order to get the job done.

But running a successful business wasn't the only mission of the Serrano family. Coming from a Catholic background, the family has always greatly valued giving back. The red bracelets each family member wears inscribed with "Faith, Family, Food" attests to their beliefs and values.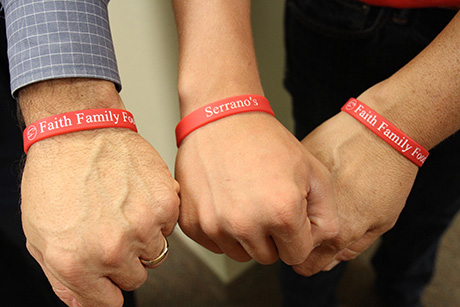 "We were blessed and we felt like we needed to give back," says Ernie, one of three sons. "Not having a plan in mind, we called St. Vincent de Paul."

That's when the Serrano's Restaurant 'Kitchen Takeover' began in our Mesa Dining Room. Once a month, the siblings and other staff members brought food to the dining room, including freshly made tortillas, meat, beans, rice and house-made salsa, and started serving 350 to 400 homeless individuals.

Thirteen years later, they are still serving free meals in our dining room to the most vulnerable in Mesa.

"Giving back is huge for us. It's what we are. And it's what we were taught growing up. Even with Mom and Dad, there were times when they couldn't give, but they gave anyway. That's how they raised us," says Theresa.

"There are so many people out there without food. And that's our business – food. To us, food is a ministry. It's our way of giving thanks to God and giving back to the community."

Just as Serrano's restaurants have become a mainstay in the east valley, they have now become a mainstay at St. Vincent de Paul. Volunteers working in the Mesa Dining Room look forward to the one day a month they know the restaurant will be serving food and many have become good friends with the family members.

"It's a really great crew on Wednesday, we've been serving together for years with St. Vincent de Paul and their volunteers. We're like family," says Ernie.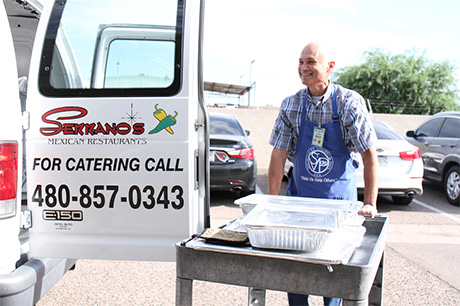 We are truly blessed to have such a compassionate and community-focused partner and hope to work alongside them for many years to come. If you're interested in serving at our Mesa Dining Room (temporarily located at Paz de Cristo), sign up online today!