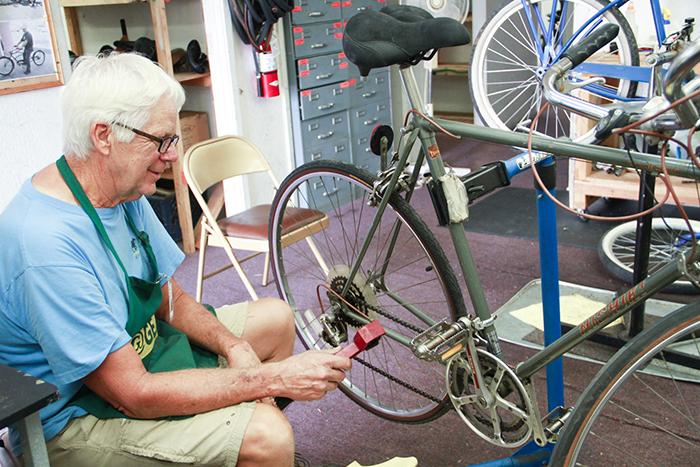 Shifting Gears: 5 Tips For Arizona Bike Owners
Volunteer shares valuable bike maintenance and safety tips
For many in Phoenix, owning a car is a luxury. And for some, it's an intentional decision. Regardless of the reason, there is a large population of bicycle riders sharing the road with Arizona drivers.

We recently met up with volunteer David Hicks, St. Vincent de Paul's Shifting Gears bike shop manager, to learn 5 basic safety and maintenance tips for all bike owners. Spoiler: One of these tips is actually an Arizona Highway safety law!

Shifting Gears is a small unassuming, yet high-producing bike shop located on SVdP's main campus. Volunteers work hard to repair and restore donated bikes and bike parts to ultimately send them to our Special Ministries program or our thrift stores. The shop currently restores 50 to 60 bikes each month! It has been operating for ten years now, and according to David, the repair they do most often at the shop is fixing flat tires.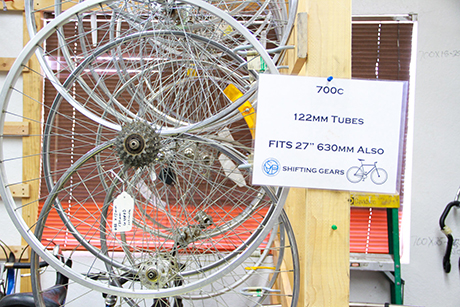 Tip #1: Take good care of your tires

Getting a flat in Arizona is inevitable. David recommends putting a liner inside the tire to give it an extra layer of protection. The liner goes inside the tire, but outside the tube. Or some cyclists prefer to use a product called 'Slime,' which is a type of tire sealant.

Tip #2: Keep your bike clean

Keep an eye on your bike chain; when it starts to look dirty or greasy, it's time to clean it! Most bike shops will recommend that you use a light silicon spray lubricant. If you use heavier oil such as WD-40, the chain will attract more dirt and grit.

Tip #3: Store you bike(s) inside a building

Because of Arizona's often-unforgiving heat, bikes stored outside will deteriorate at a much faster pace. Tires will lose air pressure and start to dry rot very quickly. If you do not have room inside your home or a storage shed, then at the very least, cover your bike with tarp or all-weather covering.

Tip #4: If you're getting rid of a bike, salvage and reuse your light reflectors

Arizona Bike Law 28-817 states that cyclists must always use a white headlight and a red rear reflector when you cycle after sunset or before sunrise. David shares that many donated bikes they receive still have their reflectors on them and it is a valuable resource.

Tip #5: Always wear a bike helmet (It could save your life!)

As a general and very important rule of thumb, David recommends that all cyclists, no matter what age, should remember to wear a bike helmet, even while riding in low-traffic neighborhood areas.

Not only is David our volunteer bike shop manager, he is also an avid cyclist and has been riding for over 20 years. And we are fortunate to glean some very wise advice from him.

Are you interested in volunteering in our bike shop? We are always looking for new volunteers to help restore bikes for those who need them, and in exchange, you can learn the ins and outs of bike repair. No previous experience is necessary. Visit our Volunteer page to fill out an application today!