Remote video URL
Marine Corps veteran Skip shares his story of hope thanks to Oz
The original Ozanam Manor helped Skip find home. He shared his story as SVdP broke ground on Ozanam Manor II.
Lewis "Skip" Lake's testimony stayed with everyone long after St. Vincent de Paul's groundbreaking ceremony for Ozanam Manor II — the nonprofit's new 100-bed transitional housing facility for unhoused seniors, veterans and adults with disabilities — was over.
The Marine Corps veteran and graduated resident of the first Ozanam Manor shared about his trials in life, including homelessness, and overcoming them to eventually find home again.
We share his remarks here with you and hope they leave you as inspired about the work happening at SVdP and as excited for all the lives still to be touched with the next Ozanam Manor II.
Skip's remarks for Ozanam Manor II's Groundbreaking Ceremony — May 2, 2023

Good morning. My name is Skip. I'm 76 and a Marine Corps veteran. I served in Vietnam and earned a Bronze Star during the 1968 Tet Offensive. I was a jet engine mechanic in the air wing. Enemy fire had knocked out power where we were stationed, and my best friend and I ran out while we were under fire to wave the jets in so they would know where to land safely in the dark.
After serving, I came home, ran a business selling commercial trucks, married twice, had a family, owned two homes. I never thought I'd end up in a place of need. I used to be the guy that said, "You know you can find a job, what are you standing on the corner for?"
Well, I got a whole different impression of people when I moved in here. Things happen to ordinary people who just don't have the resources.
A divorce and debt sunk me and my business. And I admit, I didn't have the greatest attitude. I drank heavily when I got out of the Marines, and it all caught up to me. My family took me in for a bit before they gave me the boot. I ended up sleeping in my car and went to the VA, which eventually referred me here, to Ozanam Manor.
People here were different. They were sympathetic but not to the point of being phony. And they were compassionate. I quit drinking and I'm better for it, and I hope I'm better to people for it too. I had my space, my own bed. It was so tidy and neat – like my barracks in the Marine Corps – you could bounce a quarter off the bed.
Esther, my case manager, she saved my life. She understood me better than I did. I found a community, connection, friends – things I'd been missing for a long time since my time in the service. If I had an issue where I needed a little guidance, Sister was there for me. And she sat and prayed with me one day for over an hour. I've never had anybody do that with me.
I have a fresh look on life now, a new attitude—Ozanam Manor gave me that. It gave me my life back.
With my VA and social security benefits, I'm able to have a place in Sun Lakes—a nice two bedroom in a 55+ community. I got myself a recliner. And I'm mending relationships with my family. The thing I look forward to the most is having my grandkids over to the house. I live for those days.
Thank you to all of you who make a place like Ozanam Manor possible. Thank you for believing in second chances and for recognizing the humanity that's in each of us.
If it weren't for St. Vincent de Paul, I don't know where I'd be.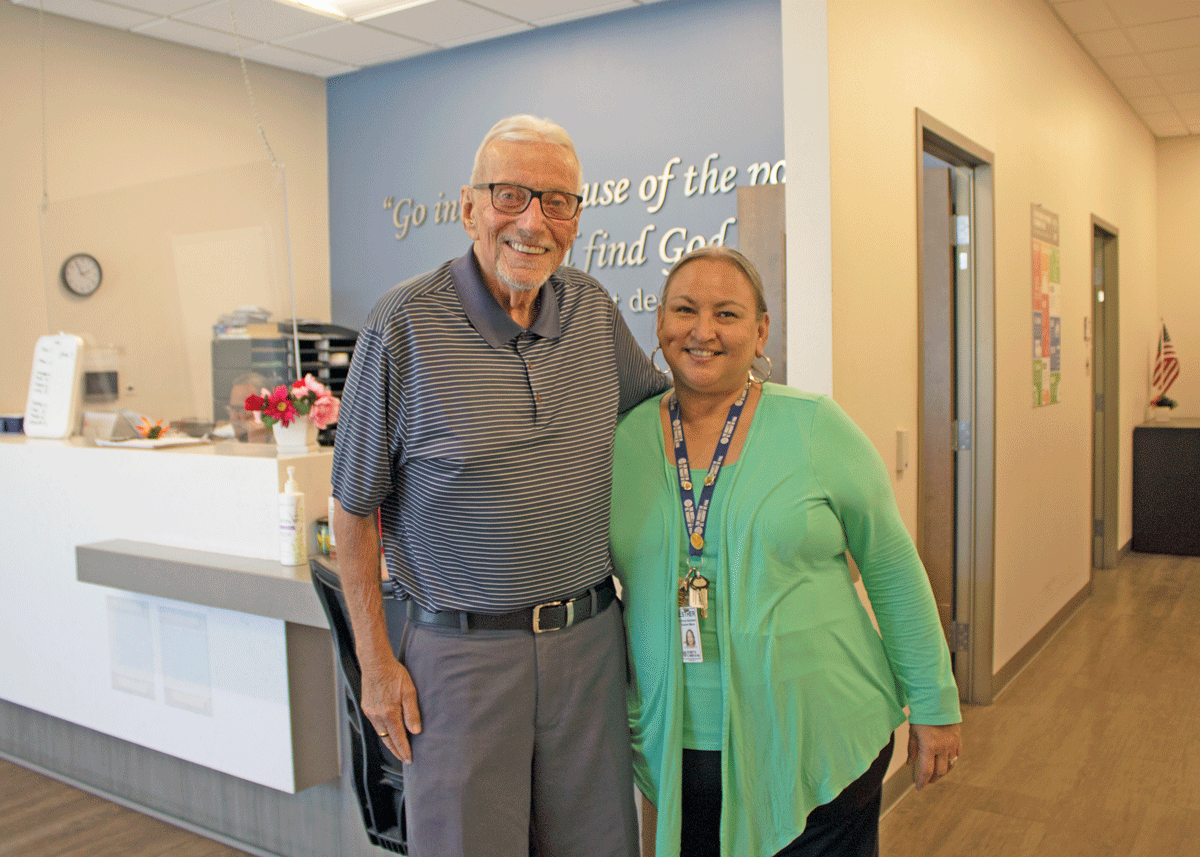 Help get people housed
SVdP has a goal to rehouse 2,025 people by 2025. Help SVdP move veterans like Skip off the street and into housing.