Support Ash Uss' marathon run to help SVdP prevent homelessness before it happens
At the start line of the 2019 Phoenix Rock 'n' Roll marathon, Ash Uss had a profound moment of clarity.
She looked at all the runners who paid $80 to enter the race. She thought about all the gear and especially the expensive running shoes. (A good pair could easily cost $200.) And then she thought about the potential impact all those runners and their supporters could have if they put just a fraction of their efforts and what they might spend on the race toward helping prevent homelessness.
"If we took all the people here and asked them to raise $20 for charity as part of signing up for the race, how many families could we keep in housing?" Ash asked.
She started to do the math. There were nearly 30,000 participants in last year's race. If 35 runners each raised $20 for charity, they could pay roughly $700 of rent for a family. If every runner did the same, more than 800 families could remain in their homes another month.
That mass potential was all Ash could think about the entire race. When she crossed the finish line, she set her goal to raise money for charity as part of her participation in the next Rock N Roll marathon in 2020. She chose to focus her charitable mission on supporting St. Vincent de Paul specifically for its homelessness prevention programming.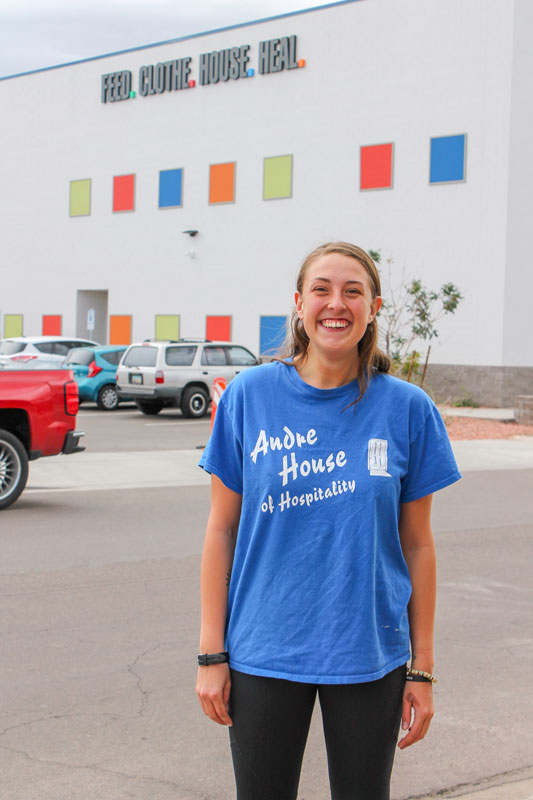 "I put a lot of thought into where I wanted this money to go," said Ash, who works as the advocacy and partnership coordinator for Andre House, another local nonprofit that serves the immediate and basic needs of the homeless. There, she sees many freshly evicted families come in without any idea of where to go or who to turn to for help.
"The idea of preventing homelessness is one of the most unmet needs in this community," Ash continued, "and I bet lots of people don't know that St. Vincent de Paul has a program for that. We have people working on affordable housing and on shelters, but the persistent gap is that there are families who we can prevent from ever having to spend one night on the street."
Ash is starting with a goal of raising $5K for the SVdP program which helps families remain in their homes through bill assistance for rent, utilities and car payments.
It's also not the first and only way Ash has helped SVdP. She's logged many hours as a volunteer for the nonprofit and first started donating her time during annual service trips as a student at Emmanuel College in Boston. She originally grew up in New York and lived back east, but decided to return to Phoenix for a year of service at Andre House after graduating with a degree in sociology. Now she's on staff there.
"I felt really strongly in my heart that this was a place I needed to come back to," she said. "I had never seen homelessness so criminalized or centralized in other places quite like I've seen it in Phoenix. Here, it's so intentionally hidden and pushed into certain areas of the city. It seemed that if I really wanted to put my heart and work into something like this, that this was the place to do it."
And while she recognizes the downfalls of Phoenix, she also strongly believes in the power of the people who live here to band together to bring about change.
"I want to be helping inspire and inform people," she said. "We think a lot of times it's addicts or people with mental illness who are experiencing homelessness, but the reality is it's a lot of families — people just working paycheck to paycheck to try and get by. I hope that I can help people understand that and feel compelled to be a part of what needs to be a community solution, even if that means they give just five or 10 dollars."
Last year, Ash finished the Rock 'n' Roll half marathon in just under two hours and ten minutes. But this year's race is not about breaking a personal record. It's not about Ash. It's about all the families who will be evicted in 2020 and whether we could've helped any of them before it happened.
Ash is one of two young women running the Rock 'n' Roll to support SVdP. Meet the other runner, Catherine Mulhern, on SVdP's blog.