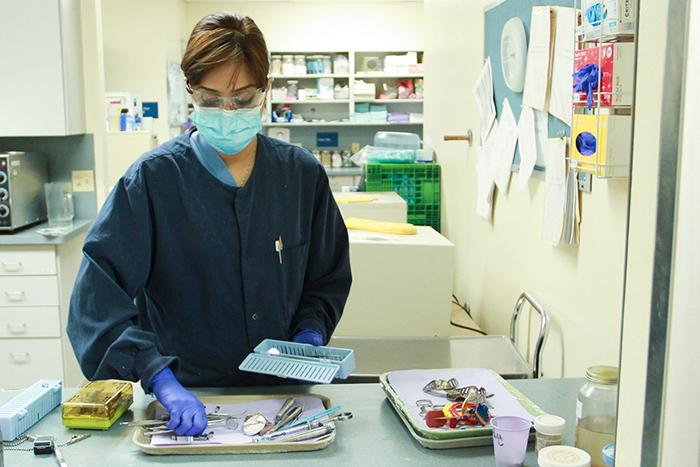 From SVdP to DDS
One staff member's long road to dental school
She strides quickly and confidently down the hall and into one of the rooms in St. Vincent de Paul's Dental Clinic. With an earnest focus and quiet disposition, Betzy Leyva slips on a medical mask, protective eyewear and purple latex gloves. She begins meticulously laying out small instruments in preparation of cleaning them. It's a routine task and not one of the most exciting duties of a dental assistant, but Betzy is relaxed, attentive and friendly as she cleans and talks about her job.

Betzy, short for Betzanahy, has been a dental assistant at SVdP for the past 11 years. She always had an interest in becoming a hygienist, so after graduating from high school in 2004, she began volunteering in the dental clinic. She remembers her shyness during those first several months as she quietly shadowed other volunteers and Dr. Ken Snyder, SVdP dental clinic director.

After being a volunteer for three years, Dr. Snyder hired her as a dental assistant. It was around this time that Betzy decided she no longer wanted to be a hygienist; she wanted to be a dentist.

"My first thought was, how am I going to do this?" she said, thinking back to that initial decision.

Betzy learned that she would need to apply for a dental assisting program, take several pre-requisite courses, and then much later, apply for and attend a four-year dental school.

At the time, it seemed so far away and she envisioned all the challenges she would have to overcome – mentally, physically and most of all, financially.

Betzy's family is originally from Mexico and her parents primarily speak Spanish. She grew up in south Phoenix in a low-income neighborhood and shares that even now, there is a high crime rate in her neighborhood and she doesn't always feel safe there. Growing up, Betzy's father worked in the fields and as a cook for a resort. Now, he works in construction. Her mother stayed at home to take care of her and her three siblings. The entire family still lives together in this neighborhood.

Growing up, Betzy can remember not having a lot and seeing her parents struggle to put food on the table.

"Sometimes if we didn't have enough food, we would just eat potatoes…like potatoes for a whole week."

During the holidays, organizations like Salvation Army would supply the family with food boxes and gifts, much like SVdP's food and holiday assistance.

"I love working here. I really understand what the kids are going through. I understand what backgrounds they're coming from."

Betzy, herself, rarely saw a dentist as a child and prior to getting her adult teeth, all her baby teeth were crowned.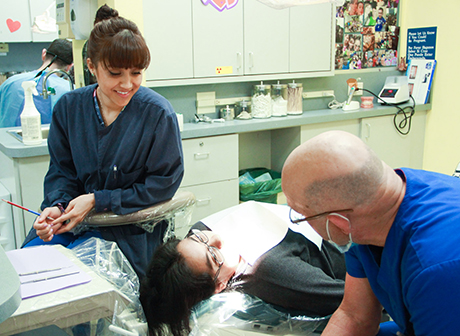 With this background, Betzy felt incredibly determined to accomplish her goal of becoming a dentist and says she wants to help her parents move out of their neighborhood.

So using her paychecks from SVdP, she paid her tuition out of pocket and began taking dental assisting classes, one at a time, at Phoenix College. Her days quickly became long and exhausting. She would wake up every day at 6 am, arrive at the dental clinic at 7:30 am, head straight to class after work, and would get home around 9 or 9:30 pm. She would spend the next couple of hours on homework before going to bed at midnight or so.

She kept this up for seven years.

"There were so many times when it seemed so far away and I had so many doubts. I would tell myself, 'I don't know if it will ever happen.' I would cry and be frustrated, but then I would remind myself to keep going."

Betzy just finished her last pre-requisite class in December. She fondly remembers many instances when Dr. Snyder would encourage her, tell her not to give up, and he always helped her with her homework. This extra support was a lifesaver for Betzy.

"I look back at myself after all these years and realized that I never gave up. I think anyone can achieve anything, as long as they put in the hard work and have perseverance. Because it will happen."

And it did happen for Betzy.

Last August, she applied to dental school at Midwestern and in early January, found out she was accepted. It was a victorious and celebratory moment that culminated from many years of arduous work and commitment.

But she knows her journey is far from over. Becoming a full-time dental student will require her to leave her dental assisting job at SVdP. This means she won't be able to continue helping her family pay bills. At the moment, she is trying to figure out how she will afford the expensive tuition, but she says that God has put her on this path for a reason and has given her the strength to keep going. So she will.

When asked why she loves dental work so much and particularly, why she has been at SVdP for as long as she has, Betzy says, "It's so rewarding doing something like this. You know, there is always someone that needs help, regardless of his or her financial situation. But here at SVdP, it's more than just fixing teeth – it's about giving the children hope. And that's what everyone here has given me."