Remote video URL
SVdP opens new emergency heat relief shelter
Temporary 200-cot shelter inside the Family Dining Room aims to prevent heat death
The heat clings to Bill's skin as he crosses the threshold into St. Vincent de Paul's new emergency overnight heat relief shelter inside what is usually the nonprofit's Family Dining Room. Dining services currently remain to go, which leaves the space available.
It's 117 degrees Fahrenheit outside on this second night of Bill's stay.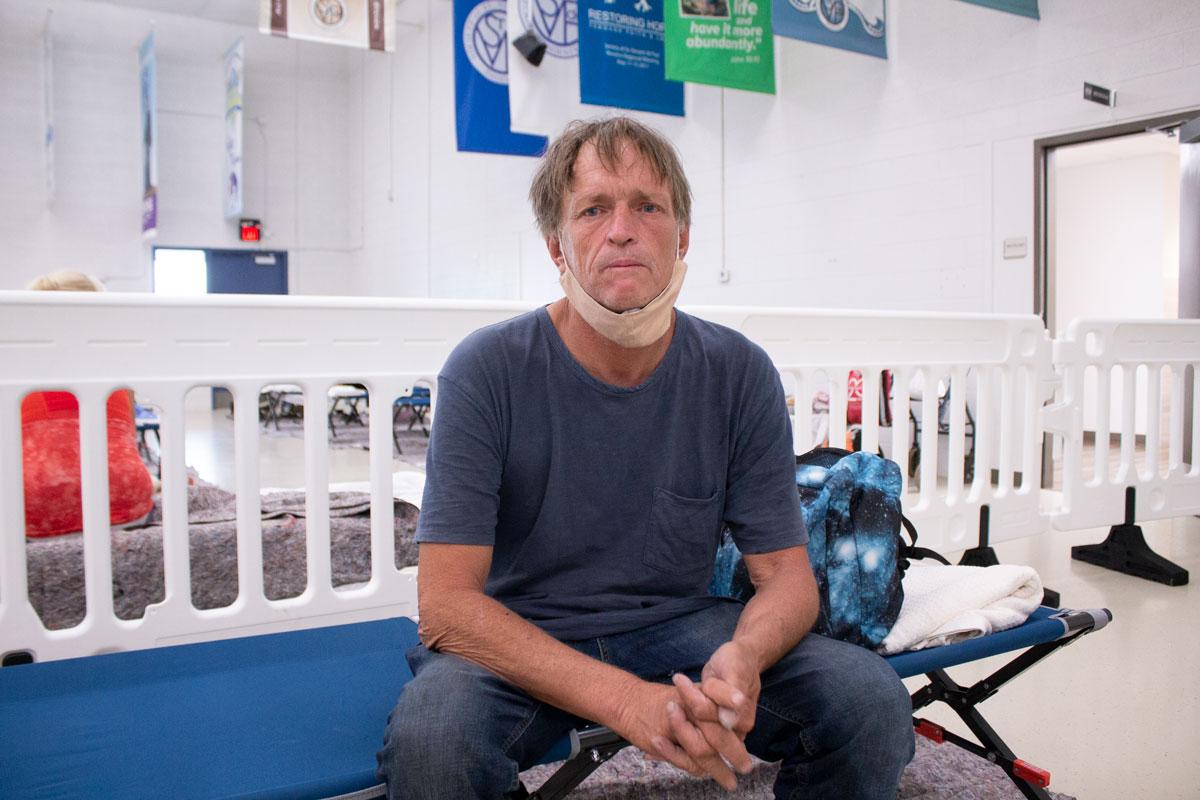 "In its most basic form, the goal of the shelter is to get heads in beds and get people out of the heat. There were a whole lot of unnecessary deaths that happened last year because of heat-related illness."
— SVdP Shelter Manager Jennifer Morgan
In 2020, Arizona saw 500 heat-associated deaths statewide, with 323 happening right in Maricopa County. That County number jumped 62 percent from the previous year as result of the pandemic, which closed many public spaces usually used for refuge. More than half of the deaths documented were people experiencing homelessness.
"In the age of COVID, it's almost an issue of opposing forces," Jennifer says. "We don't want to increase chances of getting sick, but at the same time, we have a space that we need to maximize and use as much as possible to get people out of the heat and out of a different emergency situation."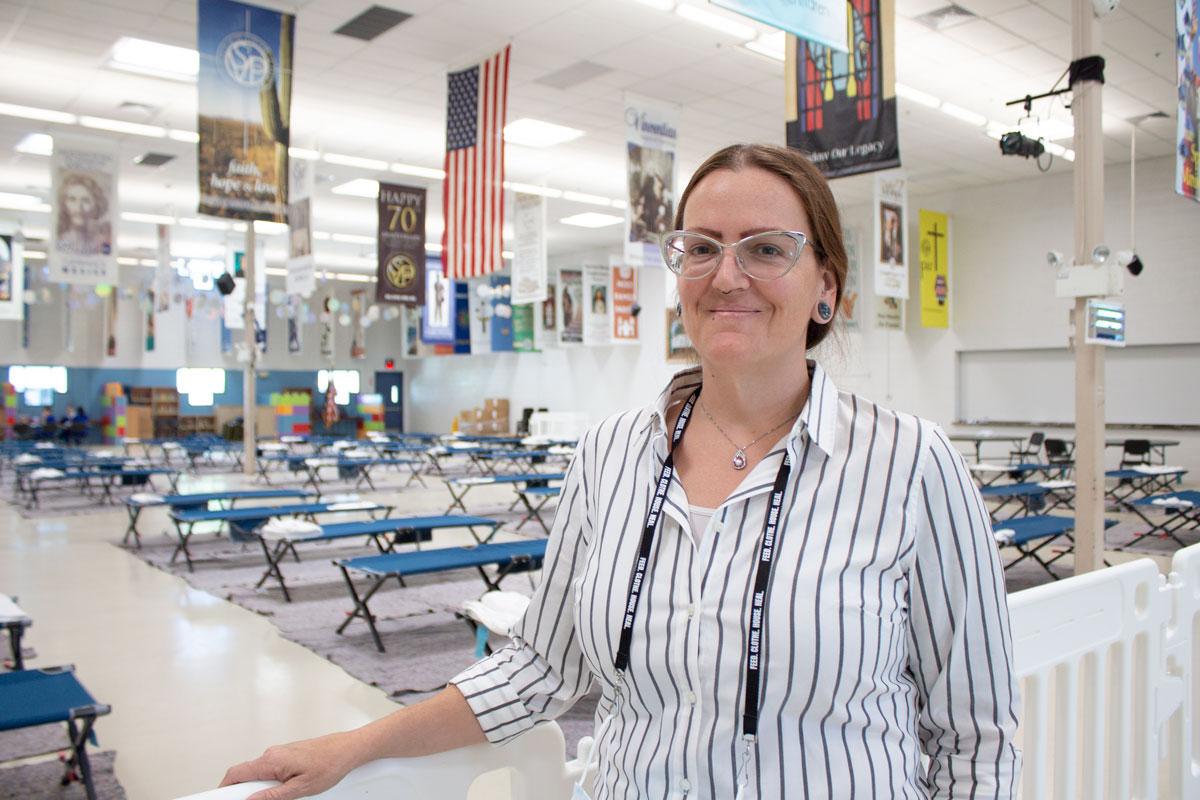 No one wants a repeat year of unnecessary tragedy. That's why SVdP hustled to open the emergency shelter in as little as three weeks on June 9. It's a monumental effort only possible thanks to federal funding from Maricopa County and handfuls of community partners collaborating to meet needs.
Now, from 6 p.m. to 6 a.m. all seven days a week, there's space enough for 200 socially distanced cots (150 for men, 50 for women) so people can sleep inside the air-conditioned dining hall. Phoenix Rescue Mission and Community Bridges, Inc., transport individuals in the morning and evening from the Human Services Campus downtown to SVdP's main campus at 420 W. Watkins Rd. so they have access to both shelter and services available at each campus.
As Bill checks in, staff and volunteers situate him with water, snacks and a blanket (in case the air conditioning chills him at night). He quickly turns to choose his cot. He's eager to get one near the partition separating men and women sections. That's because Bill's sister is just behind, checking in with her small chihuahua dog.
The low-barrier shelter model offers a rare opportunity for them to all be inside together and sleep near as a family. "Low-barrier" means SVdP's emergency shelter accommodates both men and women (in separate sleeping areas), personal belongings, dogs and bicycles – allowances other shelters don't always offer.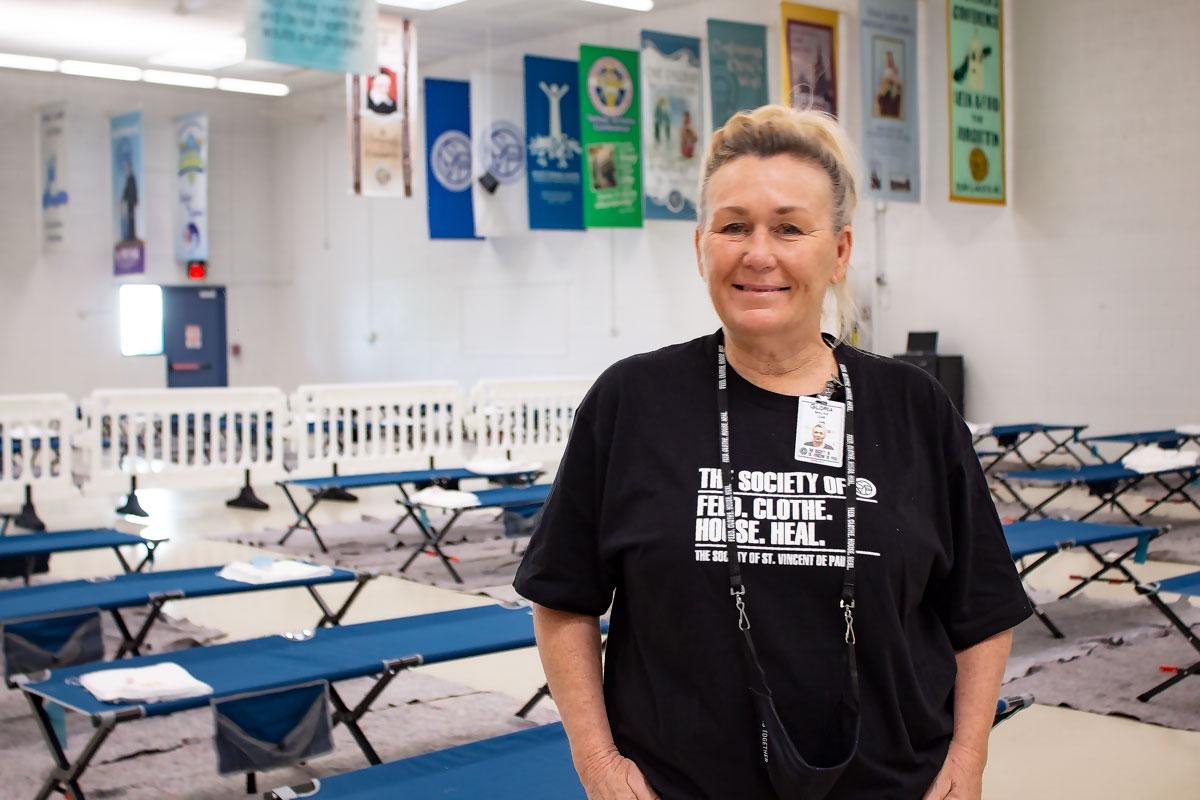 "It gets more people inside because they know they don't have to leave their personal stuff behind to come in and get some good rest."
— SVdP Shelter Lead Gloria Halas
"It's just been very peaceful. The pets sleep with their owners, and it makes everybody happy," Gloria says.
When Bill gets to his cot, he finds a note and mint on top of a fresh pile of clean sheets. That small touch is another way SVdP's shelter aims to show people added love and dignity during a tough situation. The notes are part of the Sweet Dreams Project and handmade by virtual volunteers so that every evening there are enough for all 200 cots. They say things like "Sleep well," "Rest your head" and "Goodnight, my friend."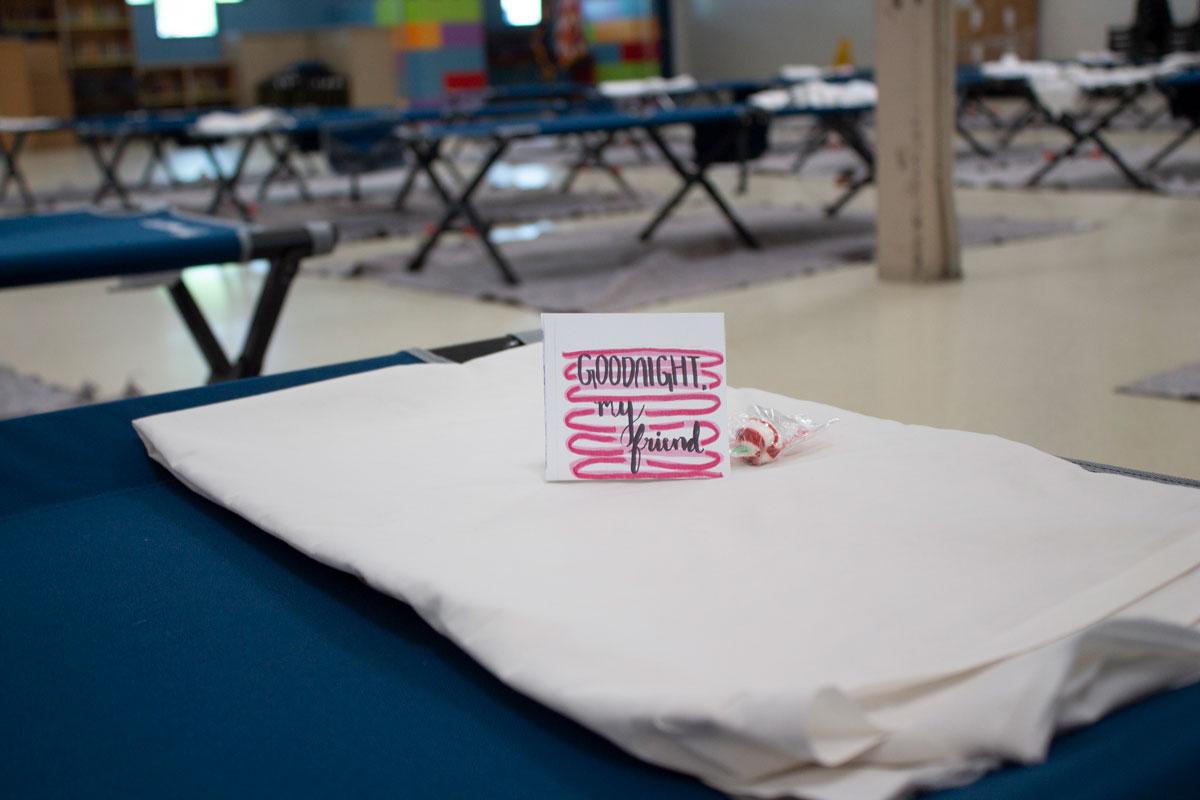 "It makes it feel like it's their own little space, their own little bed and that we're happy to have them here for the night," Gloria says.
Bill's note says, "Live fearlessly" – a message that resonates with him. He was recently assaulted in another shelter. It kept him from going back.
"We really like the fact that you guys care," Bill says.
Contracted overnight security and shelter staff means people can rest easy and trust that their beings and belongings are safe while they doze off.
"I've been on the street for many years. What [this shelter] means to me is that I'll have somewhere cool to sleep; I'll have food to eat, because not every day I get that, you know."
— Bill, a shelter guest
The shelter has seen as many as 131 guests on a given night, but staff anticipates reaching capacity within the week.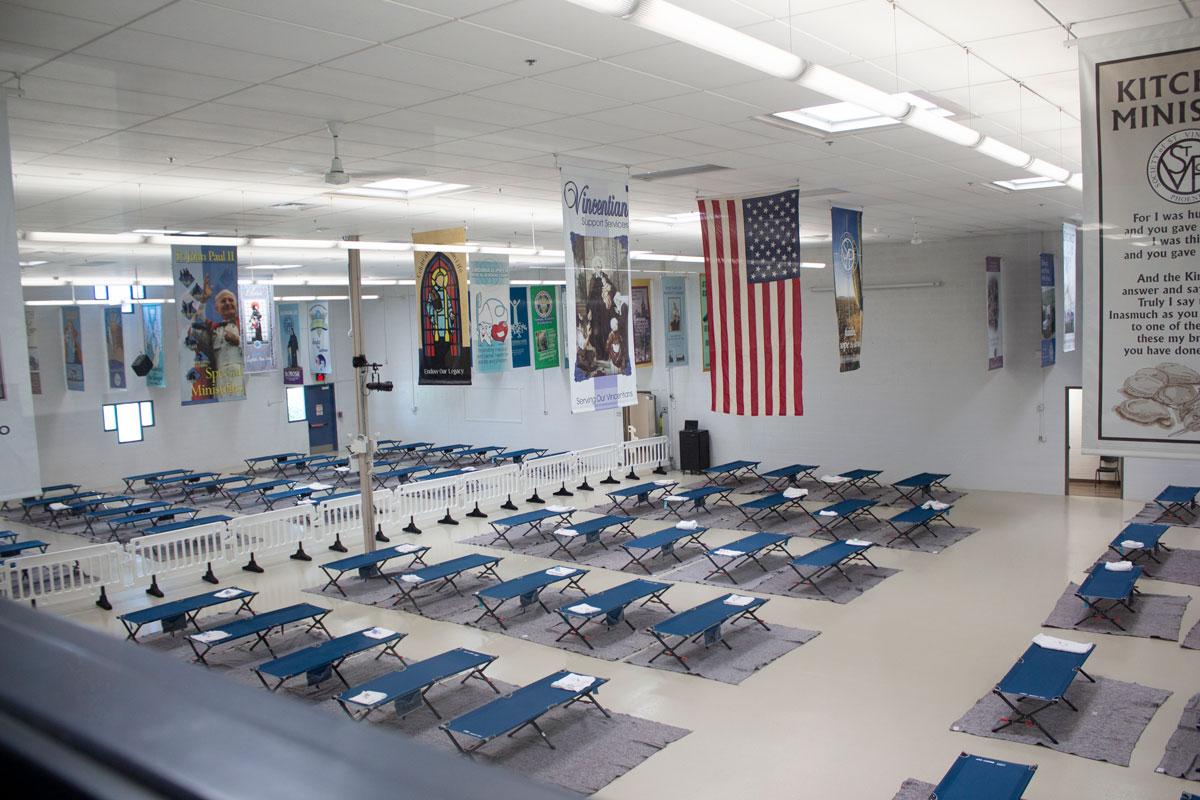 "Obviously, the hope is that we never have to turn anyone away," Jennifer says. "But I do believe we're going to hit a point where we need to get creative."
That point will come long before the shelter's set close date on Sept. 30, which coincides with the seasonal end of SVdP's heat relief services across its campuses. As is always the hope in winding down shelter, Jennifer and team put an emphasis on getting people into housing and into sustainable situations.
In fact, the shelter saw its first successful placement in housing this past week. They hope to see more as guests get connected to services. With basic food, water and shelter needs met, the goal is that guests can start to solve their housing and income situations.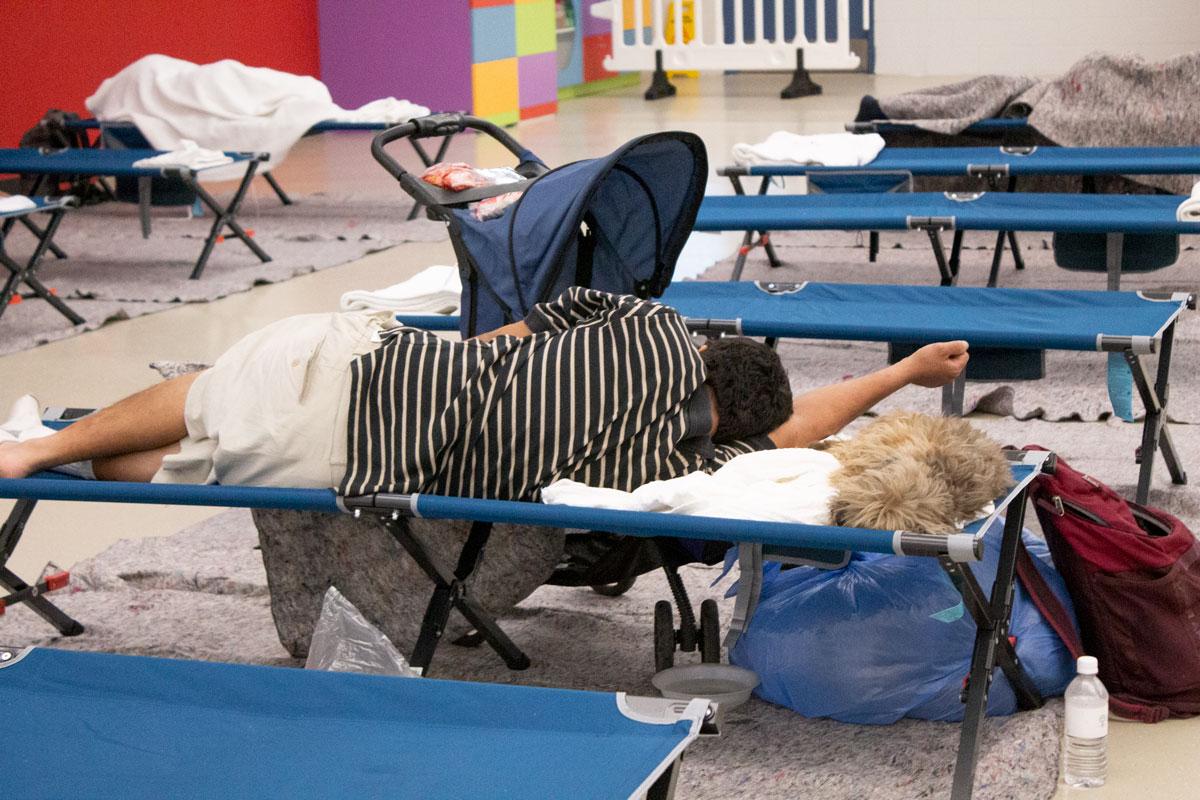 For now, the shelter staff takes each day and guest as they come.
When the lights go out, snores abound, including that of Bill, his sister and their dog. There's a hum as air conditioning pumps away into the expansive room.
Today's worries are put to rest. They'll be there in the morning to be greeted with water, fresh coffee and a fresh chance to start anew.
Support summer services like emergency heat relief shelter
Send a Charity List item