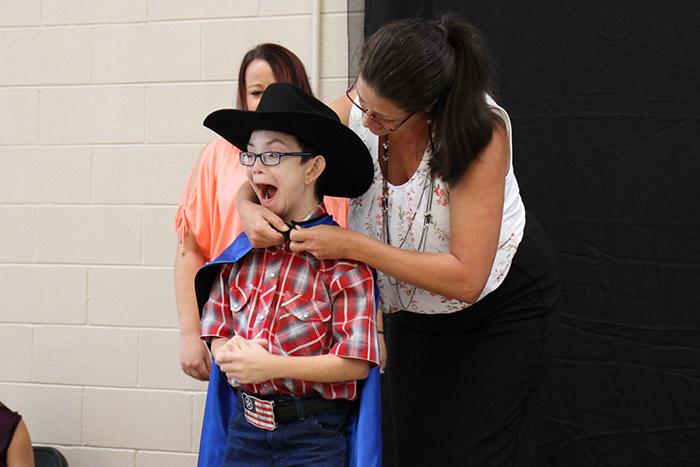 Teen Dons Barrel Boy Costume With Mission to Feed the Hungry
14-year-old with heart defect joins KNIX during annual holiday food drive
When 14-year-old Austin Dorcey was born, the doctors who treated him did not expect him to live long. In fact, they told Austin's parents that every minute he lived would be a blessing to his family.

What the doctors, Austin, and his family didn't know at the time was that mere minutes were going to turn into several years and the blessings Austin would spread would go far beyond what they could have imagined.

Surviving a challenging childhood

Austin was born with a congenital heart defect, Hypoplastic Left Heart Syndrome (HLHS). This means the left side of his heart is severely underdeveloped and doesn't function.

"The first couple of years of Austin's life were very tough and he was very sick a lot of the time. He spent most of the time in the hospital," says his mother, Sarah Dorcey-Garcia.

According to Sarah, Austin also has a genetic disorder, cirrhosis of the liver and development and physical disabilities.

"We never thought we would get to spend a first birthday with him, let alone the last 14 years. But he doesn't let any of his medical conditions stop him or get him down. He is the happiest and most loving person we know," she says.

The birth of 'Barrel Buddy'

As Austin grew up, he realized he had a GREAT love for country music. In fact, he would almost always prefer listening to music and going to concerts than playing with or getting new toys. His parents began giving him concert tickets for Christmas and birthday presents.

They also used the concerts as a reward system. Because of his multiple appointments, procedures and medications, going to concerts gave Austin something positive to focus on and look forward to. In particular, Austin began looking forward to seeing his favorite 102.5 KNIX radio personality at these concerts – Barrel Boy. Watching Barrel Boy in action with his fans and supporters inspired Austin and he started looking up to him as a personal hero.

For his 13th birthday, his parents pulled out all the stops and planned a large party for Austin. They invited everyone they knew, hired a band and sent a special invite to Barrel Boy.

Unfortunately Barrel Boy couldn't make it because of a work conflict, but the entire team at KNIX and iHeart Radio had other plans.

They planned their own special birthday party for Austin. The family was picked up in a limo and had a red carpet rolled out for them as they arrived. KNIX 'hired' Austin to work for the station for one day.

"He took over the radio station and was able to be on the radio and pick the music that was played for an hour. This was such a special day for him," says Sarah.

As Halloween approached Sarah asked Austin if he wanted to be his 'superhero,' the person he looks up to in the world. Of course, Austin was ecstatic and loved the idea. So, with the help of other family members, he quickly became "Barrel Buddy."


Partnering with his superhero to fight hunger

After experiencing these wonderful events, the family decided they wanted to give back to the community and help those less fortunate.

It was during this time that KNIX was about to launch their annual "Million Can Crusade" food drive with St. Vincent de Paul. KNIX radio personality 'Ben and Matt' and Barrel Boy encourage their viewers each year to support the drive by donating either food or monetary donations, in order to help feed hungry families during the holidays through SVdP programs.

"Talking with Barrel Boy, we found out what a great organization SVdP is and about the work that they do. We decided wanted to be a part of that and help our friends at KNIX reach their goal," says Sarah.

Austin proudly donned his Barrel Buddy costume, set a goal of raising $300 and began to fundraise. His parents posted videos of him on Facebook asking people to donate. They also went to a few of Barrel Boy's stops at local grocery stores during KNIX's food drive promotions. By the end of the month, Austin and his parents were overwhelmed with gratitude. Their initial goal was quickly surpassed and they had raised a total of $2,000 to contribute to Million Can Crusade.

"Austin may be medically diagnosed with a weak heart, but there is no one involved in the Million Can Crusade who has a stronger heart than him. Austin is an inspiration and showcases how easy it is to get involved and help the Million Can Crusade," say KNIX personality Barrel Boy.

KNIX DJs Ben and Matt wholeheartedly agree.

"Austin is a remarkable kid that we've had the honor of knowing the past few years. He has struggled a lot in his short lifetime, but never ceases to inspire everyone he meets with his incredible spirit."

Becoming a St. Vincent de Paul superhero

During a recent Volunteer Appreciation Luncheon at SVdP, Community and Food Drives Manager Jamie Bethune, nominated and presented Austin an award for his incredible support.

After researching the attributes of a typical superhero, she knew that Austin fit the bill.

"Austin loves to laugh, help others laugh and reminds us that being "happy" is actually kind of simple," says Jamie. "He is an all-around caring person. Both of his parents have passed along their superpower abilities to him, continue to encourage him and share their gifts with the rest of the world through him. He exemplifies and exceeds the expectations and characteristics of what I learned a TRUE superhero to be."

Jamie presented Austin his award along with a special superhero cape. The look on Austin's face was priceless as he donned his new cape, overwhelmed with joy.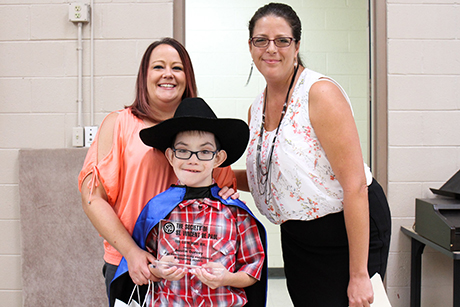 Upping the ante with fight against hunger

This November, Austin will be spearheading another campaign to fundraise for SVdP and the Million Can Crusade. Sarah recently confirmed that Austin's high school will join him in his 'crusade' and will encourage all students to donate. Austin will also take to social media, encouraging friends and family to help feed hungry families.

"We will never know why Austin was dealt the hand he was given, but God has a plan for him. I strongly believe this plan is to bring happiness and joy to this world. He only has half of a heart, but he gives everyone a whole heart full of love every time he sees them."