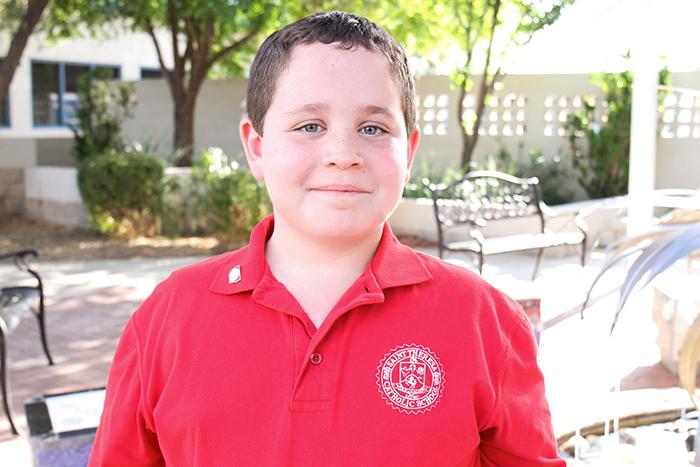 Third Grader Pinned As Youngest Vincentian
Nine-year-old sells toys to raise funds for SVdP food pantry
With his First Communion quickly approaching, Adrien, a third grader at St. Theresa Catholic School, needed to choose a service project that would help others in his community. He chose to help St. Vincent de Paul, because his school often hosts bottled water and 'paper' drives to donate to our programs.

Adrien looked around his home and realized he had a lot of toys. More toys than he needed. So he decided to hold a garage sale. He priced most of his toys at 50 cents or $1.

He created a sign that explained where the proceeds of his sales were going – to help his neighbors in need through SVdP's food pantry at St. Theresa's church. This pantry is one of 83 parish-based pantries in central Phoenix and northern Arizona. Each SVdP pantry sends trained volunteers, also known as Vincentians, on home visits to deliver food boxes and assess other needs for neighbors in the surrounding community.

Adrien wanted his funds to help these very neighbors.

On the day of the garage sale, Adrien and his grandmother, Julie, were surprised and delighted as neighbors stopped by throughout the day to buy his toys. But here's what surprised them the most -- almost every shopper paid above and beyond the listed price, by 5, 10 and 20 dollars. By the end of the day, Adrien had raised more than $100 to donate to St. Theresa's food pantry!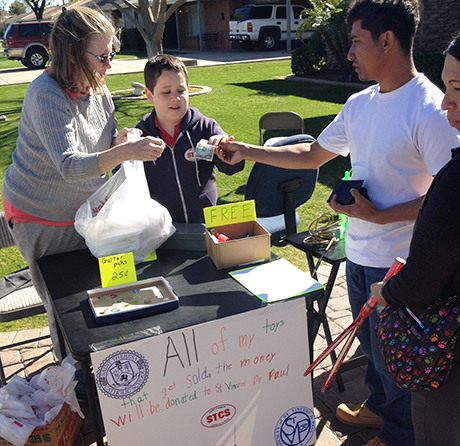 Julie and Adrien's stepfather, Elias, took him to the next food pantry meeting to hand over his check.

Another surprise was waiting for him...

After Adrien presented his check, all the food pantry volunteers took a vote and unanimously decided to make him an honorary (and now our youngest) Vincentian! An impromptu small ceremony immediately followed this decision, as Adrien was 'pinned' with an antique gold service SVdP pin and given an official SVdP baseball hat.

"I felt really special," Adrien says after we asked him about the surprise announcement.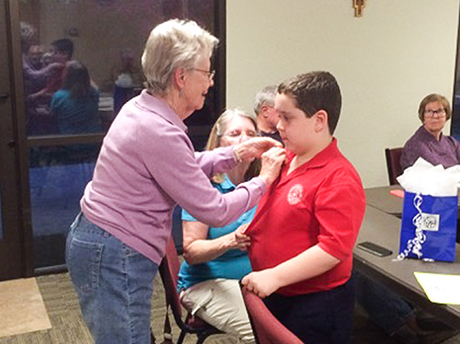 His grandmother, who didn't know about SVdP programs before this project, was blown away by what she saw and heard that evening during the meeting.

"Adrien, and many others his age, live in world where they are comfortable and have nice clothes, toys and food on the table. I think this was a great way for him to learn about those in need and how he could be a part of helping them," says Julie.

In fact, she was so inspired by what she learned about SVdP's outreach in her community, she decided to (and has since) become a Vincentian at St. Theresa's food pantry!

We are thankful for Adrien and his family for their support as they inspire others to donate and volunteer through creative ways.

Are you interested in hosting a food drive, volunteering or donating to help feed hungry families? Visit our website to learn how you can give back today!