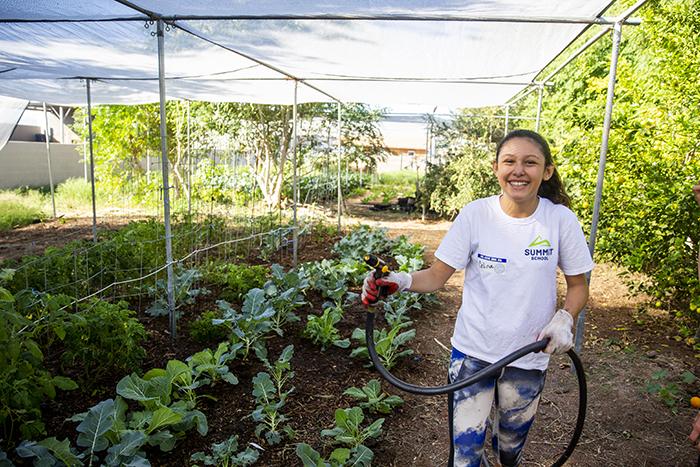 Urban Farm Branches Out this Fall
Forming new community partnerships, programs and volunteers
This fall, the Rob and Melani Walton Urban Farm welcomed many members of our community with an abundance of volunteer opportunities and programs to teach and inspire, despite having endured a long, hot summer with a 118-day dry spell!
Thanks to cooler temperatures in October as well as plentiful rain, the Urban Farm's fall harvest produced kale, sweet potatoes, broccoli, lettuce varieties and more for use in SVdP's central kitchen to serve our dining room guests. It also produced a plethora of new community partnerships and increased volunteer interest…
In November, a group of 8th grade students from Summit School of Ahwatukee spent a Saturday morning at the Urban Farm, putting sustainable farming practices to work. Summit School students weeded, watered and shoveled rocks at the base of trees, replacing them with wood chips, an organic mulch. Under the direction of SVdP Director of Urban Farms David Smith, they also planted carrot seeds for the spring harvest. The students' efforts at SVdP demonstrated the school's S.E.R.V.E. (Summit Excellence Reflected in Volunteer Experience) program in action, and they plan to return to the farm in the spring.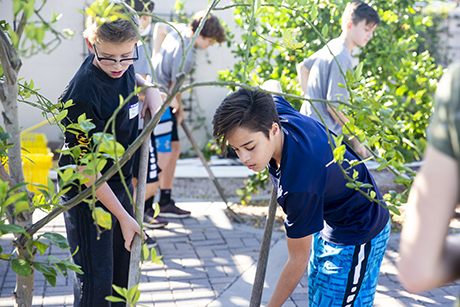 Meanwhile, a month-long gardening club in the Dream Center welcomed a special guest: Bre L'Estrange, Miss Colorado Earth United States 2018. Bre, a Grand Canyon University student, taught a class to guests in our Family Dining Room related to her national pageant platform, "Think Global, Act Local."
As part of the Urban Farm's life skills program to bolster emotional and physical health of SVdP clients, guests of our residential facility, Ozanam Manor, spent time volunteering on the farm and participating in Wellness Workshops. This has included gardening, farm education and yoga, to art therapy, meditation and making healthy farm treats such as smoothies.
With the help of Patricia Reiter, executive director of the Rob and Melani Walton Sustainability Solutions Initiatives (WSSI) at ASU, the Urban Farm has formed a farm advisory team made up of local experts that focuses on adaptive management and ongoing assessment. In addition, we have developed 16 new, meaningful partnerships with organizations such as Waste Not, Andre House, Kaleidescope, Hickman's Farms, Juby True and Valley Partnership, to name a few.
The Urban Farm is growing in more ways than one! What began less than three years ago as an empty parking lot has already grown to nearly 60,000 square feet of farming space. Plans have been underway to double the growing capacity to 80,000 sq. ft. by the fall 2019. The farm team is busy piloting and considering several methods to increase the space that include installation of irrigation systems, additional planting and enhancements to the compost space and greenhouse environment.
And growth at the farm doesn't stop there. In 2019, new community partnerships are expected to sprout up to increase educational programming, and SVdP's collaboration with ASU WSSI will produce a special "guide to social impact through urban farming."
Stay tuned and watch us grow!