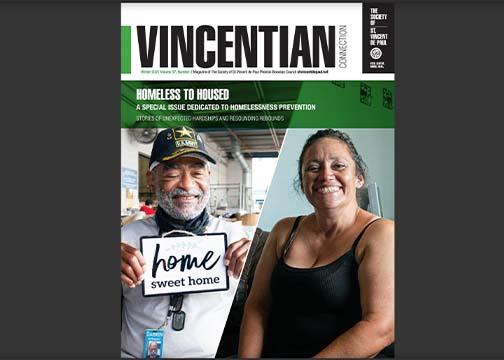 Vincentian Connection's winter issue is out!
Find stories of unexpected hardships and resounding rebounds in this special issue dedicated to homelessness prevention
The winter 2021 issue of Vincentian Connection is hopeful as it looks toward St. Vincent de Paul's future, celebrating members of our community that have gone from homeless to housed.
The winter issue, which came out December 15, spotlights two individuals who found support ending their homelessness through SVdP's transitional shelter Ozanam Manor and SVdP's new Social Work Services program. The issue also takes you behind the scenes of Renewing Hope: A Virtual Community Gathering, which took place in lieu of the traditional Restoring Hope Breakfast. Meet three of the individuals highlighted in the program, and hear from them about what renews their hope this season.
The full winter 2021 issue of Vincentian Connection is available in print on campus and online.

Inside the issue:
New Social Work Services program got Rebecca Torres and her dog Boss off the street and into a home of their own
A veteran's journey of hope, healing and finding home
Renewing Hope: A Virtual Community Gathering
A guest, but also a volunteer on a mission to work his way out of homelessness
A Palomino shopper who has become an SVdP thrift store staffer
Mesa's little farm that could with help from volunteer Mary Ann Ricketts
Briefs SVdP's Companion Animal Program, summer's emergency heat relief shelter, welcoming guests back inside with reopened dining rooms, and the Dental Clinic's coffee crusade
A Thousand Thanks to individuals and organizations that helped throughout the summer and fall