Remote video URL
A Vincentian Valentine Story
Still in love four decades later, Jay and Doris Kilroy spread love to families in need
For 17 years, Jay and Doris Kilroy have served as Vincentians (or parish-based volunteers) for St. Vincent de Paul. But those years of service don't come anywhere near the 46 years of marriage they will celebrate this year.
It was the summer of 1975 on the tennis courts at Central High School in Phoenix where Jay met the love of his life, then Doris Richard. He and a friend went to watch a single-women's catholic alumnus club tennis tournament where Doris was competing. Jay was captivated by her beauty. For him, it was love at first sight.
"I was smitten right there and then," Jay said. "I said this is the lady that will be the mother of my children, my lifelong partner."
Doris wasn't quite so sure. But after some courting and convincing, the two were married by the end of that year. The couple went on to have a son and daughter, both of whom now live abroad in Europe with families of their own.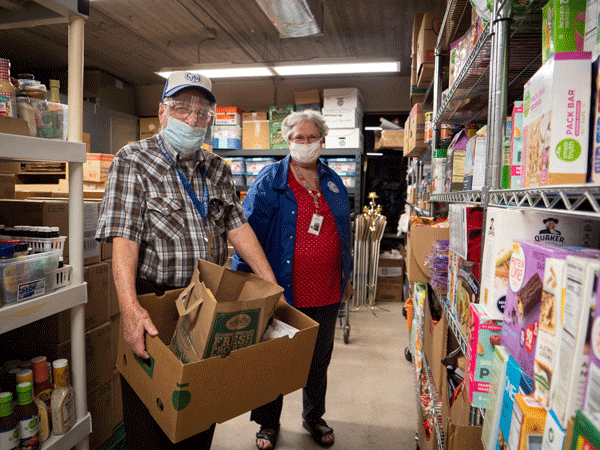 Almost 46 years later, the Kilroys' love is still going strong. It's a marriage driven by faith, affection and commitment — values they selflessly diffuse into the community they serve as well.
As Vincentians, the Kilroys make home visits to people in need in the Mesa area where they live, delivering food boxes and bill assistance from SVdP. They operate out of the SVdP neighborhood food pantry at the Queen of Peace Catholic Church, where they've been longstanding members.
Jay served as a president of the Queen of Peace Vincentians for five years. Doris followed Jay as president for an additional three years and is entering her third year as district president overseeing eight Vincentian groups in Mesa, Gilbert and Queen Creek.
"If you're not president, you get elected," Doris joked.
In total SVdP operates 81 neighborhood food pantries out of Catholic churches across the Valley. And last year, they delivered 143,372 food boxes to families' doorsteps. For Jay and Doris, that's service work of which they are proud to be part.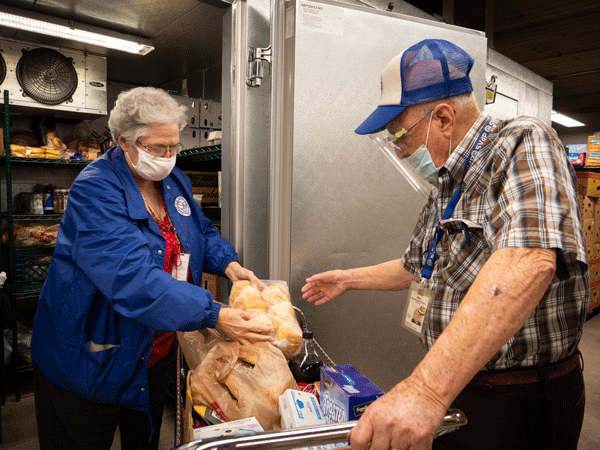 "Working for St. Vincent de Paul is rewarding," Jay said. "We're supposed to be helping people but they're helping us is the way I see it."
"It's a tremendous reward to know that people have something because we, as the hands of Christ, are there to bring it to them," Doris added.
This past weekend, Doris and Jay celebrated Valentine's Day. Jay, who will be 92 in March, is the romantic and still makes such occasions special with chocolate, flowers and a nice dinner — even if Doris has to remind him.
But one thing is certain — Jay is as smitten as that day he first laid eyes on Doris. And for Doris, there's no question now. Jay has earned her love again and again.
"He's always there when you need him," Doris said. "He's been our lifesaver, the boat in the river that I can always find."
Do you have love enough to share with a neighbor in need? Volunteer now from home or through limited in-person and socially distanced opportunities.


Vincentians are a very special group of volunteers based out of Catholic churches where they are usually members. If you're interested in becoming a Vincentian, please inquire at your local Catholic church to see if they have a participating SVdP Vincentian volunteer group.