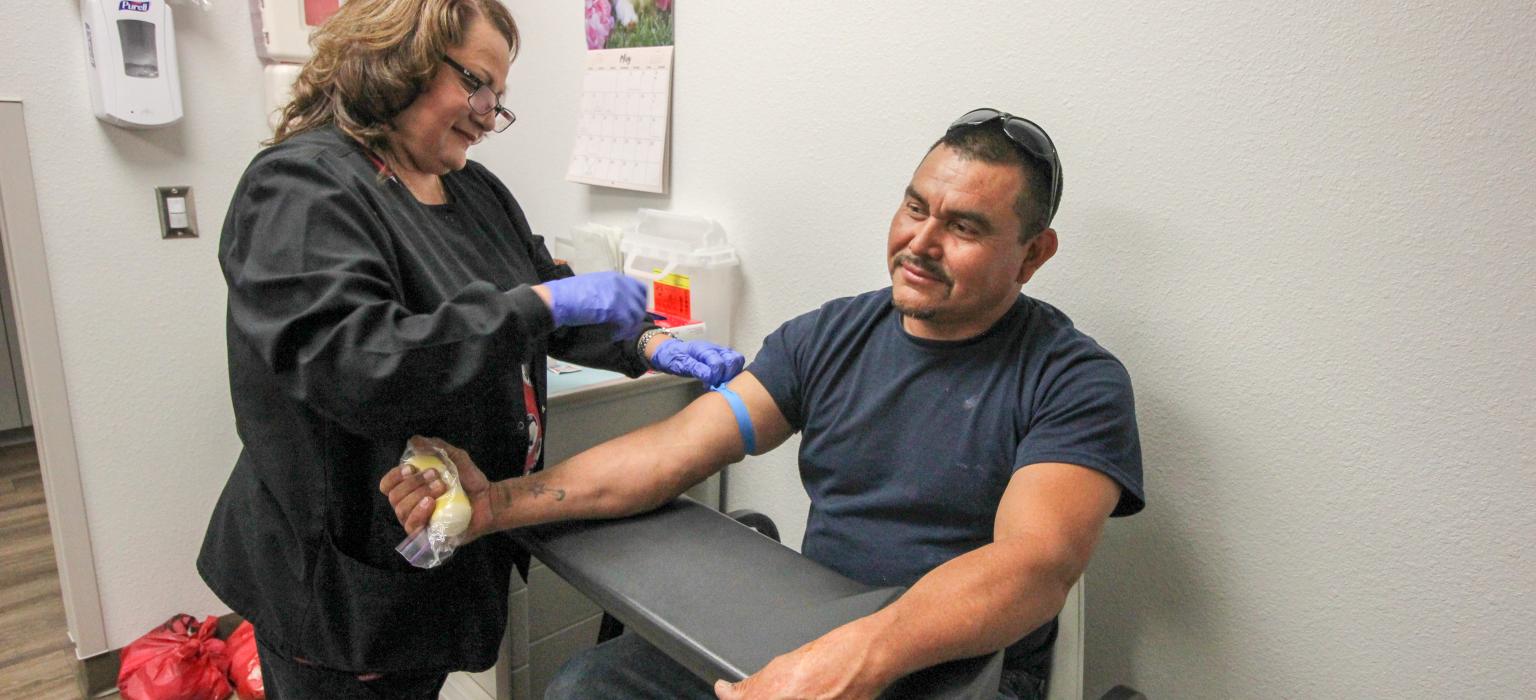 Program
Virginia G. Piper Medical Clinic
With the help of volunteer physicians, nurses, medical professionals and through our partnerships with local diagnostic services, the Virginia G. Piper Medical Clinic provides care ranging from the treatment of acute illness to chronic diseases such as diabetes.
The Society of Health Care Made Accessible
The Virginia G. Piper Medical Clinic at St. Vincent de Paul is a free clinic that fills a gap in the health care system by serving uninsured and underserved patients. Often, these patients have employment but make the tough choice between putting food on the table, paying for rent or affording a health insurance premium or visit to the doctor at full-price. Too often these circumstances result in patients delaying care until a condition reaches crisis level and lands them in the emergency room.
SVdP's Virginia G. Piper Medical Clinic aims to relieve this strain on Valley emergency rooms, but more importantly to be a place of access to the unique and compassionate care uninsured and underserved patients need. Our staff and team of volunteer physicians and health professionals focus on preventative care while also treating acute illness and chronic conditions. Along with key health institutions as partners, our community approach makes it possible to serve as a temporary health care home for uninsured patients, so they don't feel lost in where to seek care. We don't just treat people. We heal people before conditions worsen, helping them to live their best lives with less pain, renewed strength and the health to continue forward.
By the numbers
patients seen in the last year
patients seen in the last year
hospital readmission rate beats the national average of 11.5% for uninsured patients
What we do
Our clinic provides primary care services along with more than 30 different specialties ranging from cardiology to psychiatry, women's health and more all under one roof. We also provide ancillary care, like physical therapy, wound care, nutrition and counseling. The goal being to meet as many of our patient's needs as possible in-house at no cost to the patient. While our patients are in our care and working to reach their health goals, we serve as their temporary health care home.
Educating the next generation of skilled health care professionals is crucial to alleviating the gap in care for the uninsured and underserved. By opening our clinic as a training site for students in health care fields, we not only help teach compassionate and holistic care to future medical professionals, but we also increase our capacity to care for more patients.
In 2021, we embarked on a revolutionary partnership with Creighton University's School of Medicine – Phoenix Campus to help improve access to care, educate the next professionals and transform the health care system away from emergency room reliance. Creighton students complete rotations through the clinic and volunteer alongside physicians helping to bring the partnership vision to life and create better outcomes for uninsured patients.
We also have the privilege to have University of Arizona College of Medicine, Mayo Clinic and Pima Medical Institute students serve in our clinic.
We are proud to be the first community health center to initiate and join the Arizona Safety Net—a collaboration of local health organizations to share resources, best practices and partner in treatment. Through the Arizona Safety Net we are able to provide better care and expand our reach across low-cost clinics to help make sure no patient or treatment option slips through the cracks.
Other clinics and providers can refer any patient to us who is uninsured, considered underserved and doesn't already have an established primary care provider at another free clinic such as a Federally Qualified Health Center. Please complete this medical referral form and fax it to 602-261-6816. For additional information, contact medical@svdpaz.org or 602-261-6825.
As a free clinic for uninsured and underserved patients, we operate solely through the generosity and support of our community. We are always in need of physicians with active unrestricted licenses, bilingual medical professionals and bilingual pre-health professionals. We welcome non-medical volunteers as well, specifically bilingual interpreters and scribes (training provided). At this time, we are unable to accommodate individuals who seek to shadow a physician. If you are interested in volunteering please contact medical@svdpaz.org.
There's no "off season" for our neighbors in need.
Your monthly gift ensures that nobody who comes to us for help will be turned away.
Locations
Learn more about our medical clinic location in Phoenix
Volunteer Opportunities
At SVdP, 95% of our workforce are volunteers-like YOU. We believe that we can accomplish more when we all do it together. Thank you for sharing your skills, time, and heart with us. Thank you for being part of the family.
Medical Clinic
The medical clinic provides low cost/free medication, free labs, low cost imaging, primary care and a wide range of specialty care to individuals who are uninsured and generally have no other option for care.
THE SOCIETY STARTS WITH YOU
It takes a Society of One Million committed people like you to serve everyone who needs help