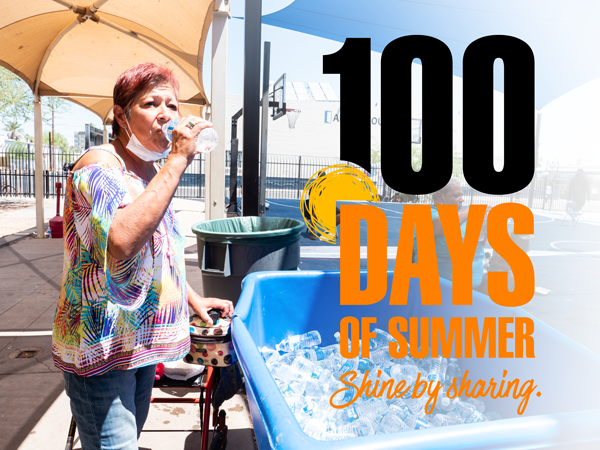 100 Days of Summer returns as heat relief kicks off with ample chances to help
Calling for community help with Water, Food, Shelter from Memorial Day through Labor Day
St. Vincent de Paul's 100 Days of Summer campaign returns for a second year, launching on Memorial Day and inviting the community to follow and support the nonprofit for 100 days during the charity's toughest season of need.
Running from roughly Memorial Day through Labor Day, SVdP's 100 Days of Summer focuses on a different high-need item each month that helps combat the effects of extreme heat, summer food insecurity, and exposure to the elements.
June = Water
July = Food
August = Shelter

"Water, food and shelter are some of the first and basic needs we can meet to help keep people safe, fed and alive this summer," Associate CEO Shannon Clancy says. "Especially with rising costs of food and housing, evictions and homelessness are surging to crisis levels. It's important that we act now as a community to care for the most vulnerable and protect lives. The 100 Days of Summer campaign offers each of us the opportunity to share our love and compassion with those who are struggling, coming together as a community to offer life-saving support in a spirit of hope."

Shine by Sharing
Support the ABC15 Water Drive
Just $25 buys 175 bottles of water for SVdP to distribute through its services and street relief.
100 Days of Heat Relief
SVdP operates five cooling stations each summer as part of Maricopa Association of Governments Heat Relief Network. SVdP heat relief operations run June 1 to Sept. 30, offering indoor cooling stations, ice water, snacks, emergency food box deliveries, and rent/utility assistance to keep families out of the heat and in their homes. Heat relief operations also include an emergency overnight heat relief shelter inside SVdP's Phoenix Dining Room on the Human Services Campus. SVdP's other heat relief shelter and housing program on 28th Street and Washington is by agency referral only.

SVdP's Daytime Heat Relief locations
Mesa Dining Room
49 W. Broadway Rd., Mesa, Arizona 85210
7:30am to 3:00pm Tuesday – Saturday
8am to noon Sunday & Monday
Phoenix Dining Room
1075 W. Jackson St., Phoenix, AZ 85007
7am to 5pm, 7 days-a-week
*Emergency heat relief shelter OVERNIGHT ONLY*
Resource Center
320 W. Watkins Rd., Phoenix, AZ 85007
8am to 5pm, 7 days-a-week
Sunnyslope Dining Room
9227 N. 10th Ave., Phoenix, AZ 85021
8:30am to 5:30pm Monday – Friday
12:30pm to 5:30pm Saturday & Sunday
In 2021, Maricopa County recorded more than 330 heat-associated deaths with a significant number of whom were people experiencing homelessness. Equally concerning are families behind on bills being forced onto the streets mid-summer when the heat is life-threatening. Low-income families already face typical summer challenges with higher utility bills, increased childcare costs and limited access to school food programs.
Support SVdP for 100 Days of Summer
Help SVdP respond to all these increased summer needs.