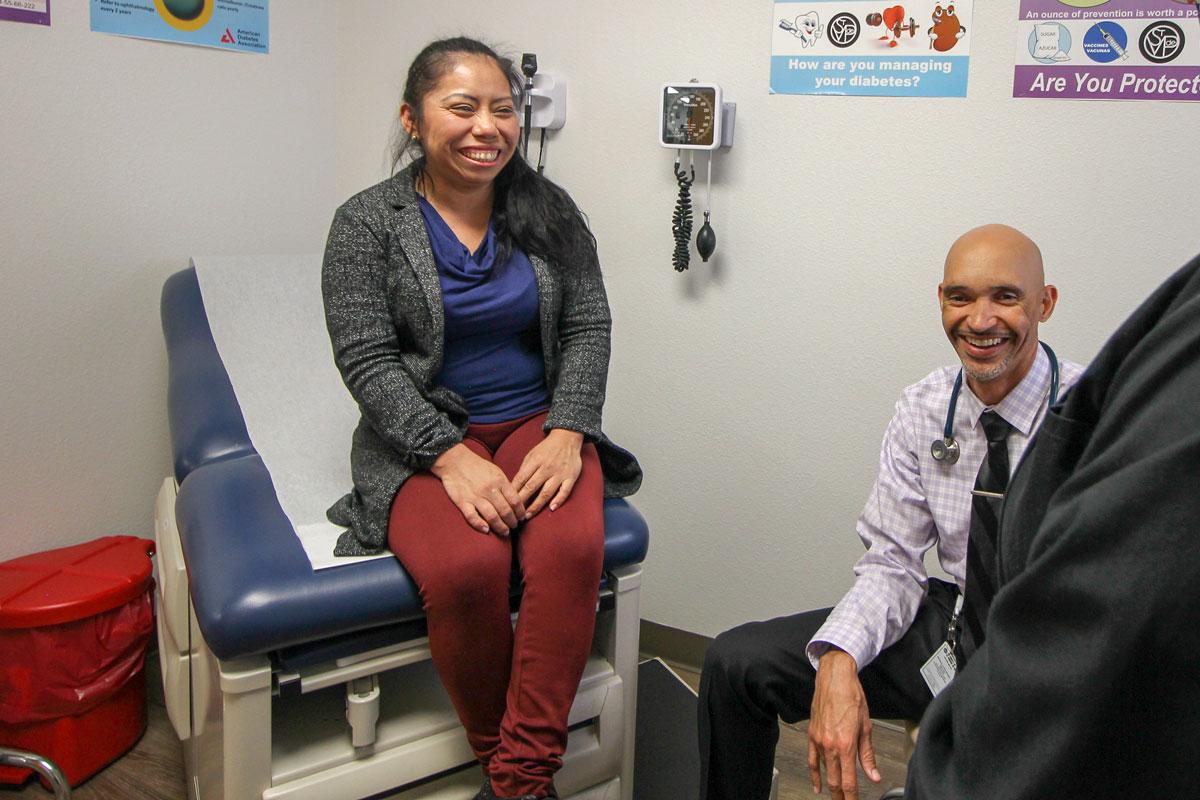 Always 'Sunshine' during the rain
SVdP's medical clinic for the uninsured works to save single mother of 5 from cancer
For years, Teresa Alonzo's job had been cleaning houses—usually three per day—until one day she couldn't anymore. A serious, debilitating pain began to develop in her abdomen, making it impossible for the 37-year-old single mother of five to clean more than a house a day.
"I worry about my children and our financial situation," said Teresa, who can't afford health insurance or any extraneous expenses for her family.
For several months her children—Elijah, Alex, Kiara, Natali and Dereck, ages 8 to 18—witnessed their mother struggle to get out of bed.
"It broke my heart to see my children worried about me," Teresa said. "I felt helpless because I didn't have the resources. I couldn't do anything for myself."
That feeling of helplessness continued until her daughter learned about the Virginia G. Piper Medical Clinic at St. Vincent de Paul through the free school physical exams it offers.
In October 2018, Teresa visited SVdP's free clinic for the uninsured, explaining she had terrible abdominal and back pain.
"As soon as we arrived at the clinic, I shared my concerns with the receptionist, Yazmin. She listened carefully and made an appointment for me immediately," Teresa said.
Dr. Maurice Lee, the clinic's chief medical officer, ordered a pap smear straightaway. It had been eight years since her last one. The results came back abnormal. With the large mass Dr. Lee had observed on her cervix, he knew to suspect cancer.
Her definitive diagnosis of cervical cancer soon came through the clinic's involvement in the Arizona Safety Net—a collaboration of local health organizations to share resources, best practices and partner in treatment.
Dr. Lee, who founded the Safety Net, called on partners Wesley Community & Health Center, LabCorp, SimonMed and the Southwest Oncology Centers to coordinate Teresa's biopsy, excisional procedure and imaging for a total cost of $40 compared to the $1,000+ typically paid for diagnoses.
"Many uninsured individuals, like Teresa, would have gone undiagnosed until the cancer was incurable," Dr. Lee said. "But thanks to the free clinic at St. Vincent de Paul and the Arizona Safety Net, Teresa had access to quality, affordable care."
After receiving the pathology report, doctors decided that chemotherapy and radiation were her only treatment option. She was expedited through gyn-oncology and received a plan for treatment. She's since had a port placed for chemotherapy through charity care and a physician has agreed to provide her radiation free of charge.
And despite the hard road Teresa has ahead of her, she continues to stay cheerful. Dr. Lee and his team call her "Sunshine" because she has the biggest smile they've ever seen.
"Even after the diagnosis, she hasn't lost that smile," he said.
"This is a blessed place because I have found the help I need," Teresa said. "They make me feel like they care for me. They are always calling me to remind me of appointments here or at other facilities. The staff is my family."
The SVdP clinic will continue to coordinate Teresa's care, for which she and her children are truly grateful.
"My kids are sad and scared, and they don't know what is going to happen, but they are so happy that SVdP is helping me," she said. "I would ask people to keep helping St. Vincent de Paul. And for those who haven't, please do."
"Sunshine has a battle with cancer ahead of her," Dr. Lee said. "That battle shouldn't include worrying about where she will get care."
For now, Teresa takes it one appointment and day at a time.
"Today, I trust St. Vincent de Paul and, most importantly, I trust God. I know everything is going to be ok."