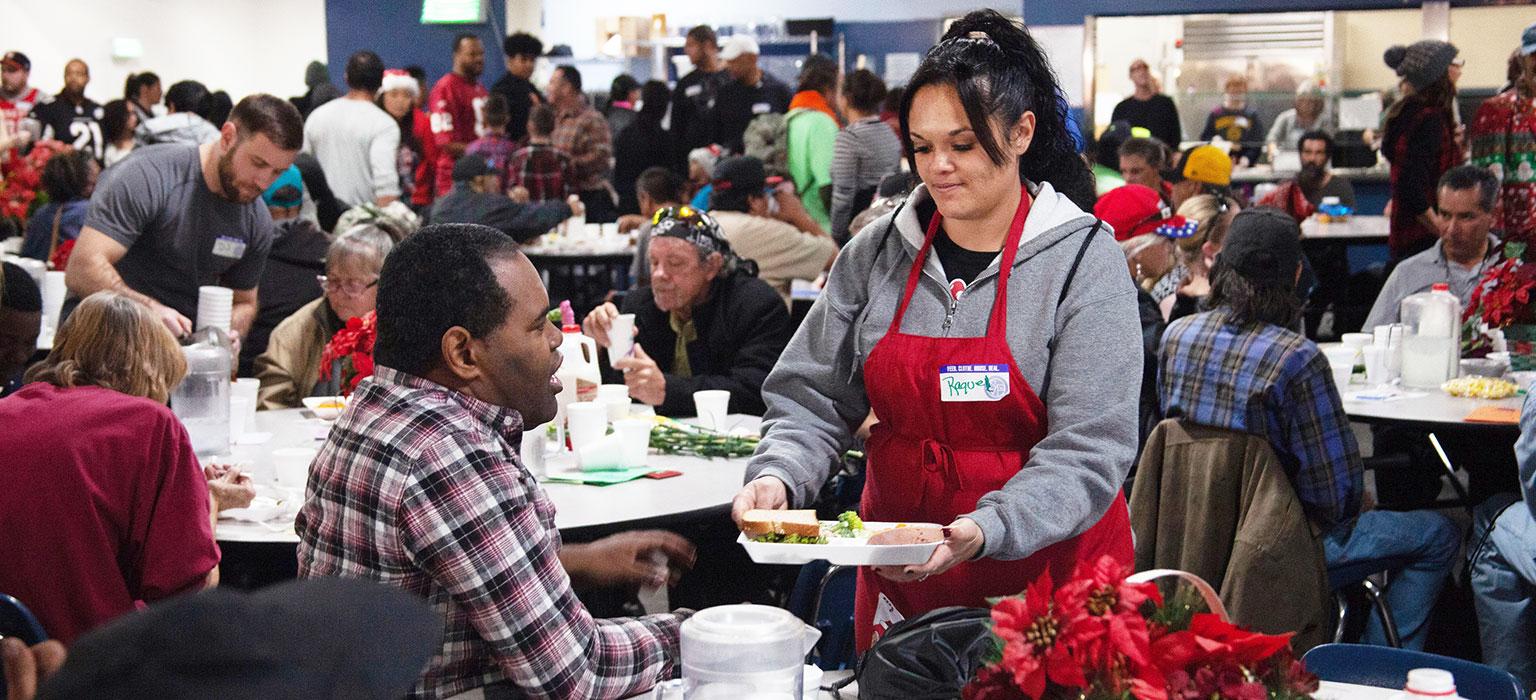 Set to serve 4,000 Christmas Day meals
SVdP will provide a special Christmas meal on Dec. 25 for people experiencing homelessness
All who seek a hot meal from St. Vincent de Paul on Christmas Day will be greeted with a warm welcome and a special holiday dinner at the nonprofit's charity dining rooms. SVdP is set to serve 4,000 Christmas meals to individuals experiencing homelessness across the Valley on Dec. 25.
Guests will enjoy glazed ham, candied sweet potatoes, and roasted vegetables with a roll on the side and some pie for dessert.
"We know how important holiday meals are to the traditions we keep with our families, which is why we want to invite anyone in need of a meal to join us and be a part of our St. Vincent de Paul family" said Food Services Director Danielle McMahon. "Here at St. Vincent de Paul we especially take joy in sharing in the Christmas spirit with a celebratory hot meal packed with nutrients, holiday favorites and made with love by our kitchen."
If you or someone you know needs a Christmas meal, please join us! All are welcome.
CHRISTMAS DAY MEAL SERVICE ON DEC. 25:
Phoenix Dining Room
Champions for the Homeless Christmas Event
Time: 11 a.m. - 12:45 p.m.
Address: 1075 W. Jackson Street, Phoenix
Mesa Dining Room
Time: 9:30 - 11:30 a.m.
Address: 67 W. Broadway Road, Mesa
Sunnyslope Dining Room
Time: 4:30 -­ 5:30 p.m.
Address: 9227 N. 10th Avenue, Phoenix
SVdP provided 2.66 million meals last year through its five charity dining rooms and more than 103,000 food boxes to individuals and families in need through its 80+ neighborhood food pantries.
Those interested in helping SVdP throughout the holiday season are encouraged to volunteer either in-person or virtually. Note that Christmas opportunities are often booked months in advance and that we need help all the other days of the season too, so please consider volunteering "off holiday."

Thank you to all those who partner with us all year long to serve mothers, fathers, children and families. We wish you peace and joy this Christmas!