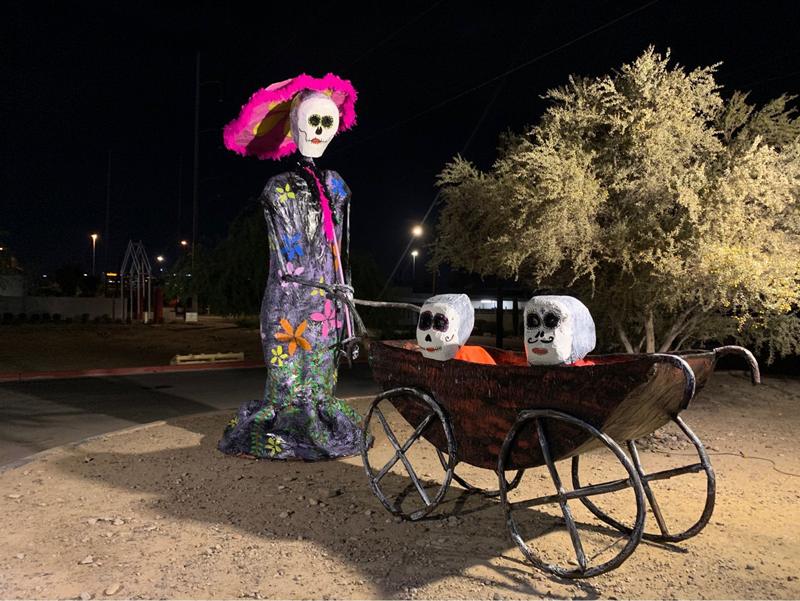 Día de los Muertos sculpture decorates Family Dining Room drive-thru
Volunteer Randy Voigt created the art piece for the moms and children he usually serves
A 15-foot sculpture of a mother with a stroller of children is hard to miss when driving by St. Vincent de Paul.
The gigantic art piece in the style of a Mexican Catrina doll decorates the Family Dining Room drive-thru for a week of activities leading up to and celebrating Halloween and Día de los Muertos/All Souls Day at the nonprofit.
Randy Voigt, a longtime volunteer, created the sculpture made of rebar, chicken wire, paper and glue. He had the help of his two daughters, Kennedy and Madisen, and a few SVdP volunteers. Randy, who works as a program manager for Circle K and lives in Chandler, creates these sculptures out of his garage as a hobby and is entirely self-taught.
"I remember in fourth grade I did something smaller like this," says Randy, who is hesitant to call himself an artist. "It's a process, so I just figured it out as I went."
Part of that process included the chalk sketch of the mother and the stroller on his driveway. It's how he planned the sculptures and captured the vision that SVdP's Dream Center Supervisor Cindy Bernardo called to request as decoration for the drive-thru she helps run. It's not the first such sculpture Randy's made and donated to SVdP, having once created a turkey for Thanksgiving a different year.
But there's something even more special about the sculpture of the mother and her children given the location and audience. The drive-thru is dedicated to serving struggling families, many of whom are Latino and have an appreciation for the Mexican tradition of La Catrina and Día de los Muertos.
"I love the idea of her and what she represents in that space," Randy says. "I love the roots and vines coming up from the bottom and the image it shows about how connected these moms and their children are."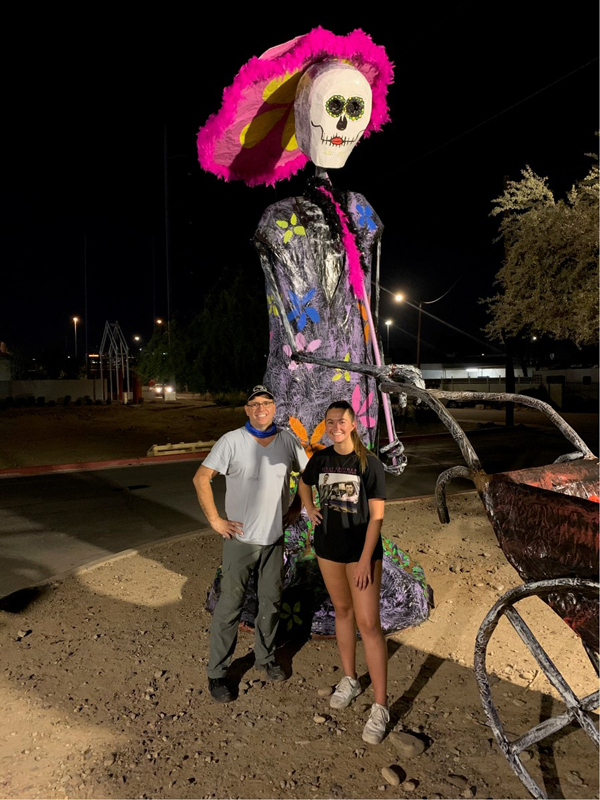 Randy and his daughters spent numerous nights after work constructing and installing the sculpture at SVdP. Being Cindy's vision, Randy urged her to name it. Cindy chose to name her Helen, after her own mother.
"Randy and his daughters' hearts were focused on creating something amazing for our families, and they went above and beyond accomplishing that," Cindy says. "It truly made our drive-thru a fun and interesting place to be while waiting in line. Many families have taken pictures by the statues. They love and appreciate them."
For Randy, it's a way for him to continue being present in these families' lives. For seven years, Randy has volunteered every Thursday night to help serve the families a restaurant-style meal inside the Family Dining Room. A single dad himself, Randy started volunteering after his girls reached driving age and were spending more time with extracurricular activities and friends. He wanted to be with kids again and that's what drew him to the Family Dining Room. He also felt strongly that while he didn't have the budget to give monetarily, he could give a little bit of his time each week.
The COVID-19 pandemic transitioned the dining room's in-person meal to a to-go service offered through the drive-thru window. That's left devoted dining room volunteers like Randy at home for health and safety purposes. He misses the weekly infusion of community and hope that volunteering offered him and those he served.
"I can't wait to get people back in the dining room," says Randy, who was a 2015 Volunteer of the Year. "Those connections and volunteering, it changes your life because of the little bit of impact you get to have each week."
He's happy to see the drive-thru still offers a bit of that hope and cheerfulness he knows so well from the dining room. And now he gets to see one of his own sculptures contribute to that effort and help build excitement for the holiday week.
Starting today, the drive-thru will offer themed goody bags and special activities each night. Those include a pumpkin patch donated by Bashas', volunteers and staff dressed in costumes, and spook-tacular additions like a screening of The Nightmare before Christmas. Friday, Oct. 30, marks the culmination of events with a Dia de los Muertos celebration and a traditional altar for photocopies of family members who have passed. Families will be allowed one-by-one to place their photos at the altar. A mariachi band has donated their time to provide live music for the drive-thru that day as well.