Remote video URL
Walking again after doctors thought he might not live
A brain aneurysm and two strokes left Ernesto Valencia with little hope until he visited SVdP's medical clinic for uninsured patients
There was a time when doctors had no hope for Ernesto Valencia's recovery. A brain aneurysm and stroke had landed him in the hospital. During emergency surgery, he suffered another stroke and slipped into a coma. Doctors prepared the family to say goodbye before disconnecting Ernesto from life support.
But when Ernesto's wife, Hermila, spoke to him, she saw a miracle unfold before her eyes.
"I started talking to him, and he recognized me. He was crying."
"I talked to him, and he was moving his eyes," Hermila says. "Then, I see Ernesto with his eyes wide open, awake. I started talking to him, and he recognized me. He was crying."
Ernesto awakened paralyzed on his right side and unable to speak, but he was alive.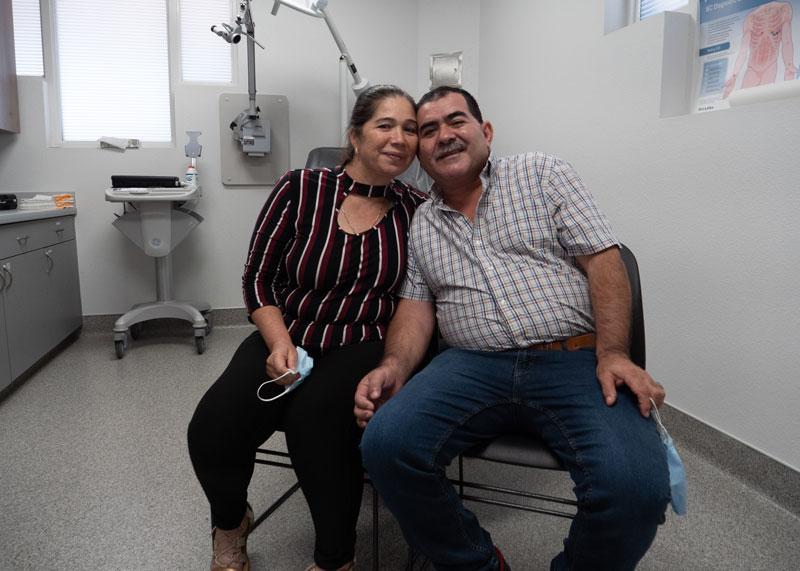 A former landscaper, Ernesto didn't have means to pay for health insurance. Nor did Hermila, who has children of her own and works day jobs as they come to her without promise of a steady of paycheck.
After Ernesto was discharged, Hermila cared for him, bathing and feeding him, but she had to return to work.
"It was hard because I didn't have any help from his family," she says.
The hospital advised Hermila to seek physical therapy for him and gave her a list of low-cost clinics in the Valley.
"For some reason, God put St. Vincent de Paul on my heart."
"For some reason, God put St. Vincent de Paul on my heart," she says.
When Ernesto first visited SVdP's Virginia G. Piper Medical Clinic for uninsured and underserved patients, he arrived in a wheelchair.
"He wasn't moving his right leg or arm or speaking at all," remembers Dr. Jamie Nesbit, a physical therapist and assistant professor at Creighton University School of Pharmacy and Health Professions.
Dr. Nesbit volunteers in SVdP's clinic thanks to a recently formalized partnership with Creighton University's Health Sciences Campus in Phoenix. The partnership brings skilled faculty to volunteer in SVdP's clinic and help increase access to quality care for uninsured patients at no cost. In return, the clinic serves as a unique learning site for Creighton students.
"I actually just came from a more traditional clinic, where we're taking insurances," Dr. Nesbit says. "When insurances run out, you say, 'Sorry, we can't do anymore.' So to be able to come here and treat those people who felt like they had no other hope and had no other avenue, it's really what we came into this profession to do."
Thanks to the partnership, SVdP's clinic now offers occupational and physical therapy, along with 20+ other specialties to its patients, creating more and easier paths to healing for uninsured patients like Ernesto.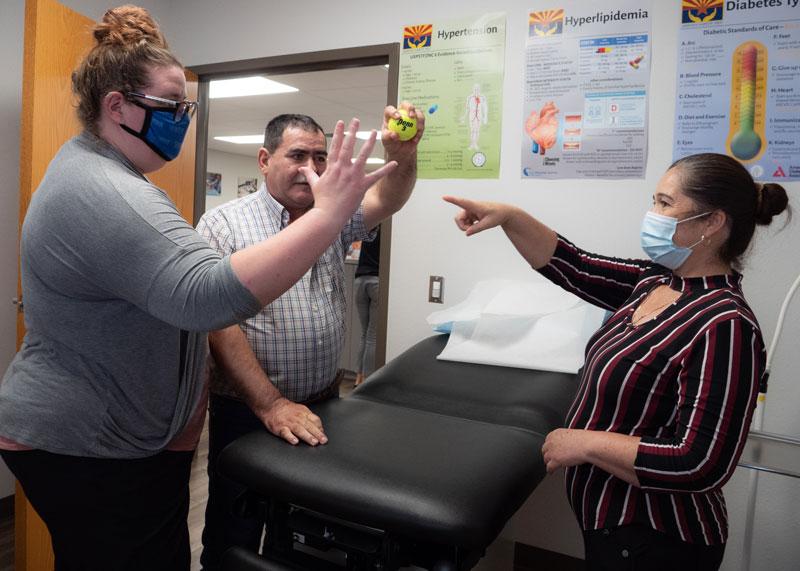 "So we teach them how to do a basic thing," Dr. Nesbit says. "Get out of a chair without his wife having to pull him up. And that alone provides some new independence for both of them that gives a little spark of hope.
"And then we make a plan for the next time," Dr. Nesbit continues. "Ok, let's start walking. Let's work on getting out of bed — just the little day-to-day things that they thought they wouldn't be able to do, showing them that they can do it, just differently."
With regular appointments, Ernesto began his journey toward relearning basic movements, the kind that would help him achieve more independence and in turn help lessen the burden on Hermila in her continued caregiving.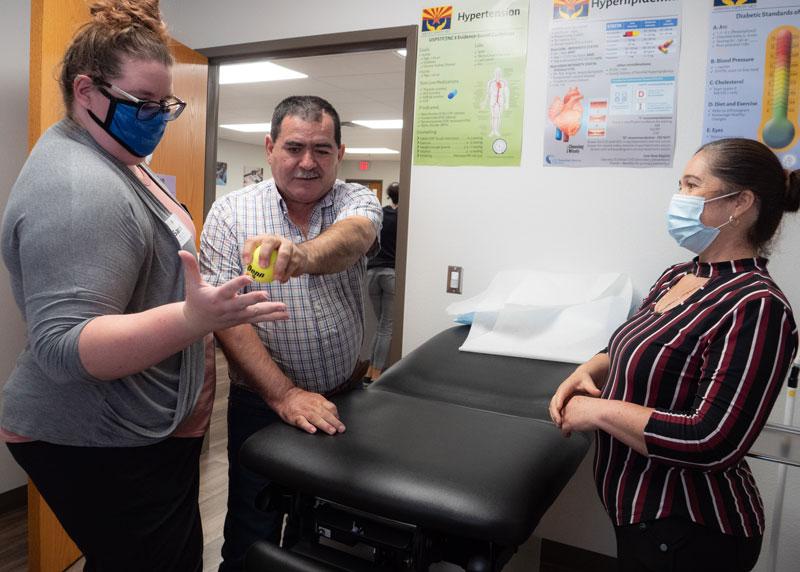 "For physical therapy, we have specific expectations that we try to set to get the right intensity or the right dosage of exercise to help our brains reconnect and form new neurons," Dr. Nesbit says. "You can never really stop learning, and you can never stop improving. It may not be as grand as it will be in the beginning and it may never get back to normal, but if you keep trying, you'll see a little improvements at each day or each week."
Such was the case for Ernesto. Clinic staff still remember the day they heard Hermila scream from joy and excitement at the sight of Ernesto walking for the first time in the clinic as he held steady along a counter.
"People like him are the reason I became a physical therapist."
"He just makes me smile, when I think of him," Dr. Nesbit says. "People like him are the reason I became a physical therapist. He just has a hardworking attitude. You can tell that he was a hard worker before, very family oriented, and his wife is a rock star."
"Every day he's doing better," Hermila says. "Each day his stability improves, and now he no longer uses a cane."
Beyond the joy of walking again, Ernesto has regained enough movement and balance to enjoy a former passion of his — dancing. That's how they end every therapy session now.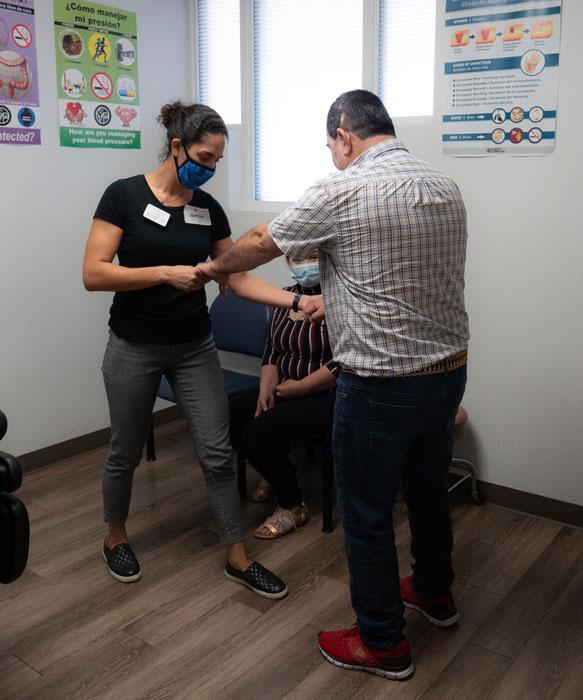 "[Dancing] has been one of the things that Ernesto loved to do before that we definitely try to incorporate into physical therapy," Dr. Nesbit says, "because it's something he enjoys doing now and we can get him moving, dancing and feeling that connection with his wife again."
Even Hermila has received care at the clinic for her back after throwing it out while caring for Ernesto. Together, they're unbelievably grateful for the kindness of the staff and the support they've received over the many months.
"Thank you, God, because if it wasn't for this help that the SVdP medical clinic provides," Hermila says, "people like us who don't have insurance, wouldn't have help."