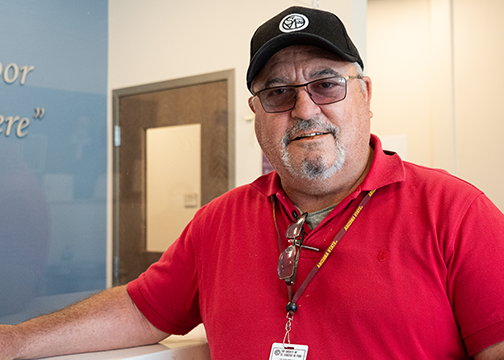 Finding peace, serenity, and a bed of his own
One senior's journey to stable housing
St. Vincent de Paul's founder Frederic Ozanam may have lived centuries ago, but he has impacted Bob Marshall's life in big ways. Ozanam's name graces the transitional housing shelter that gave Bob stable housing. And just across the street a small statue of Ozanam is the place Bob proposed to his now fiancé Sherry.
Bob is one of 60 adults currently residing at SVdP's Ozanam Manor. The transitional shelter provides stable housing and wraparound support for veterans, adults with disabilities, and seniors over 50 years old as they try to secure their own permanent housing.
Bob, like many of his fellow residents, never expected to be homeless. At one point in his life, he was making over a six-figure salary, he said. He and his ex-wife lived comfortably, but he had undiagnosed bipolar disorder. His mental health started to deteriorate, and it introduced many other problems.
"When I pulled the plug and said I can't do this anymore, she was upset that she was not going to be in the lifestyle she was accustomed to," he remembers, "but I was falling apart mentally."
He spent most of his adult life in Yuma, but eventually decided to move to the Valley. He ended up living with a girlfriend at her apartment in Surprise. One day, however, he had an argument with his girlfriend's daughter who was living there at the time, and he was asked to leave.
With no friends, family, or support system in Phoenix, and nowhere else to go, he slept wherever he could.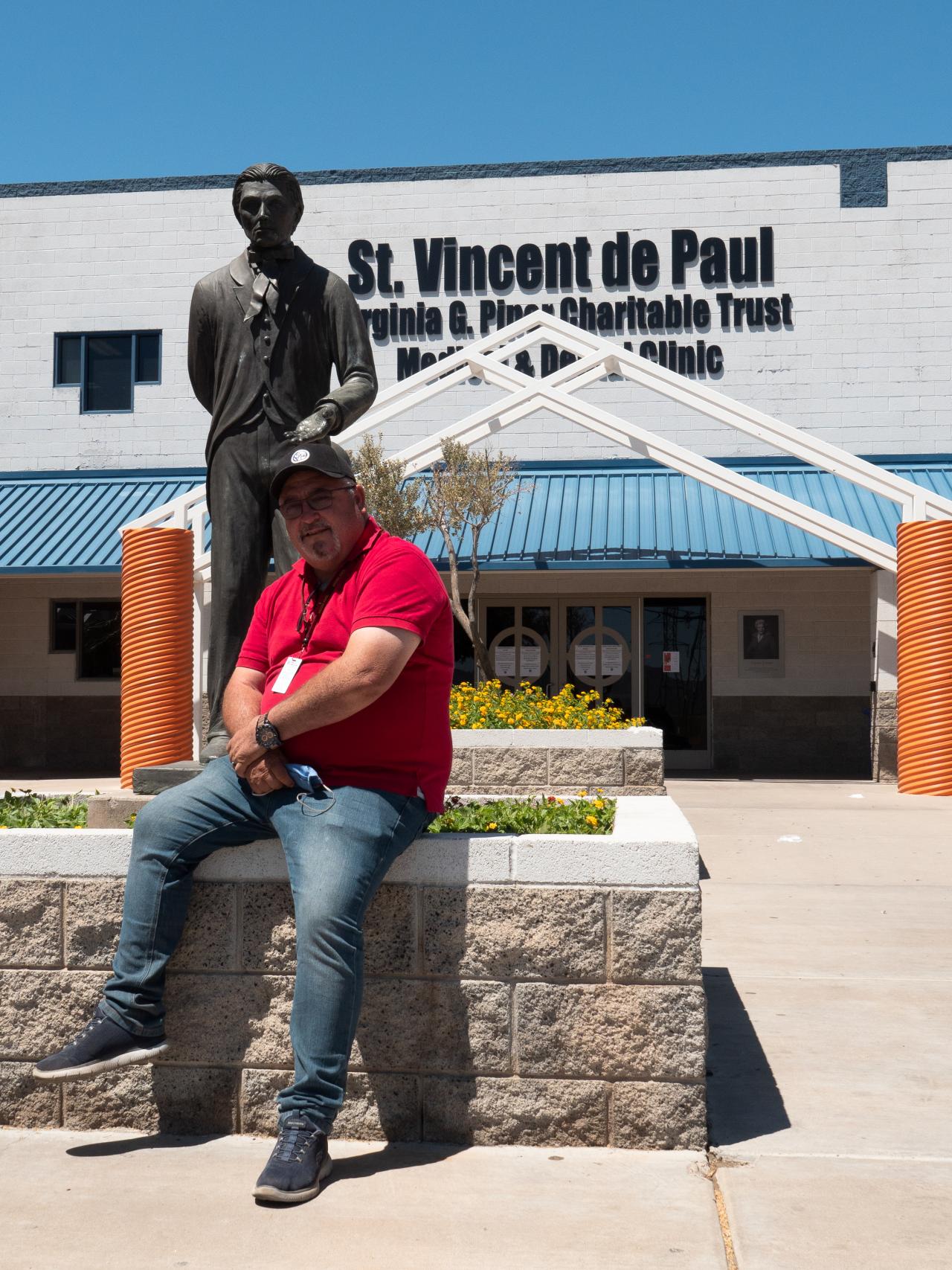 "There's a Starbucks out in Litchfield [Park]," he said. "I used to sleep in their lawn furniture at night, then they told me I couldn't do that anymore. So, I went over, there's a hospital right behind it, so I went over there and found this grassy knoll and I laid down. And I said, 'God, please help me.' Then the sprinklers came on. I just thought, 'Lord, that wasn't what I was looking for.'"
He didn't have a house or a bed, but he did have a motorcycle, which he used to travel throughout the Valley selling insurance.
In May 2017, however, he got into a serious accident with another car running a red light, which resulted in a crushed pelvis, three broken vertebrae, a broken wrist, and a concussion.
He stayed in hospitals and rehab centers for a short while to recover, but within a few months he was back living on the street again. He spent several nights sleeping in front of a church and on the couch of someone he met in rehab, but he knew that was not a long-term solution.
With the mental and physical disabilities he had acquired, Bob couldn't find a job or a way to make an income. He couldn't see a way out of homelessness and housing instability.
Then he heard about Ozanam Manor and called every Monday to try and get a spot in the shelter, which has a waitlist due to the Valley's growing homeless population and limited shelter space across the community.
"I called and I called, and finally I did call in and was told I could come and do my intake," he said. "I did that, and I went back to where I was staying for a brief amount of time. And then I got a call saying I could check-in Monday. God help me, it was wonderful."
Once he got to Ozanam Manor he had the support from the staff to get the medical help he needed. He now gets regular health care for his physical and mental ailments. He's also gotten dental care – a root canal and crowns – from SVdP's Virginia G. Piper Dental Clinic that would not have been covered by his insurance.
This year, Bob was also diagnosed with Parkinson's disease.
"I literally have a full-time job of going to doctors," he said.
He goes to St. Joseph's Hospital & Medical Center in Phoenix and the Muhammad Ali Parkinson Center at the Barrow Neurological Institute for treatment, two of the best facilities in the Valley.
"So yeah, it's just the body's falling apart, and the mind's a mess,' he said. "And then I came to this place [Ozanam Manor] and it's peaceful. And it's calm. I have a space that I can go lay down anytime I want to go do it."
He is thankful to have a roof over his head, a soft bed to sleep in, and food in his belly every day. Every week he meets with his case manager at Ozanam Manor to search for apartments and work on finalizing his disability benefits.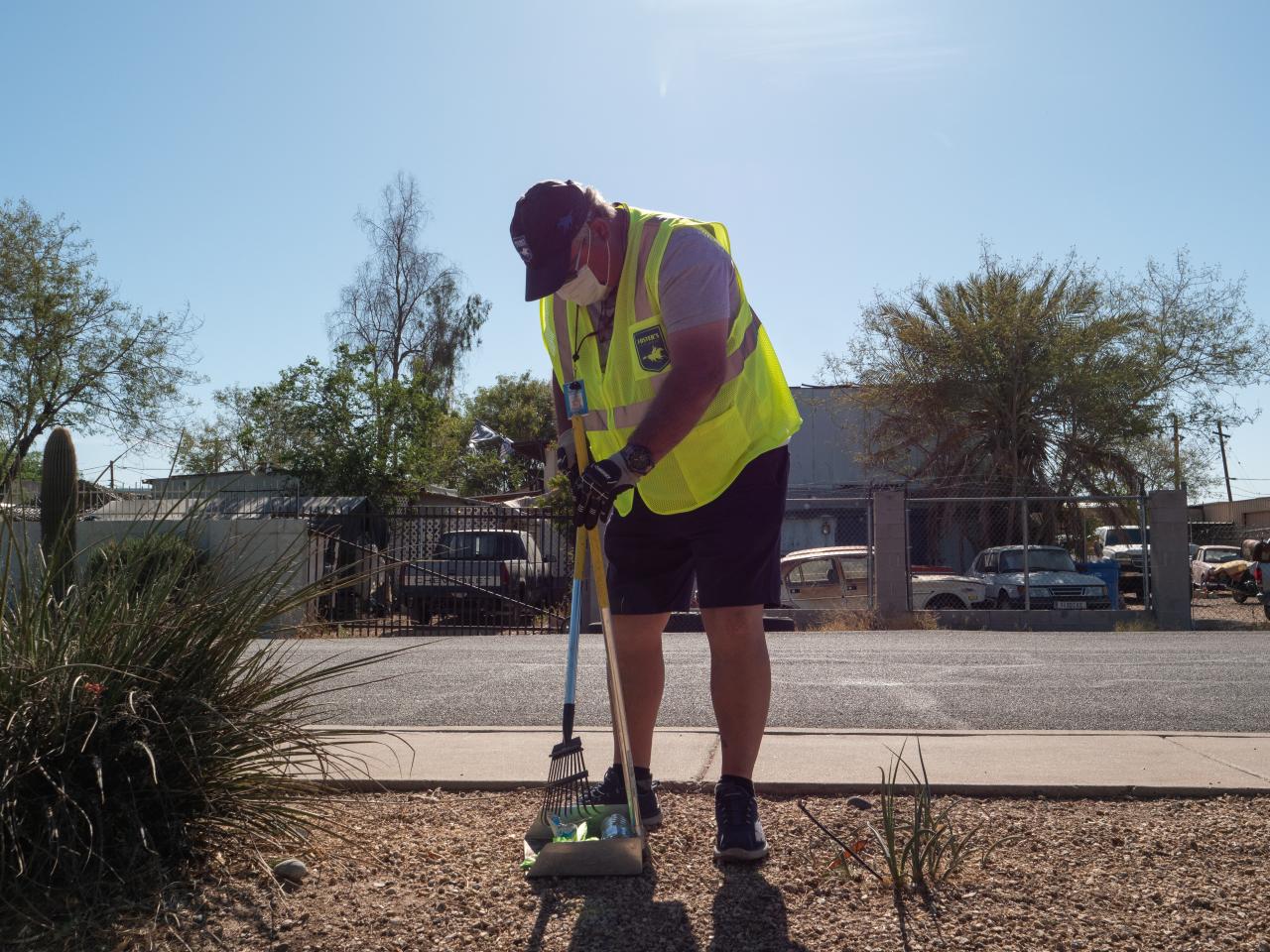 To earn a little bit of income while he applies for disability benefits, Bob joined a newly launched workforce program at Ozanam Manor – Foster's Outriders Litter Brigade. This program is funded by a generous SVdP donor, and it allows Ozanam Manor residents to gain dignified work experience.
Ozanam Manor director Julia Matthies said the program is a great way for residents to build job training skills, and most importantly it gives them much-needed structure and purpose in their lives.
For Bob, being part of the Litter Brigade gives him an opportunity to earn a modest paycheck to buy extra things he needs, like hair gel. It's also a way for him to give back to the community that has helped him get back on his feet.
"I don't do it because I get a paycheck anymore," he said. "I do it now because it's the best way I can say thank you."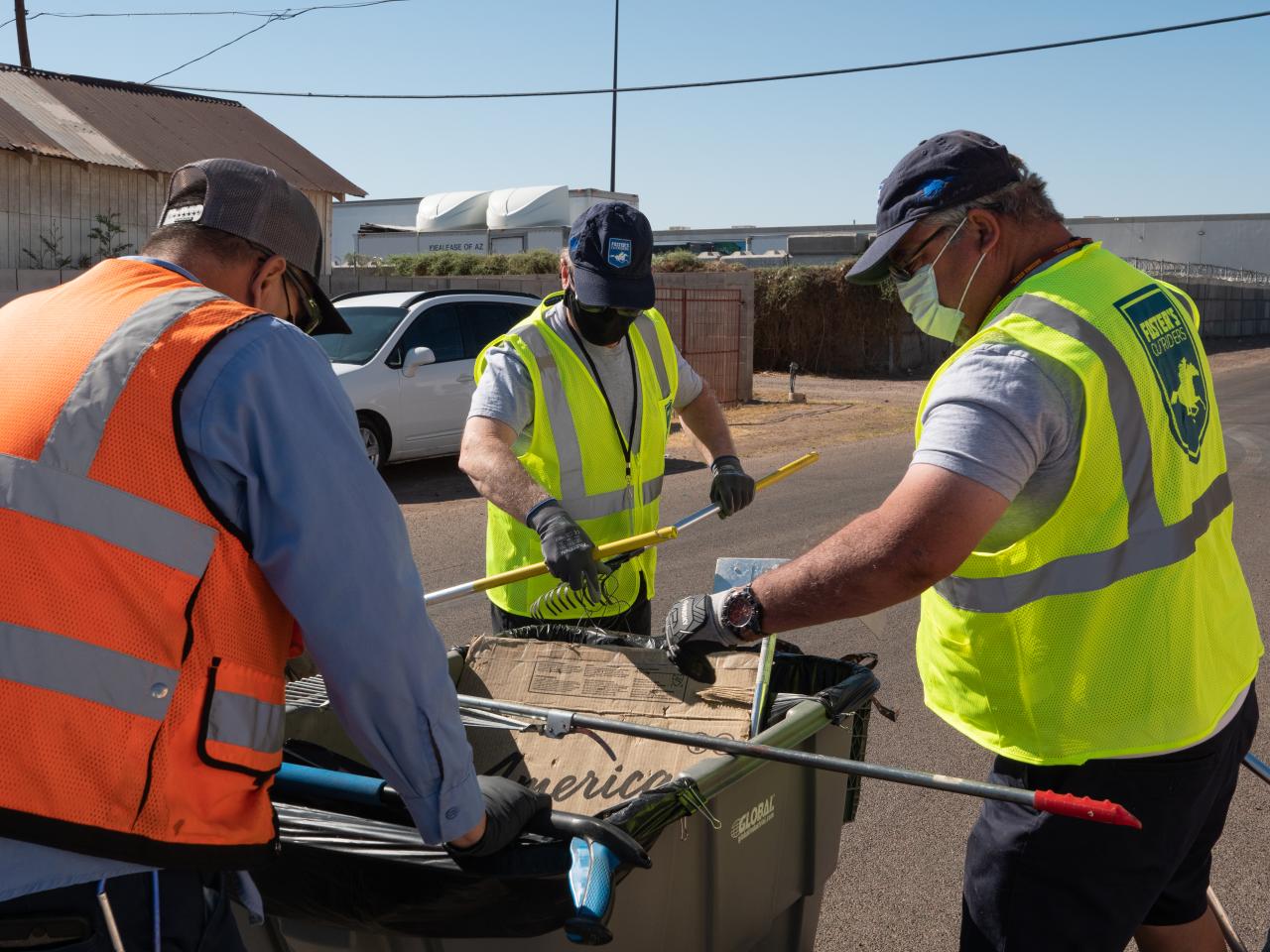 More than anything, Ozanam Manor has given Bob a sense of stability and peace in his life. He hopes to soon qualify for disability benefits and find a place of his own to call home.
Ideally, he'd like to find a nice, quiet apartment complex close to a grocery store, he said. That way, he won't have to take a bus or rideshare to get what he needs. No matter where he ends up living, he's excited to have a place of serenity and solitude to call his own again.
Support Ozanam Manor
Help bring hope, safety, and security to those experiencing homelessness.