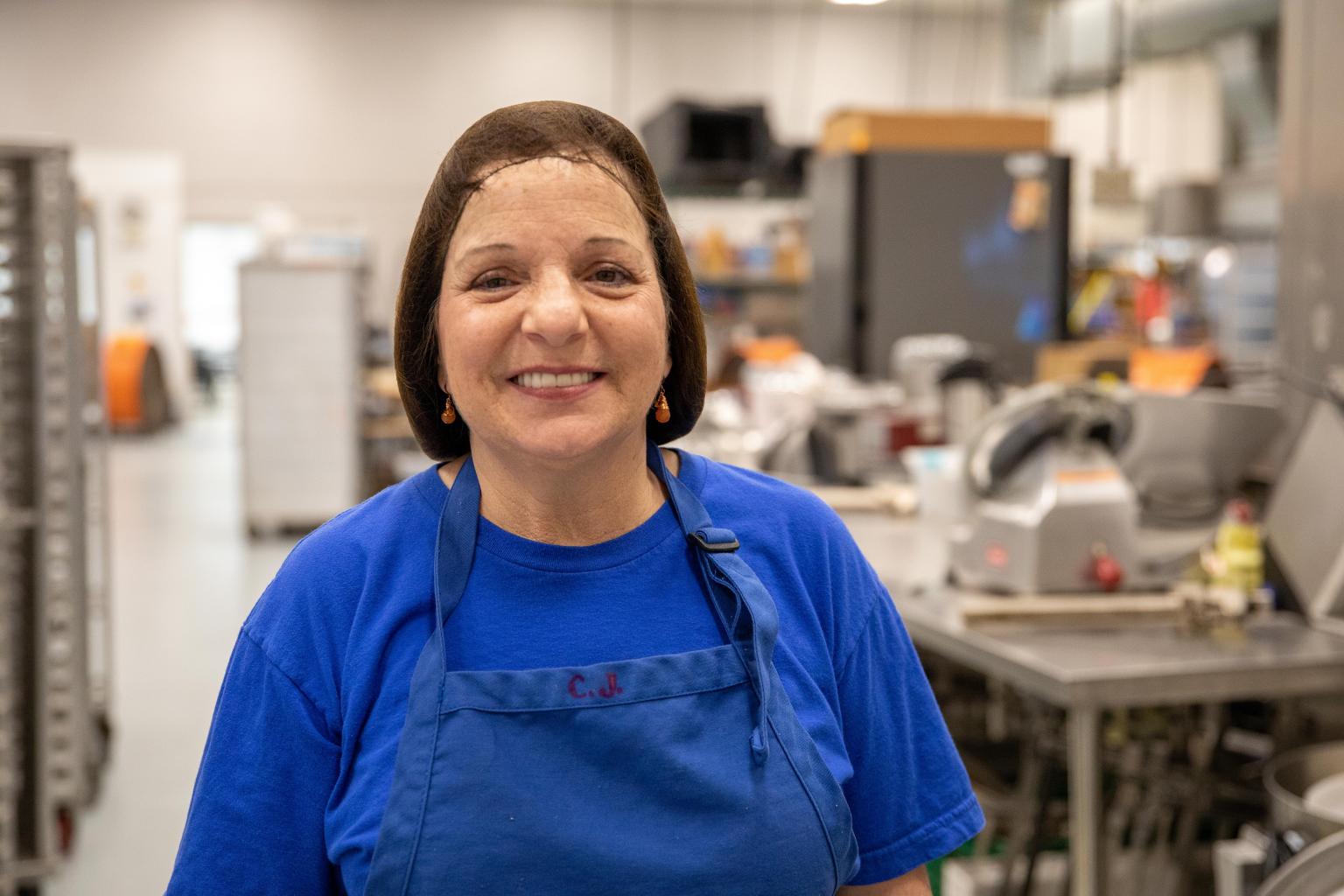 Finding the second chance she needed
CJ Kaudy got her life back on track thanks to support from Ozanam Manor
CJ Kaudy never thought she would end up homeless. She grew up with two loving parents and lots of close friends in Boston. Right after graduation CJ moved to Bar Harbor, then Florida Keys, Nashville and Los Angeles. In 2003 CJ found herself in Kingman where her parents moved after they retired. When her father suffered a stroke she decided to stay to help care for him. After her Mom passed, CJ moved herself and her father to Phoenix. This proved to be the best move for both of them.
But everything changed in June of 2016 when she totaled her car in a serious car accident.
"I became homeless in my 50's," she says somberly. "I never thought I'd become homeless, especially this late in life, but it happened, and it happened quickly."
CJ had broken both legs, which meant she needed to take time off work. When she was healed and ready to return, she could only get one shift a week as a waitress – not nearly enough to pay the rent.
She lived off her savings and stayed with friends but that did not last long.
"I didn't want to be that person living on someone's couch," she says. "I could not do that. I know that if my mom were alive and my dad was not in the nursing home, I would never have become homeless. Those are the kind of people my parents were."
Without the support of her family, and with no way to pay the rent, CJ ended up on the streets.
"You might be surprised by this, but I looked at it [being homeless] as an adventure," CJ jokes. "I even said to my dad, who was 91 or 92 at the time, I said 'Dad, you know I am living in the park.' And he said, 'The one with the pond? Say hello to the ducks and geese!' I think he thought I was kidding and that was fine with me.'"
For a few months during the summer, her home was a park bench at Cesar Chavez Park in Laveen until she got connected to the Halle Women's Center and stayed at their women's shelter briefly. Eventually space opened for her at St. Vincent de Paul's transitional housing shelter, Ozanam Manor (Oz), and she was able to move in full time.
Help keep veterans and seniors sheltered
Support Ozanam Manor
She lived at Oz for a little over 2 years and was one of the first residents to make the transition from the previous location at E. Monroe and 18th Streets in Phoenix to the new dorm-style shelter inside the Diane and Bruce Halle Center for Hope and Healing on SVdP's main campus.
"Everything was there for us [at Oz]," she remembers. "It was just amazing."
The residents were in awe of the brand-new Oz building CJ remembers. Everything they could need was there. Great, new laundry facilities, their own semi-private rooms, case workers to help whenever needed and access to all of SVdP's resources. Living on the main campus, where they could interact with volunteers and staff every day, really gave residents a sense of community.
"I loved it," CJ says of living at Oz. "They gave me everything I needed – a warm bed, safe housing, friends I will have for life, and nobody goes hungry at SVdP!"
Most of all, CJ found a community of friends, a new support system, at Oz. "A real sisterhood. A real community," she says of the Oz residents with whom she lived. That community is still an important part of her life.
In April 2020, she moved to affordable housing in Tempe with roommates she met while living at Oz.
"I didn't want to live alone, and I even told Shannon Clancy [SVdP's associate CEO] that," she remembers. "Shannon asked what I wanted when I left here [Oz], and I told her 'I want to get a house and have five or six of us living there. I do not want to come home to an empty house anymore.'"
CJ volunteered over 400 hours at SVdP while she was living at Oz and as soon as she could, she came back to SVdP and started volunteering again – now three days a week.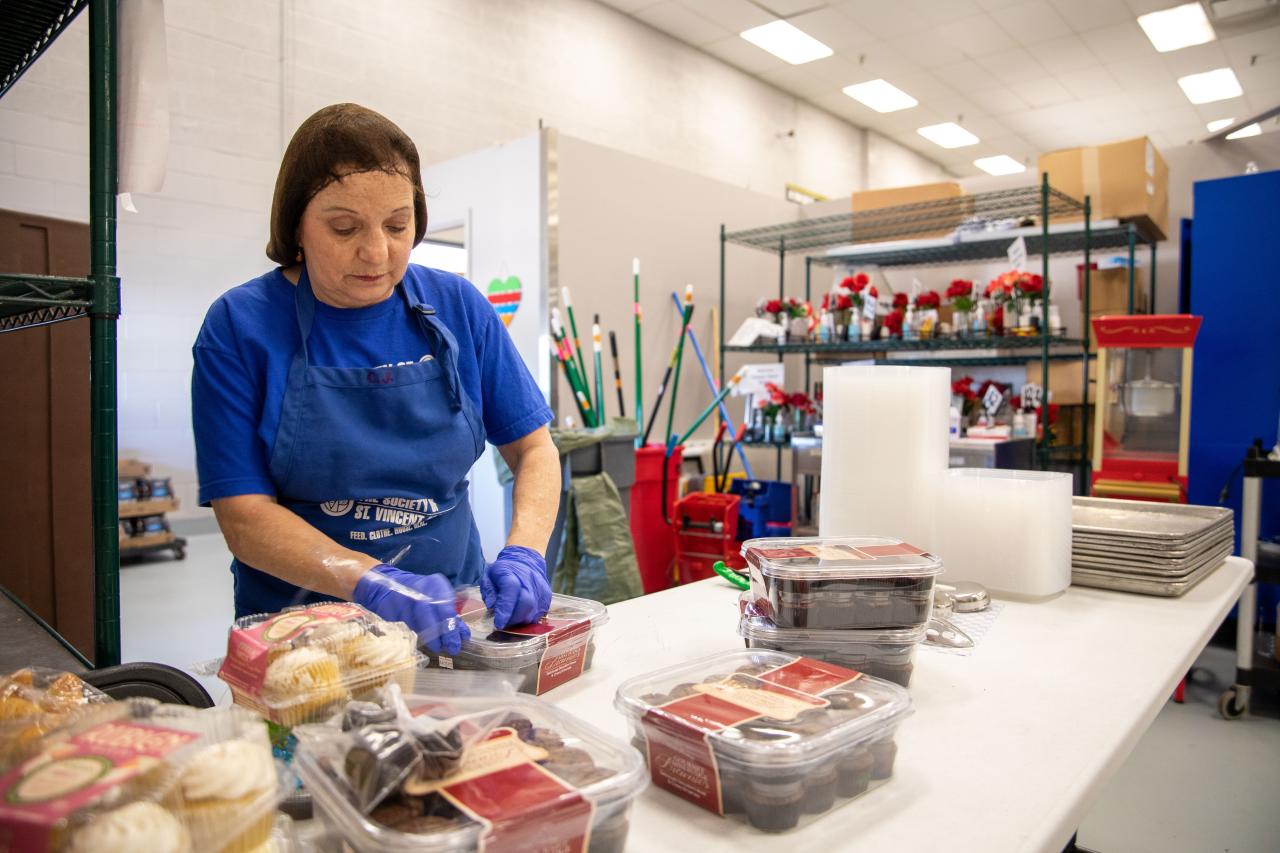 "It just feels so good to serve and to help people who really need it," she reflects. "I'm giving my time, and that's what I have to give now."
CJ's goal is to ensure that all of the volunteers that come to SVdP enjoy their time there. Around campus she is known as the "ambassador of love." You can find her packing meals in the kitchen, serving food, chatting with Oz residents, Resource Center clients and volunteers, dropping off rocks she painted around campus, and helping with administrative tasks in the Volunteer Services Office.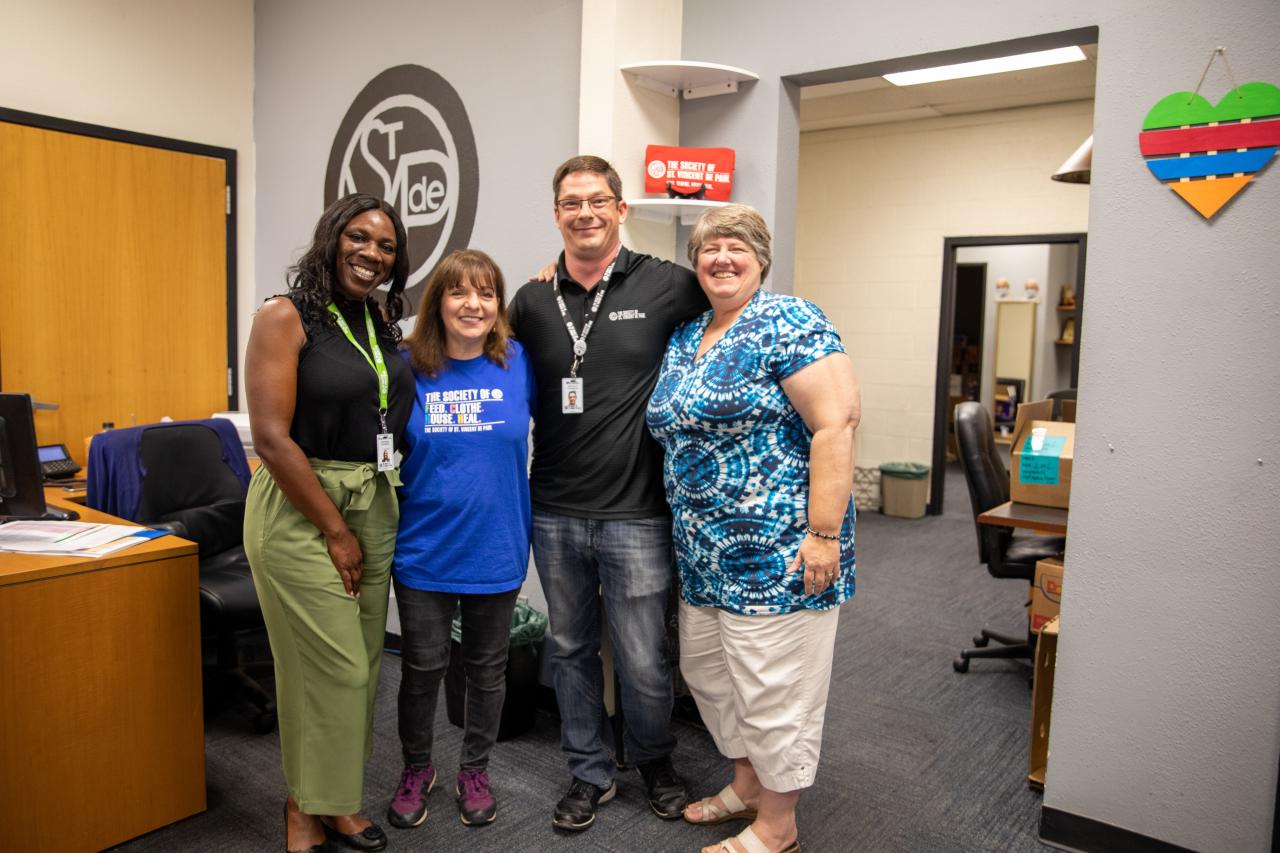 "I decided that I needed to come back here [to SVdP]," she says. "I just thought, 'I want to come back. I need to be with these caring people who walking in the light, and on this campus where my heart is full and I am happy.'"
Looking to join a community of people dedicated to service?
Find out what it's like to be a volunteer at St. Vincent de Paul where you can directly serve those in need around the Valley.