Remote video URL
Home to stay after facing imminent eviction
SVdP prevented homelessness for a single mother who sought help before being on the streets
Last week's extension of Arizona's moratorium on evictions for people affected by COVID-19 gives familes and service providers a moment to breathe. But the new expiration date on Oct. 31 will be here before we know it, and thousands of people living with no income and mounting bills still face eviction. SVdP's rent and utility assistance can help keep families in their home. Veronica Guzman's story below is just one example of the opportunity we have to prevent further homelessness before it happens.
Every day Veronica Guzman lived in fear of finding an eviction notice taped to her front door.
"You didn't even want to answer the door because you didn't know," says Veronica, who was living in an apartment on 83rd Avenue in Glendale, Arizona.
Her Social Security Disability check of $1,313 couldn't cover the rent of $1,060, utilities, groceries and medical bills. Every month she rotated which bill she would fall short on, and the late fees started piling up. With each passing day, Veronica knew the likelihood of an eviction grew.
Eviction wouldn't only affect her, but also her 21-year-old daughter. As a single mom, Veronica continued to provide a home base for her daughter so that she could focus on college classes and work a part-time job to cover her individual expenses.
"I was negative over $1,000 every single month," Veronica says. "You're so desperate, and living in fear of being out on the street, you just turn to whoever you can."
Veronica spent hours combing the internet, searching for agencies and services — anyone who might help. That's how she found St. Vincent de Paul. She'd already made hundreds of phone calls.
"A lot of people will tell you the same thing over and over again — that there are no funds," Veronica says. "They ask you to call back or refer you to some other place that doesn't have the funds either."
Veronica grew frustrated when she didn't qualify for other programs because she wasn't already experiencing homelessness. She didn't want it to get to that point.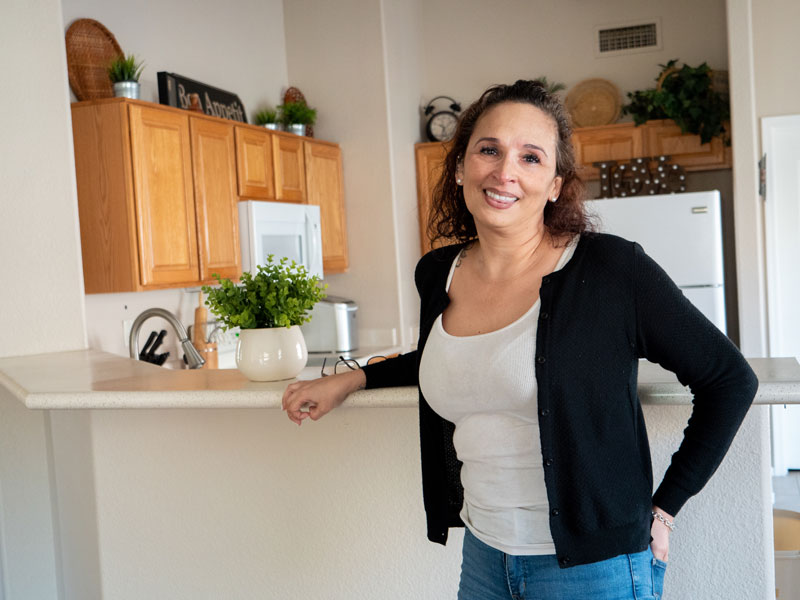 Finally, Veronica called SVdP's Resource Center for people experiencing or at risk of homelessness. She'd never heard of the homelessness prevention services offered there until stumbling across the webpage on SVdP's website, which shares information about rent and utility bill assistance. It gave Veronica hope.
Resource Center Director Cherylyn Strong picked up the phone.
"Cherylyn listened to me and heard my whole story," Veronica says. "You could just tell it wasn't another job assignment for her."
Cherylyn learned of Veronica's terrible golf cart accident that resulted in a life-altering injury. A serious compound fracture at her ankle required eight surgeries, multiple rounds of cortisone shots and still she would never walk again without pain.
Before the accident, Veronica had worked two jobs — one for the state of Arizona and another part-time gig in the evening for Dillard's.
"It was just to have some extra money," she says. "We were doing OK then, but obviously everything changed."
She went on Social Security Disability and tried to maintain a part-time job to supplement her check, but prolonged standing and walking made the pain unbearable and working impossible.
"You don't ever think anything like that is going to happen to you or how it's going to affect you," she says. "I knew there were homeless people obviously, but I didn't know that it could happen so quickly to just ordinary people."
Cherylyn started a multi-pronged approach, providing immediate rent assistance to ensure Veronica and her daughter avoided eviction, but also addressing the need to get Veronica out of the unsustainable rent and financial situation. She suggested income-based housing, which offers affordable rental rates based on income, but there was too long a waitlist and Veronica made too much money with her $1,313 check to qualify. At the same time, Veronica couldn't apply for regular rentals because her income wasn't three times the monthly rent.
"I didn't want to just pay rent one month to know that we were putting off the problem," says Cherylyn, who chose to pool community resources to help Veronica and partner with Ability 360, an organization offering assistance to people with disabilities.
While SVdP provided rent assistance, Ability 360 helped Veronica qualify for a Housing Choice Voucher through the Housing Authority of Maricopa County.
"I was so excited the day I got the housing voucher, but it was difficult to go out and find a place that takes Section 8," Veronica says.
It took her two and a half months to find a house where she wasn't beat out by earlier applicants and could pass the credit check.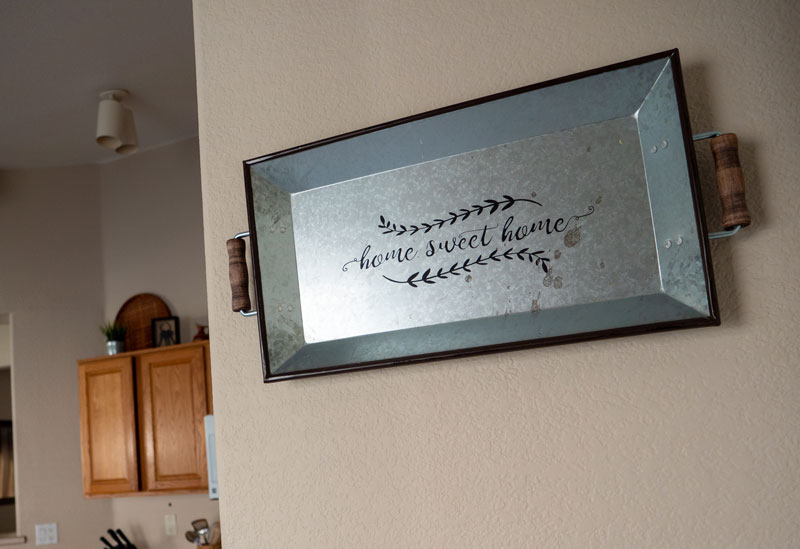 SVdP helped pay the move-in expenses, and Veronica moved into the Avondale, Arizona, home at the beginning of 2020. The neighborhood is just across the street from Estrella Mountain Community College, where her daughter goes to school. SVdP made sure to welcome them home with a food box and a gift card for a washing machine from one of SVdP's thrift stores.
"It's just crazy," Veronica says of SVdP's commitment to help her. "They've been constant. It's just so different. I don't understand how all of a sudden I came across all this luck because before we didn't have anything."
Veronica has a 12-month lease and housing voucher review in a year to re-check her income.
"So far everything has just been falling into place," she says.
Of course she looks around her home, still fairly sparse, but is grateful to have a sofa, a table and chairs and her kitchen put together.
"I'm just so glad we're here now," says Veronica, who once feared living out of their car. "Of course there's a lot of stuff you want to do and get, but I don't worry about that anymore."