Mesa's little farm that could
Without Mary Ann, the smallest of SVdP's three urban farms would not exist
Six years ago, not many people would've looked at the barren parking lot at the Mesa Dining Room and imagined the small, blooming oasis of a farm that it has become. Luckily, two St. Vincent de Paul volunteers did see the potential in that quarter of an acre space. Together, Mary Ann Ricketts and Margot Jauregui built the Mesa Urban Farm into what it is today — a thriving community food source.
"I feel so blessed to serve God by helping those in need by growing healthy food, while having so much fun," Mary Ann says.
Mary Ann didn't have a background in gardening or urban farming when she took on cultivating the smallest (but very mighty) of SVdP's three urban farms. But the retired nurse, who lives in Chandler, did know how to organize and manage people and projects.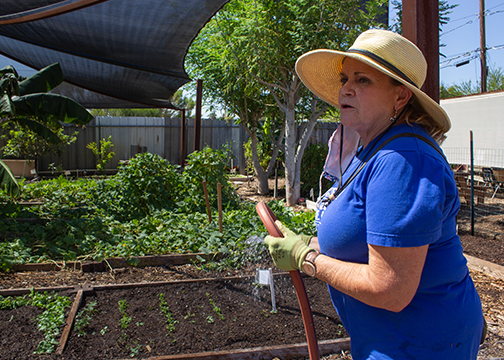 She's involved with SVdP in many ways — as a Vincentian volunteer delivering food boxes to houses, a staff mom, and a founding member of WISH (Women in Hope and Service) — but everyone forever ties Mary Ann to the growth and success of the Mesa Urban Farm.
The farm itself started with a semi-truck of pine mulch that was donated and grew from there.
"We started planting, just basic salad things," Mary Ann says. "Then we'd make salad. Go up where the people sat, and we'd say, 'We're growing this do you want to help us?'"
Back in the beginning, Mary Ann and Margot would be there seven days a week with volunteers tending to the farm. They worked closely with dining room guests as well and helped about 18 of them find full-time employment and stability through the experience.
Now the volunteers are only there three days a week to help maintain the largely self-sustaining farm, but unlike the other farms at the Human Services Campus and Watkins Campus, this farm is entirely volunteer run.
"Mary Ann is one of the most dedicated volunteers I've known in my five plus years at SVdP," SVdP Chief Program Officer Jessica Berg says. "She recruits community volunteers and donors, while also engaging and working with our dining room guests who volunteer with us. In short, we absolutely would not have a Mesa farm without her."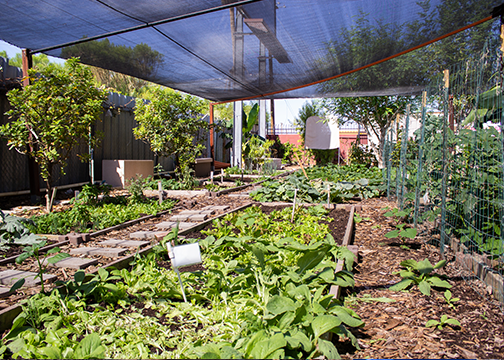 Over the years they've added shade structures, 48 raised beds, a cactus garden, flowers and planters, and composting to make use of the food waste from the dining room. And each addition has a story. Mary Ann points out, a person, business, or group willing to go the extra mile to support the community.
She made sure that community always remains the centerpiece of the Mesa Urban Farm. The purpose of this farm, she says, is to supply healthy, mostly organic food to families and individuals in the community because the area they live in is considered a food desert.
For Mary Ann, being able to serve the families in the community, the guests, and the volunteers who come to help is how she lives the SVdP mission every day.

This article originally appeared in the winter 2021 issue of Vincentian Connection.