Remote video URL
Michelle Rivers lived her final months in a home of her own
The former Ozanam Manor resident had lost everything before finding SVdP's transitional shelter
Michelle passed away earlier this summer from health complications. We had the joy of capturing her story while she still had her strength. In the video above and the story below, Michelle offers us a glimpse into her resilience during hard times and the renewed happiness and hope she had in her final months.

As Michelle Rivers described her new studio apartment, she talked about the space with the pride and joy people have after finding their new home.
"It's light, an open space," she said. "Hardwood floors throughout, so you don't have to worry about carpets. Brand new appliances, counter space, windows, ceiling fans, just everything you can think of."
She couldn't begin to express how excited she was.
"I never thought I would get a place as nice as this," Michelle said.
For a year and a half, Michelle lived at Ozanam Manor, the transitional housing shelter and program at St. Vincent de Paul. In the springtime, she moved out to her very own apartment.
The moment felt akin to graduation. Michelle was excited, but also a bit nervous. It hadn't been that long ago that she was without a home, and she remembered how unexpectedly she found herself in such dire circumstances.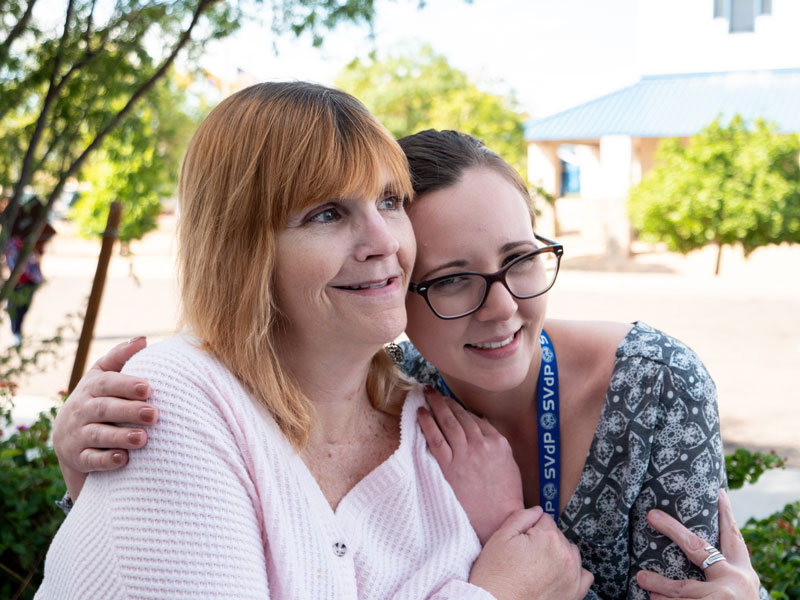 A coalescing of unfortunate events — a failing marriage, a lost job and sudden health issues — had put Michelle out on the streets.
"I never thought in a million years at 48 years old that I'd be homeless and on Medicaid," said Michelle, who had worked for 25 years in the pharmacy field before her company downsized and laid her off. "But when you're living week to week, it can happen to anybody. It doesn't matter who you are or what you do if you don't have a backup system."
Within the same year, Michelle developed epilepsy, broke both her knees and was forced out of the home she had shared with her ex-husband in north Phoenix. She ended up at Circle the City, a respite center offering health care to people experiencing homelessness. From there, she was connected to SVdP's Ozanam Manor. Within two weeks, a spot opened up.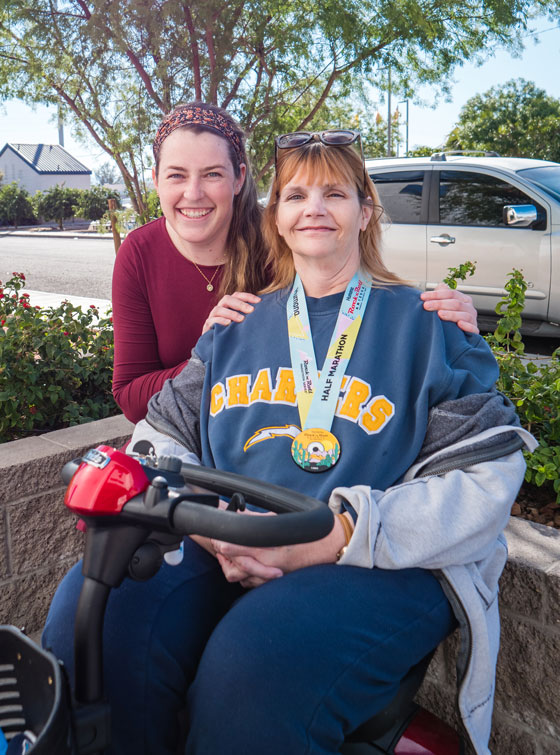 Michelle knew she would be put on a plan to secure housing, but she never expected the additional services she received. SVdP's Dental Clinic fitted her with new teeth, the Family Dining Room provided meals and the Resource Center helped with the occasional clothing or hygiene item. With immediate needs cared for, Michelle and her SVdP case manager worked to secure her Social Security Disability check of $770 as well as a housing voucher.
"It's an absolute blessing," Michelle said. "If I didn't have a housing voucher, there's no way I could afford an apartment, pay utilities and other bills on top of the $600 a month for a studio."
It was the first time Michelle lived on her own, which meant freedom to decorate however she pleased. One of those decorations included a $2 sign from SVdP's last chance thrift store. It said, "Home sweet home."
Michelle lived a renewed life those last months in her studio apartment. She felt the world of possibility open to her — so much so even her body couldn't keep up with her spirit.
Our prayers are with Michelle. May she rest in peace.