Offering hope after eviction
When an older couple ended up on the street, St. Vincent de Paul helped them home
As Ana and Gregorio Bruno sit on the brown leather couches given to them by St. Vincent de Paul, they begin to cry. It's move-in day, and they're overwhelmed by the gifted furniture and the boxes of their familiar belongings surrounding them in their new two-bedroom apartment in north Phoenix.
Four months prior, they were evicted from an El Mirage apartment after a dispute with a landlord over a dog. The Brunos remember leaving most of their furniture on the curb and hauling whatever they could fit in a small storage unit in Sun City.
"I wanted the boxes the most, the things that mean something. The bed, the mattress, sofas...they're all just material things," says Ana, who holds most dear her statues of saints. She and Gregorio are both Puerto Rican Catholics who moved to the Valley from Queens, New York, to be near Ana's daughter.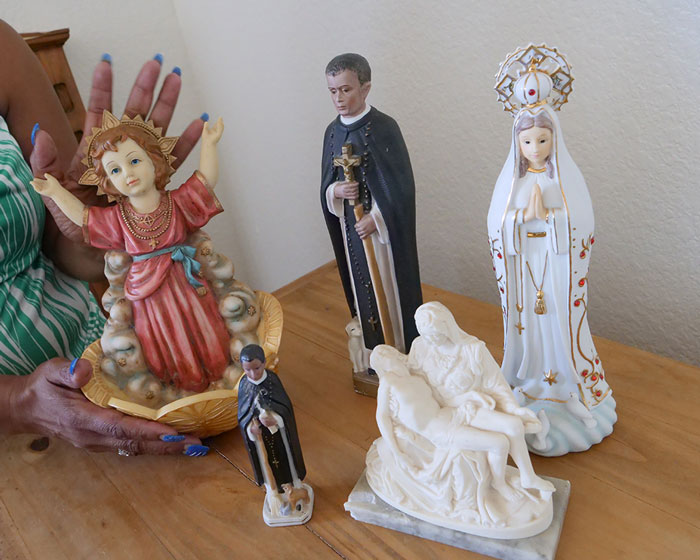 A small crew of SVdP staff with a truck unloads the last of the Brunos' possessions along with a new mattress, box spring and sheet set from SVdP as well.
"Sheets!" Gregorio proclaims as he hugs the package, cherishing it with a tear in his eye.
Not two weeks earlier, the Brunos had lived on the street and owned only what they could carry on their backs. Even what they had placed in storage, they considered lost after being unable to pay the storage bill. They were told their possessions would go to auction.
At 59 and 57 years old, Ana and Gregorio never imagined they'd be in such a dire situation. But they also never imagined the outpouring of compassion and support they would receive from SVdP in retrieving their items and setting them up in their new apartment.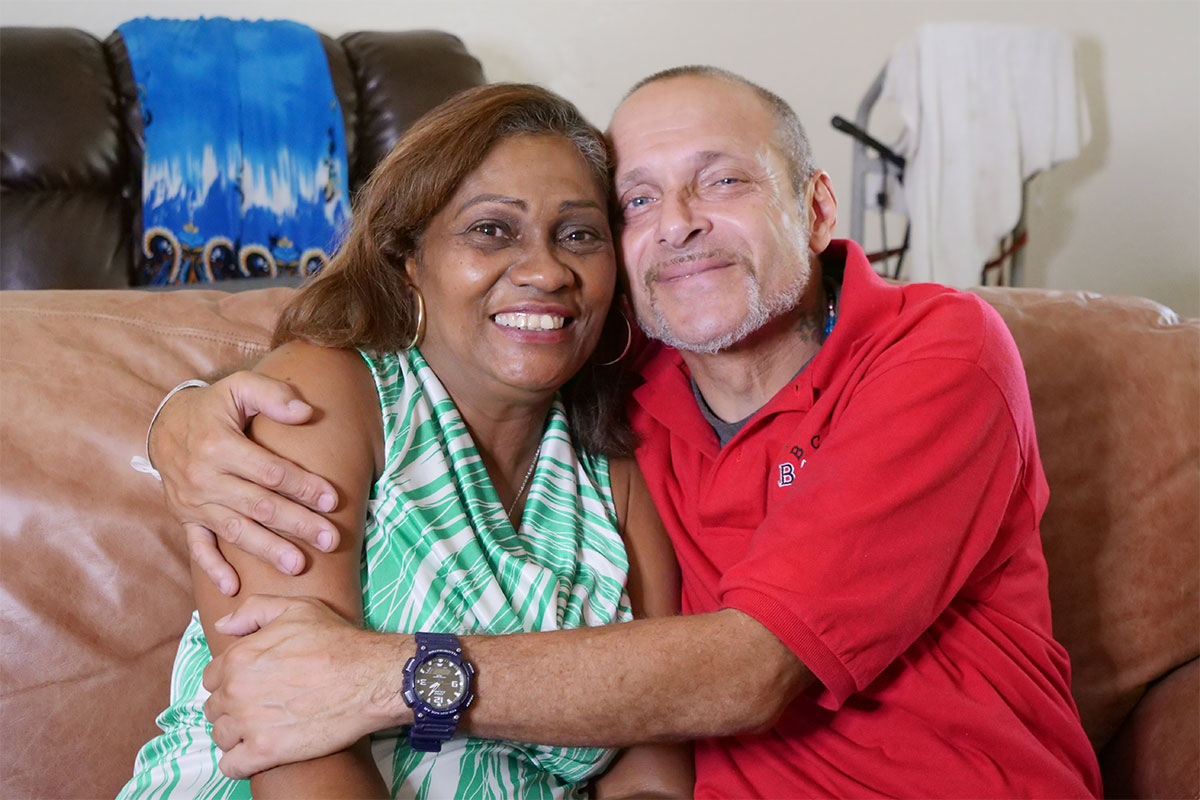 At the landlord's mercy
Sometimes $250 can make all the difference. When a Phoenix affordable housing complex for seniors upped the rent on Ana and Gregorio from $900 to $1,150, they faced a hard decision between paying rent or paying medical bills for Gregorio, who was living with an inguinal hernia. Their fixed Social Security Disability checks couldn't cover it all. With Gregorio's health in mind, the Brunos decided to find cheaper rent and move. They never expected they would be evicted from their next Valley apartment in El Mirage.
"All because of a dog," Ana says as she recalls the day the landlord forced them out by changing the locks.
Ana had agreed to watch her daughter's little dog for a few days, which violated the "no dogs allowed" policy in the lease. The landlord made no exceptions, even after Ana took the dog to a different place to stay. They had only days to move out.
With limited funds, no help and their backs against the wall, Ana and Gregorio found themselves lifting and hauling whatever they could manage to salvage despite being in no condition to move themselves. Gregorio terribly aggravated his hernia to the point of excruciating pain. He needed medical attention.
When a bus stop becomes shelter
At first the Brunos stayed with Ana's daughter, who they had asked previously for help. Feeling ashamed of burdening her daughter, who had just had a newborn, Ana insisted on staying at a local shelter.
"It's a place I never thought I'd be," Gregorio says.
As first-timers, they received beds. But a faraway — and much needed — doctor's appointment and public transportation made them late for check-in one night, causing the Brunos to lose their beds. For several nights, they slept outside at a nearby bus stop.
"I didn't feel safe there," says Ana, whose backpack with the key to their storage unit was stolen. "I was scared."
While staying at the shelter, the Brunos became more familiar with one of SVdP's dining rooms. They would eat their meals there. And in June, when SVdP's heat relief overflow shelter went into operation inside the dining room, they slept there overnight.
Vincentian intervention and a new apartment
Every day the Brunos thought of how to find their way back to housing. Ana remembered her Catholic upbringing and her mother reiterating that "the church is always there for you to turn to in times of need."
On those instincts, she headed back to Sun City to Saint Joachim and Saint Anne's parish—the church they attended while living in El Mirage and a satellite location of SVdP.
"We slept there for two days outside the church," Ana says. "And when they came to open up, they welcomed us and helped right away. We didn't have anything."
The SVdP volunteers from the parish, referred to as "Vincentians," gave the Brunos vouchers for food, gift cards for clothing and bus passes.
They interviewed the couple and immediately started to work to help them find housing. With their basic needs cared for, and a few social security checks saved up, Ana and Gregorio began apartment hunting.
"We must have seen at least 10 different apartments," Ana says. "And they were charging us each application because its $35 for each applicant."
In one month of searching, they spent almost $300 putting in applications until one finally went through. Still in touch with Saint Joachim and Saint Anne, they shared the good news.
And then another good call came —this one from the parish SVdP Vincentians, offering to pay their storage bills, a locksmith, rent a truck and provide movers to retrieve the Brunos' belongings.
"I cried when we got that call," Gregorio says.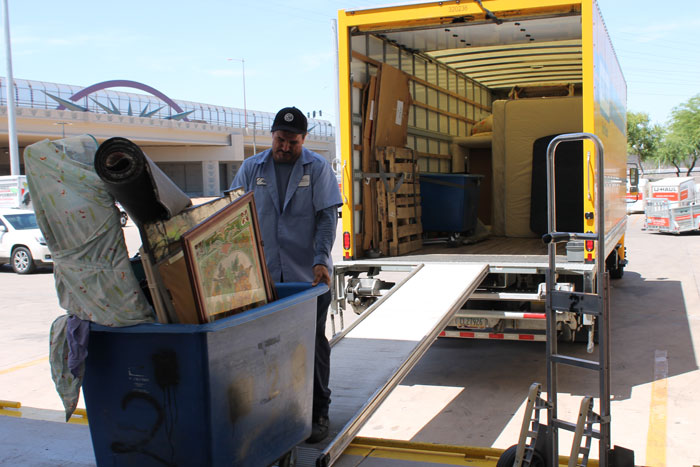 "You know, it wasn't much, but it was ours," Ana says. "There were things that were irreplaceable. I had my saints there that have been with me for 20 years and my mother's photos."
Under the leadership of Saint Joachim and Saint Anne Vincentian President Marilyn Cappelli, the Vincentians were able to find grant money to pay for it all and more. The Brunos had no idea that the Vincentian volunteers were also coordinating with SVdP thrift store staff to replace the furniture items they had abandoned on the curbside. That's why, when the couches and bed came through their front door frame on moving day, the Brunos cried with surprise and overwhelming joy and gratitude.
"I'm never going to forget this moment," Gregorio says. "Never."
"They gave us our life back," Ana says through tears. "The apartment, my little bit of stuff…they gave me back my life again. They gave me hope. Forever, to the end of the Earth, I will be thankful."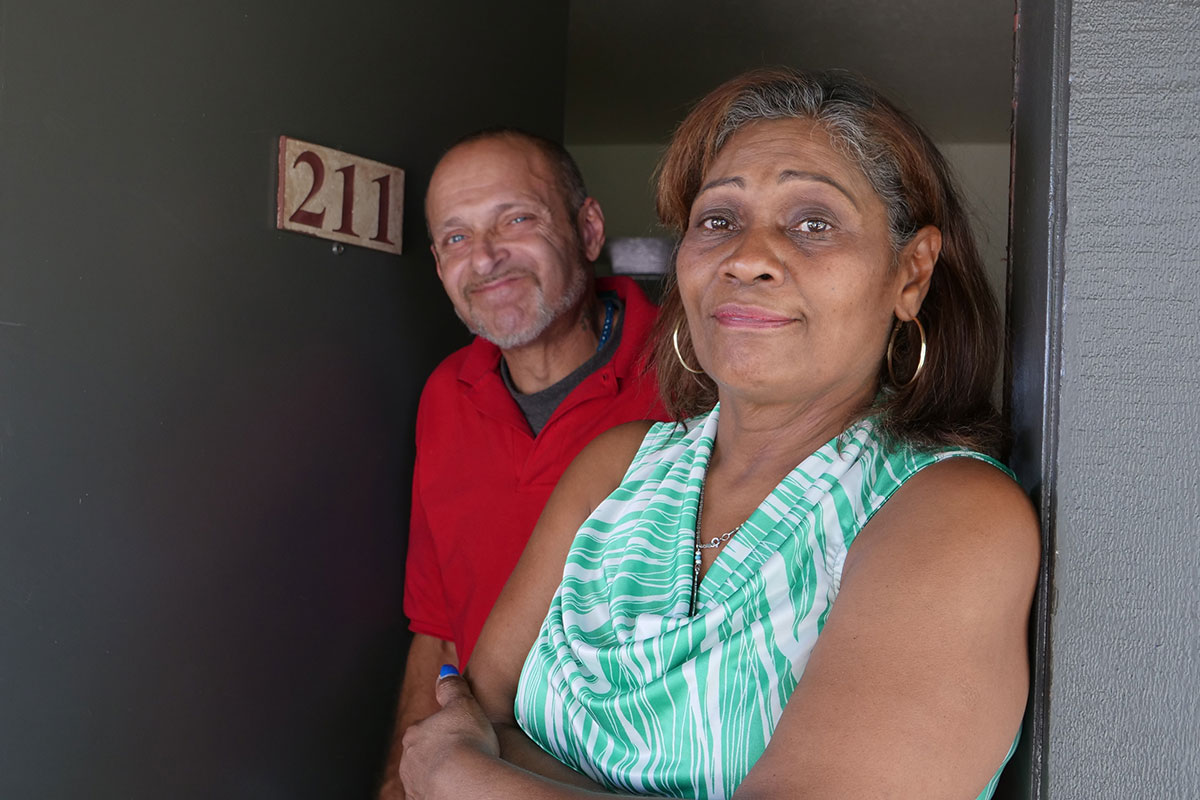 This story was originally published in the winter 2019 issue of Vincentian Connection magazine.