Remote video URL
Resource Center volunteer comes full circle
Brian Lynch persevered past homelessness to a life of stability and service through volunteering
Video story by Elijah Miller and Bruce Cooper
Written story by Sarah Farrell
If you walk into the Resource Center at St. Vincent de Paul on a hot summer day of 109 degrees you'll find it bustling with guests getting showers, clothing and shoes, ice cold bottles of water and a bit of air-conditioned relief — all part of SVdP's annual heat relief efforts around the Valley. What you don't always see, though, is the staff and volunteers behind the scenes helping it run smoothly.
Brian Lynch is one of those volunteers. Four days a week, the 61-year-old is hard at work behind the desk cleaning, folding, organizing and distributing all the clothing and other items that come in for the guests.
From June 1 through Sept. 30, the Resource Center serves as one of four SVdP heat relief cooling stations around the Valley for those experiencing homelessness. Guests get water, food, a shower, and indoor respite from the heat. And it's a combination of staff and volunteers that make it run.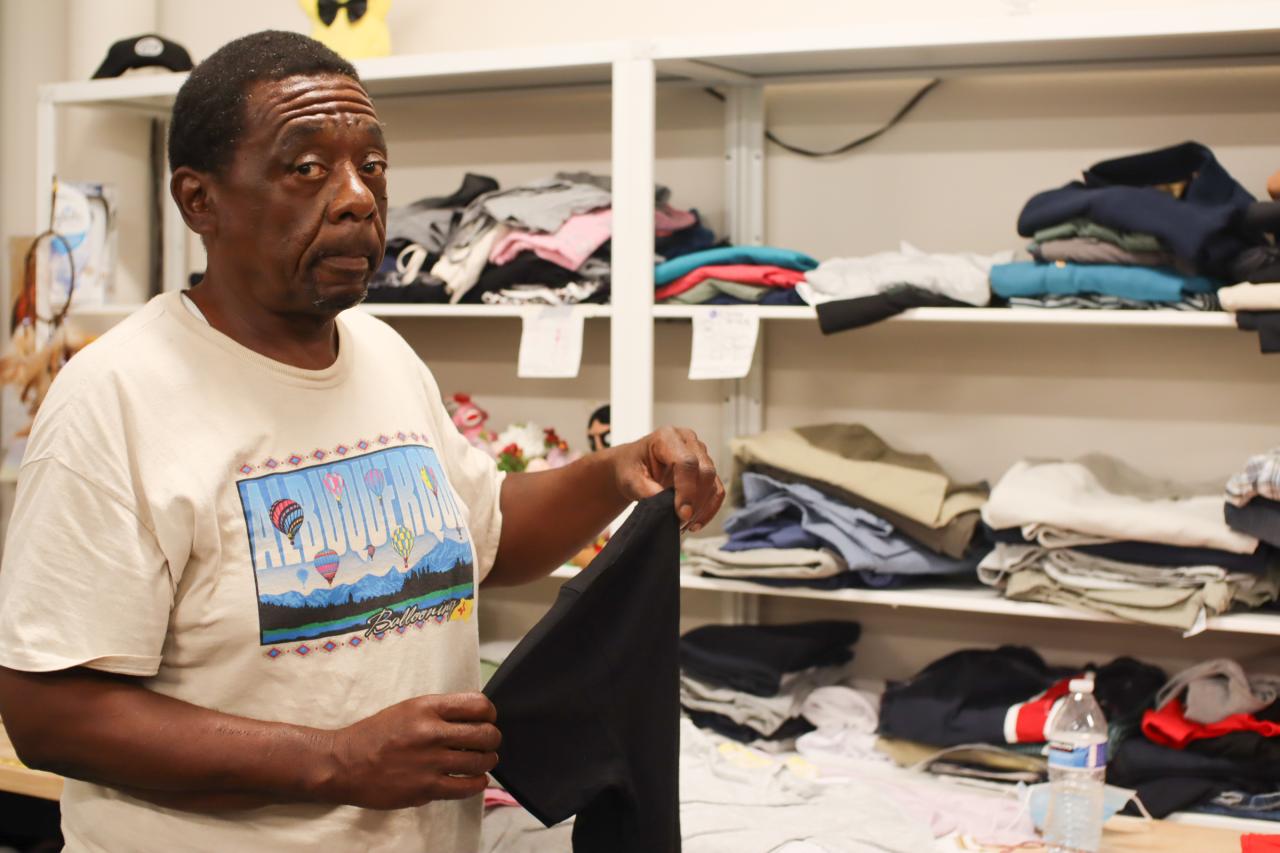 Brian is more than just a volunteer though. He has a special connection to the guests that come into the Resource Center because he has walked a mile in their shoes.
He experienced homelessness in the early 2000s and was living in a neighborhood in the Valley. He remembers it being a struggle, especially during the brutally hot summers.
"The importance of heat relief, it's tantamount here," Brian said. "I've witnessed it firsthand, and I've been there myself. I know how it is to be out in the heat constantly."
He had to rely on the generosity of the neighbors to help him through. He had no idea there were resources out there to help him get off the streets and into stable housing.
That is until he discovered the services at SVdP's Resource Center. He started coming here weekly to get a shower, sit in the air conditioning for a while, and get something cold to drink during the day. He also received things like clothing, shoes, hygiene items and bus tickets from the Resource Center to help get him back on his feet.
"The summer months are the danger months for the homeless population," Brian said. "It's just too hot. People can get sick and have [heat] strokes. You need more volunteers because you're going to get a larger influx of people into places like this [the Resource Center] during these hot months. So, the more hands you got, the more of service you can be."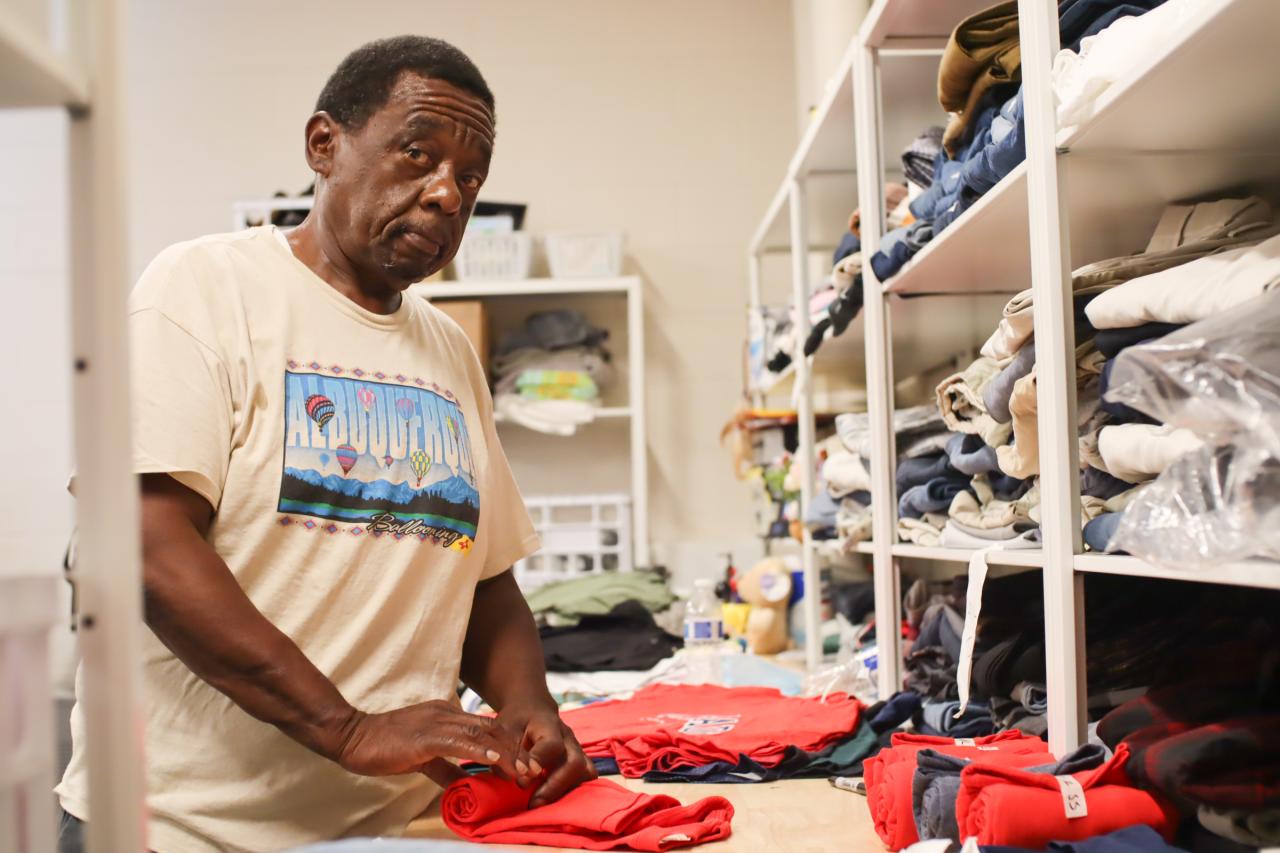 For Brian, volunteering at SVdP is about more than giving back to the community that helped him through a tough time . It's also an opportunity for him to build up employable skills thanks to an AARP job training program called the Senior Community Service Employment Program (SCSEP). The program matches eligible older job seekers with local public agencies and nonprofits, like SVdP, so they can gain skills and self-confidence through work.
He got matched with SVdP in 2019 and began working in the Resource Center. With his experience being homeless, and his background in the healthcare and home care industries, the fit was perfect for Brian.
One of the skills that he's picked up during his time at SVdP is working with the computer.
"You have to go into the computer and see what people are eligible for," Brian said.
It's nothing too complicated he jokes, but it's valuable experience. It's a skill that he hopes will land him a stable job at the completion of his AARP program in 2022.
"If I can give somebody some shoes who doesn't have shoes, or their feet are sore and they may have a wrong size shoe, I've been there," Brian said. "I know what it's like, so yeah it's very rewarding to be able to help people, put clothes on their back and give them just a little smile. A little something throughout the day. A little more hope."
Interested in becoming a volunteer at SVdP?
We are welcoming back in-person volunteers in many different areas like our heat relief shelter and dining rooms.