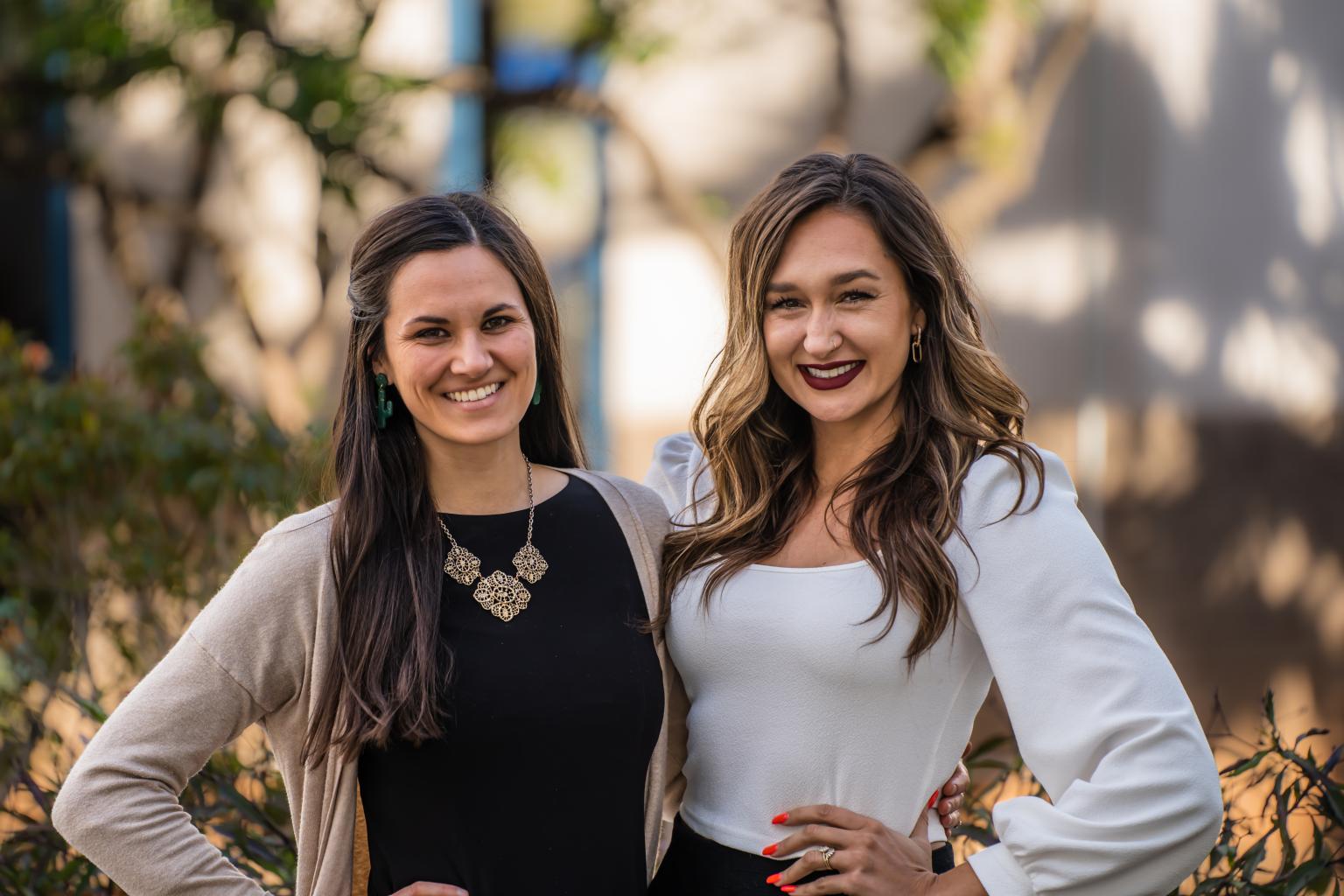 Rising Leaders group launches for young professionals
The newest group at SVdP offers professionals in their 20s and 30s a chance to grow in service and leadership for the community
As Erin Monnin, 28, and Hannah Whitwer, 30, grew in their careers at St. Vincent de Paul, they noticed a trend in people volunteering with the mission.
There were lots of high school volunteers and lots of volunteers who were retired, but a large demographic was missing: Working-aged people, especially in their 20s and 30s.
"We have all these friends outside of SVdP that constantly ask us, 'How can we get involved in the community?'" said Hannah, a SVdP development officer and Rising Leaders co-founder.
Fellow co-founder and SVdP consultant Erin followed up, "They're doing really well. But they have this emptiness in their soul because they know that they have a lot… but they're searching for more purpose or meaning or somewhere to plug in."
Their solution: Put together a group to do just that — get involved and feed souls.
Thus, Rising Leaders was born in September 2022.
Rising Leaders offers young professionals a space to become the servant leaders the community needs by providing its members a chance to connect with one another, grow professionally and personally, and better their community together through service alongside SVdP. The vision is that the next generation of leaders will be equipped for and so well-educated about the needs of the community, that coming alongside SVdP and other causes they are passionate about will be naturally embedded in who they are.
"There is a crucial need for those in their 20s and 30s — the next generation of leaders — to be educated and aware of the needs of our community members," Hannah said. "Rising Leaders offers young professionals a path to become the well-rounded leaders our community needs."
"Our generation is really bad at actually committing to something unless there's a space for them to plug into," Erin said. "So we were like, 'If we're going to get our generation here, we have to create a space of belonging.'"
Requirements to join Rising Leaders are simple. You have to fall in the age range, be living and working in Arizona, and make an annual gift to SVdP in support of programs and services. Any prospective member interested can get connected to the application process through the Rising Leaders webpage. Applications open each September.
Erin and Hannah make the selection process meaningful too. Applicants go through a conversational interview to ensure they are a good fit — mainly that they are the type of generous, compassionate, community-driven soul the program is looking for.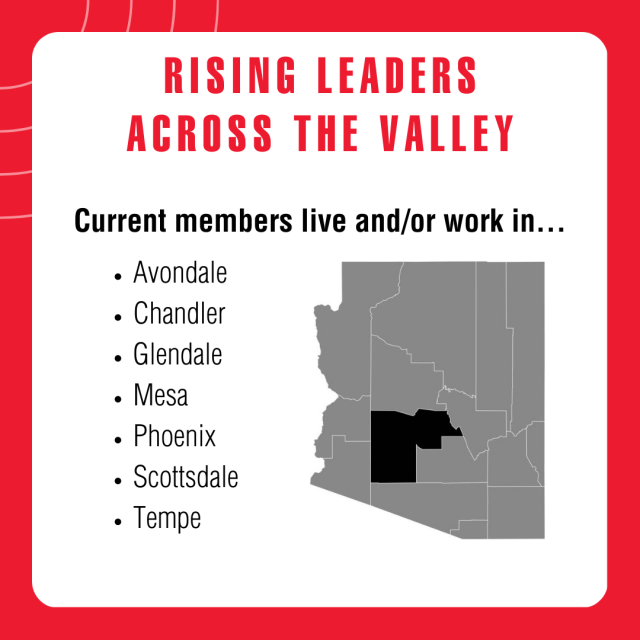 In Rising Leaders' first year, Erin and Hannah originally thought that somewhere between 15-20 people would make up the initial cohort. But after putting word out about the group and conducting interviews, they ended up with 36 members.
The co-founders were also sure to structure the group to maximize impact and practicality. Rising Leaders has monthly meetings, the emphasis of which cycles from a development workshop to volunteer events to social events. Members are, of course, welcome to volunteer at other times and are offered all the opportunities available to get involved and make a difference in their community.
The workshops each feature a different speaker and venue, both of which have been handpicked by Erin and Hannah, bringing expert experience and thought-leadership to help members grow both in their personal and professional lives. At the first professional development workshop, which occurred this January, members got a chance to hear from Jane Cebrynski, Chief Wellbeing Officer & Sports Life Coach on "How to Win 2023."
And for the volunteer events, members learn about community need and service ways to help. So far, the first Rising Leaders cohort have volunteered helping kids with homework in SVdP's Dream Center, serving underserved families in the Family Dining Room, and picking snap peas in the Urban Farm for food boxes.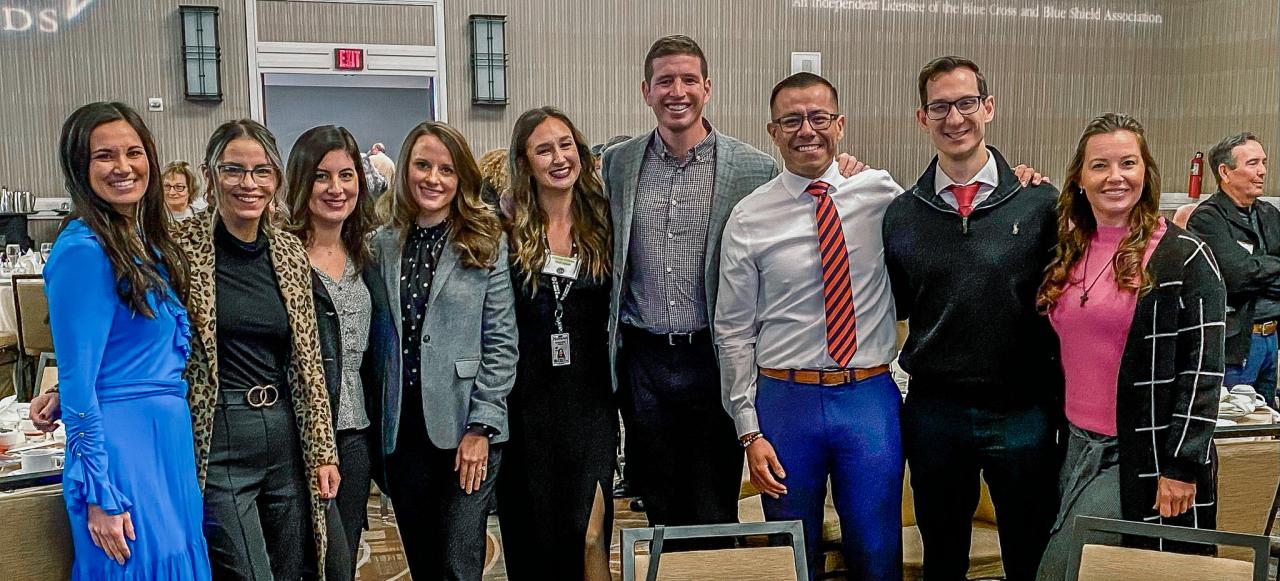 Meghan Murphy, 28, one of the inaugural members of Rising Leaders, said she thinks the volunteer events make her a better leader.
"I think that being a strong leader is really just knowing the people that you're leading," she said. "By being a part of this group… you are aware of the struggles that people are going through in your community. And I think knowing the people in your community and the needs that they have always makes a stronger leader."
Meghan studied nonprofit leadership and management at ASU and has worked in the sector since she graduated. She's currently the Chief Executive Officer of the Arcadia Foundation. Even with such high demand on her time and talents, Meghan makes time to be part of Rising Leaders because she finds it important and fulfilling to attend the workshops and volunteer events.
Particularly, she values how Rising Leaders has inspired her in her daily life and interactions. She volunteers regularly, makes new connections, and sets aside time to just be with new people, especially the other Rising Leader members.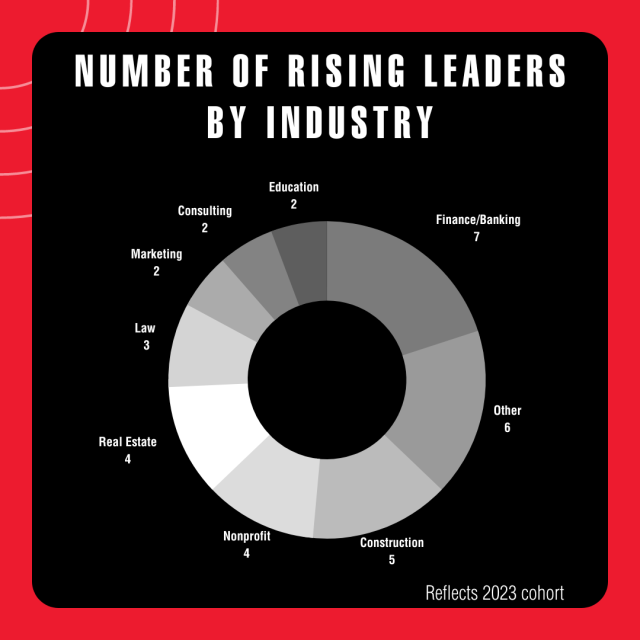 "I really think being more intentional is something that I've gotten from being in this group," Meghan said. "It's been a little while since I've taken a step back, and really reflected on why I do what I do, and how I do it."
She also appreciates the opportunity to meet people working in other sectors.
"It's been really nice to know people out there working in real estate, or in recruiting, or in very corporate areas are also looking to make a difference and be a part of their community, even when it doesn't directly align with their work," Meghan said.
Beyond the connections, Rising Leaders has given her hope for the community and a boost of confidence for those in her generation who will continue to rise into leadership positions.
"Everyone I've met through the Rising Leaders group has just brought a new perspective [to me]," she said. "It's encouraging to know that there's so many people out there, especially in this generation and age group, who are passionate about making a difference in this community."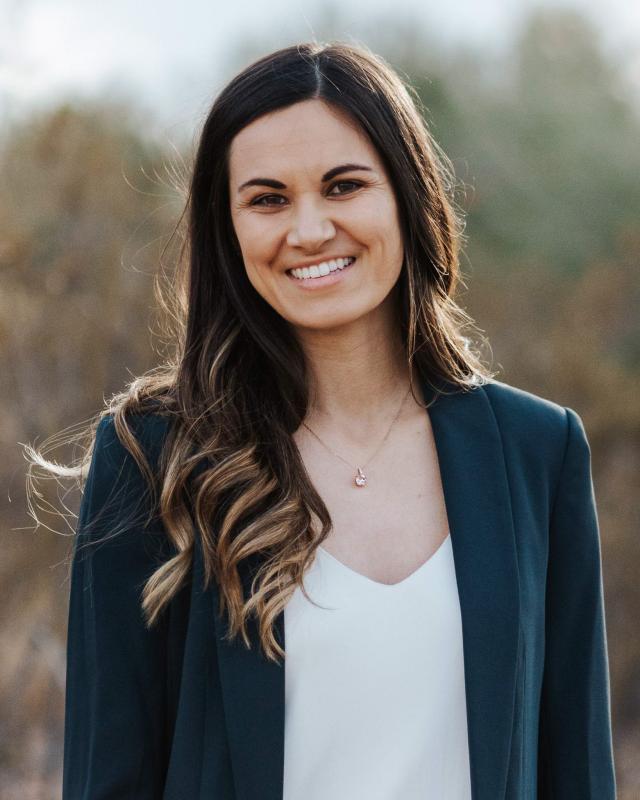 Erin Monnin is a Catholic wife, mother, published author, speaker, brand designer, and co-founder of Rising Leaders at St. Vincent de Paul in Phoenix. Her passion for creating and managing the young professionals' group is two-fold: 1) As a former Development Officer for SVdP, Erin saw firsthand how vast our community's needs are and understands SVdP's vital role in fulfilling those needs. 2) As a young professional herself, she knows that this generation of professionals crave meaning, purpose and belonging. What better place to find these things than at SVdP? Rising Leaders is the intentionally created space at SVdP that offers this and so much more to young professionals!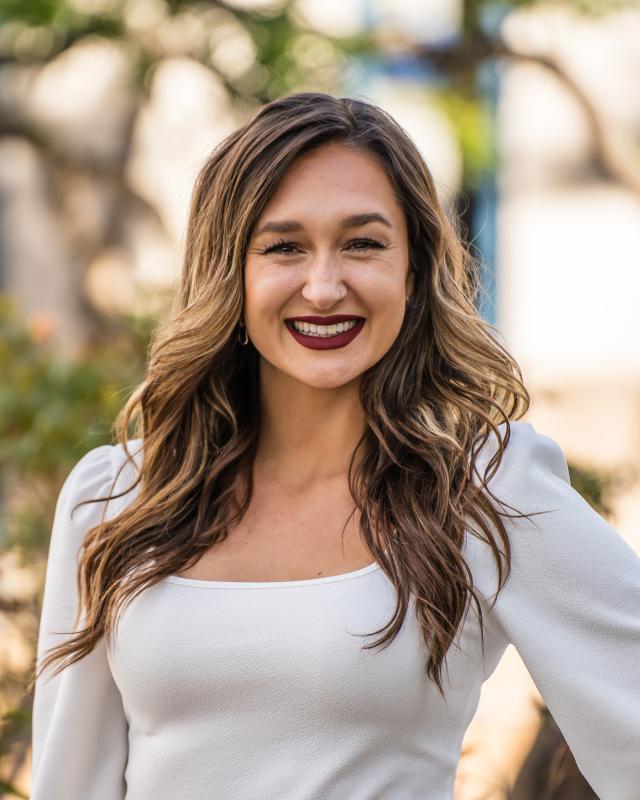 Hannah Whitwer is a Phoenix native, Grand Canyon University alumna, and serial galvanizer of people for goodness' sake. Hannah has a heart for our unhoused neighbors, for those in need of a second chance, and for anyone who could use a little encouragement, connection, or meaning in life. Once in the construction industry, Hannah now builds bridges between those in need of help and others who can offer it through her role as a Development Officer at SVdP. She comes alongside compassionate individuals, families, companies, and nondenominational churches who wish to live out their values by investing their precious time, talent, and treasure to serve community members with nowhere else to turn. Most recently, Hannah co-founded and manages a new community especially curated for young professionals, Rising Leaders.